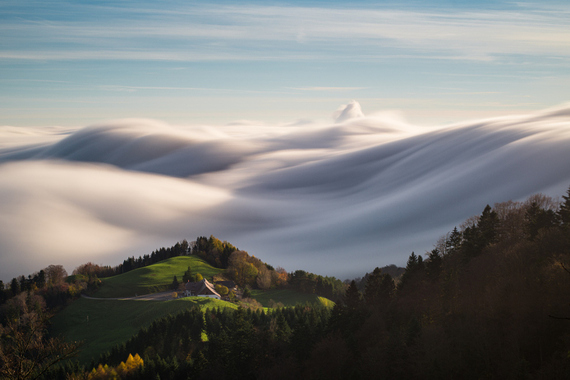 Fog, in literature and real life, is a force of mystery and magic. It obscures some things to reveal others; and it can transform an already beautiful landscape into something out of a fairy tale.
Sometimes the fog rolls in thick and fast, covering the landscape in a river so dense only a few defiant buildings or iconic mountain peaks remain in sight, holding their own against the sweeping torrent.
Other times it's insidious, a horror movie-worthy creeping fog that sneaks up on you, thickening so slowly you don't know it's there until it's completely obscured the next twist in the trail.
The 30 gorgeous photographs below--captured by 500px photographers from around the world--demonstrate each of these situations perfectly, captivating your imagination along the way:
River del mar by Ted Andre Nilsen on 500px
Poland by Artur Magdziarz on 500px
Birds Eye View. by Volodymyr Zinchenko on 500px
The End Station by Martin Rak on 500px
The World Below....2 by Bobby Joshi Photography on 500px
Night ends by Daniel ?e?icha on 500px
Tahoma the Great by Marc Adamus on 500px
Hide-and-Seek by Kenji Yamamura on 500px
Dubai Cryogenic by Daniel Cheong on 500px
ray... by Charungroj Bunphabuth on 500px
Between the fog by Marcin Sobas on 500px
High Tide by Max Rive on 500px
A view from Heaven by Filippo Moretti on 500px
Kingdom Of Clouds by Evgeni Dinev on 500px
Paradise by Saeed Barikani on 500px
Ride the Lightning by Jeff Lewis on 500px
Foggy Dubai Marina by Sajeesh Shanmughan on 500px
These Magic Moments by Dora Artemiadi on 500px
Milkyway thailand by Anuchit ????????? on 500px
Fogfall Morning by Toby Harriman on 500px
Mt Bromo Under The Stars by Elia Locardi on 500px
Cemoro Lawang by Silentino Natti on 500px
Golden Mist by Khalid Al Hammadi on 500px
We met again by Janez Tolar on 500px
Schäfler by Tobias Knoch on 500px
Heaven by Marko Korošec on 500px
Grand Canyon Cloud Inversion by Harun Mehmedinovic on 500px
Trollstigen , Norway . . by pascal Kiszon on 500px
Nebelschweif by Robert Pfiffner on 500px
For more mysterious and magical pictures of foggy landscapes, give this link a click and go crazy. There are 1,000 pages of search results for "fog" on 500px... our apologies to your productivity.
SUBSCRIBE TO & FOLLOW LIFESTYLE
HuffPost Lifestyle is a daily newsletter that will make you happier and healthier — one email at a time. Learn more