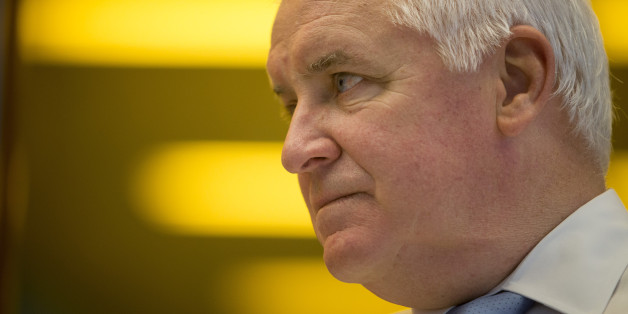 In late August, lawyers for Pennsylvania Gov. Tom Corbett argued that issuing marriage licenses to same-sex couples was comparable to allowing 12-year-olds to get married. An uproar ensued. To stave off the controversy, the governor quickly called the analogy inappropriate.
Then, in an interview last week, Gov. Corbett reiterated his opinion that his lawyers' analogy was inappropriate, but instead of stopping there, he added, "I think a much better analogy would have been brother and sister, don't you?"
No, that is not a better analogy. In fact, it is a terrible analogy.
Apparently Gov. Corbett needs an education on the difference between siblings and spouses. Since I have both a husband and a sister, here is an explanation of how a sister is not like a husband.
My sister lives in Massachusetts with her family.
My husband lives in Pennsylvania. With me. We have a house together. We share a bed.
My sister and I see each other, on average, about two or three times a year.
My husband and I see each other every morning when we wake up, every afternoon, and every evening. For 18 years. The longest we have been away from each other was one week, when one of us went on a business trip.
My sister has a husband of her own. His name is Bob.
My husband has a husband: me.
My sister phones Bob when she has a fender bender or some other problem.
My husband is the first person that I call when I need someone to help me.
My sister and I have never once, in almost 50 years, thought about marrying each other.
My husband and I hoped we could be married someday. When the Montgomery County Register of Wills defied Pennsylvania law and made marriage licenses available to same-sex couples, we quickly ran out to get ours.
My sister and I are related by blood. We have the same mother and father.
My husband and I are not related (unless, of course, you accept that our marriage license is valid, in which case we are legally bound to each other).
My sister, I assume, has insurance. I do not really know what kind of coverage she has.
My husband is on my insurance plan. I know all the details of his insurance coverage because, years ago, I had to fight to get recognition of same-sex couples at work for insurance purposes.
My sister and I would never think to file our taxes together, nor would the government recognize our brother/sister tax return. She files her taxes jointly with her husband.
My husband and I are hoping that we may be able to file our federal taxes jointly this year.
My sister is someone I love very much, but in a brotherly way.
My husband is someone I love very much, but in the way that spouses love each other. Oh, yes, that includes sex.
I have never heard of a brother and sister wanting to marry. If they're out there, they're very rare indeed. But there are thousands, maybe millions, of gay couples who want to marry. They are not rare. It is becoming increasingly common in other states. Someday, maybe same-sex marriages will be common in Pennsylvania. And two Pennsylvania men getting married will not be compared to the pairing of children or to an incestuous relationship. Maybe, someday, we will be recognized as adults with a strong commitment to each other.