The Dolce&Gabbana Spring/Summer 2011 menswear fashion show and our 20th menswear anniversary celebration were just behind us when we had to roll up our sleeves and go straight back to work on Sunday. The job was done for Dolce&Gabbana but everything was still to be concluded for D&G.
A new day, a new focus.
Sunday was all about the last fittings and final set up at Metropol where the show was scheduled for Monday at 3.30pm. The D&G Spring/Summer 2011 menswear show was an invitation to a garden party. Gathering with friends around a picnic is the theme of a collection that is retro inspired but has nevertheless a modern appeal.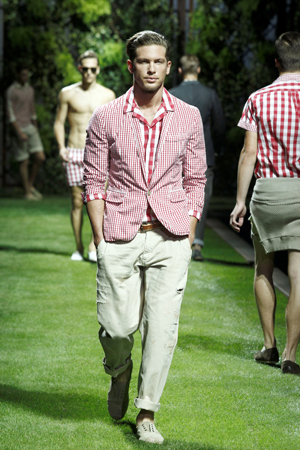 We imagined a summer made of simple pleasures: to enjoy life and to share whimsical moments with friends. We realized we had not had a picnic for ages although we used to love them and have many great memories attached to these finger foods Vichy carpet episodes. We wanted to bring the picnic basket back into fashion and create the men wardrobe that goes with it. Following the clothing etiquette that used to prevail back in those old picnic days, we reworked the Vichy print with new techniques and added our personal style on classic espadrilles. This dressing proposal is easy, comfortable and youthful. The D&G signature is to be found in the cuts but also in Tee shirts inspired by Johnny Depp in Cry Baby. We were really excited to unveil this collection and had a lot of fun working on it on Sunday as well as on Monday backstage. Despite the stress and the last minute arrangements, it went very smoothly. As usual it all happened very fast and the show was over before we realized that "we made it "for spring summer 2011.
The Dolce&Gabbana Man is on for at least another 20 years, this weekend was for us an occasion to celebrate memories and achievements but certainly not the end of our creative stamina. We love what we do so why should we stop?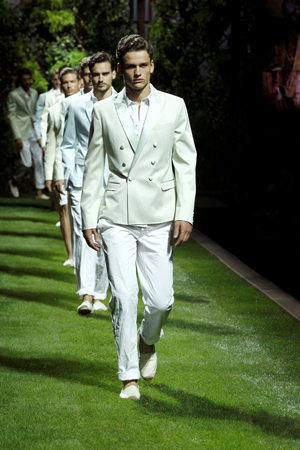 For the days to come, we have no specific plans apart from heading to Moscow for a dinner gala to celebrate the opening of our new D&G flagship store. We will surely relax a bit and enjoy the good weather then it is back in Portofino. Working in fashion is like being on a rollercoaster, we climb, we reach the top and then we push ourselves out there.
Following this memorable weekend, we will continue to work on three books commemorating our 20 years of making beautiful men clothing that are to be released in fall.

The books resume the themes featured in each room of Palazzo Marino during the event. All in all, these anniversary books are an illustration of our DNA. It is a fashion story in three volumes. There is definitely something special about them, they belong to the past but will be used to build the future. Why three and not two? Well there are Domenico Dolce, Stefano Gabbana and ... Dolce&Gabbana; that's three, no?
Watch the D&G SS11 fashion show on Swide.com.

FOLLOW HUFFPOST