Named in honor of R. Buckminster Fuller's signature invention of the geodesic dome, Leo Villareal's Buckyball is a tremendous outdoor sculpture that made its debut at New York's Madison Square Park last fall (commissioned by the Park's art-enriching Conservancy). Of course, Fuller was one of the 20th century's most influential geniuses -- giving us new ways to envision nature, humanity, the earth itself, and all points in between.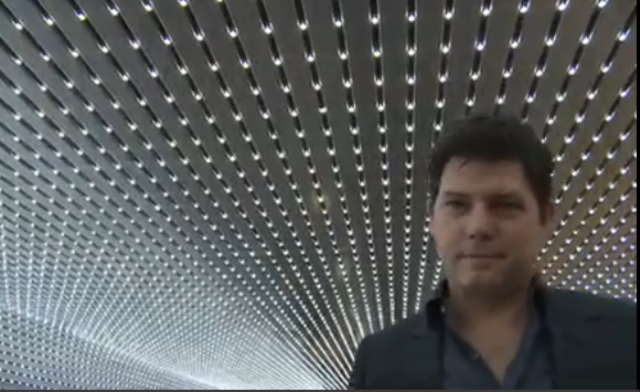 (Villareal in Multiverse)
Villareal is a brilliant young artist whose work you've probably seen, but didn't know. One of his most visible permanent installations lives in the tunnel between the National Gallery of Art's West Building and its I. M. Pei-designed East Building. There, Multiverse (2005-2008) graces a long series of moving sidewalks, animating with 41,000 computer-controlled LED lights what might otherwise be a rather, well, pedestrian experience. The work envelopes the walker, and creates constellations of moving waves of light that the eye and brain try to fathom or explain. It's pure magic.
(View videos of Multiverse here)
Buckyball, which will be Crystal Bridges' first foray into a temporary outdoor presentation, consists of two enormous Fuller-inspired spheres, one inside the other. Each is made of LED-infused sections, which can glow with more than 16 million distinct colors. Villareal's genius is to program the light show with simple equations that produce extraordinary, mesmerizing, and ever changing plays of color and movement. The artist has also designed "zero-gravity benches" that invite viewers to recline and be immersed in the show.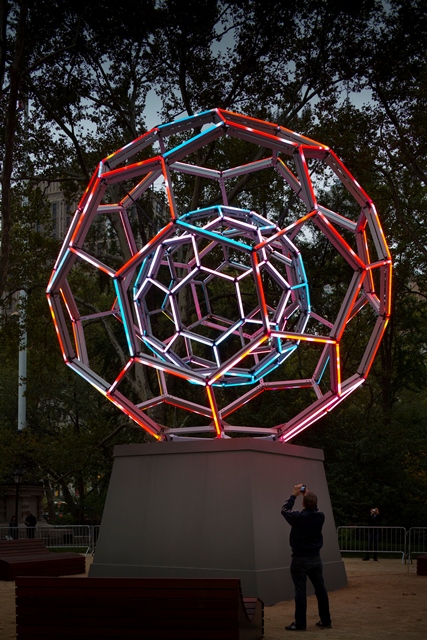 (Leo Villareal, Buckyball, 2012, aluminum tubing clad with LED lights atop aluminum plinth,
30 ft. x 144 in. x 144 in.)
Sculpture like this acknowledges its derivation from historical works of art (it has a pedestal, after all) but moves us clearly into the 21st century. Just as we experience works of art differently each and every time we view them, with Buckyball, every experience -- quite literally -- is unique, as the light configurations are constantly evolving and never repeating. Seduced into weightlessness by the comfort of the artist's benches, one can ponder the discoveries of Fuller and the magic of Villareal in unrushed and dazzling waves of beauty and light.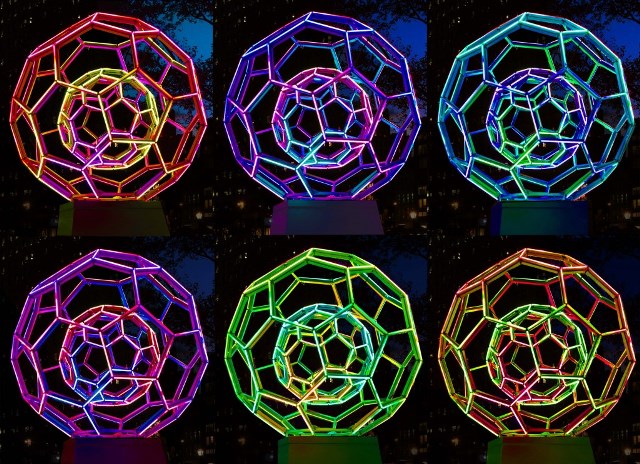 (Details on Buckyball installation at Crystal Bridges; Buckyball comes to Crystal Bridges thanks to a loan arrangement with the Madison Square Park Conservancy, New York; Gering & López Gallery, New York; and artist Leo Villareal )