The Rachel Corrie Ramadan Soccer Tournament is now underway in Rafah, Gaza on a field cleared from the rubble of demolished homes. The Rebuilding Alliance, the organization I founded to rebuild war-torn communities and make them safe, just sent a shipment of 16 big boxes of gently worn sports shoes donated by hundreds of people for Gaza. Will our shipment make it through the blockade? Will it make a difference?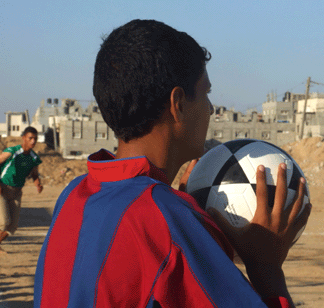 Overall, I am proud to tell you that through hundreds of small and large donations, we installed a portable office unit on the field just before the Ramadan Tournament began. This little building is the first step in developing a community center at the Unity Club Soccer Field, there on the edge of the Ybnah Refugee Camp in Rafah. In addition, proceeds from the GlobalGiving Ready, Set, Give competition (we won first place!) have now been fully transferred to Gaza, via the Gaza Community Mental Health Programme, so that some lights are already being installed this week. We continue fundraising through GlobalGiving.com to be able to complete the "Beam of Light Ramadan Soccer Project in Rafah" and extend tournament play (and community-building) into the night.
Why send soccer and sports shoes? Some are playing soccer barefoot on that hard-packed sand. They need shoes, but the blockade means few if any shoes are available and no jobs, no money with which to buy them. Back in the spring, Adnan in Rafah asked for used sports shoes so we put up a big sign at the Rebuilding Alliance office and hundreds of people in our neighborhood donated their gently-worn sports and soccer shoes, and uniforms. More would give too, but let's see if we can get these through the blockade.
Yesterday, Cindy and Craig Corrie, the parents of the young American who was killed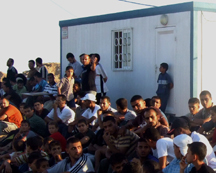 when she stood before the Israeli Army bulldozer that threatened a Palestinian family's home, and Rachel's friends with the Olympia Rafah Sister City Project (ORSCP), left Cairo to reach Rafah to join Rachel's friends in Gaza for the Rachel Corrie Ramadan Soccer Tournament. We scrambled to get the shoes boxed up and sent to Cairo where Craig Corrie tried to pick them up for the mini-bus trip to Gaza. Our 16 boxes (325 pairs) arrived on Sunday. We hoped Customs would release them to the ORSCP delegation to bring the shoes with them through the blockade. As it was, the shoes were released to the Egyptian Foreign Ministry -- and just the soccer uniforms already in luggage, were cleared for transit.
I have so many questions about the benefit of sending gently worn soccer shoes to Gaza. Here they have no value, but there, if we can get them through, they could mean a lot. Logistically, used sports shoes are a low-cost way to press through the blockade (no tariffs, no possible security risk, easy to pack and ship). At each step along the way, more and more people join in to help, e.g. lots of schools want to do shoe drives, the freight forwarders cut their price by half and paid for pick-up. The head of a receiving company in Cairo said that he will do all he can to help, "As a Palestinian, a Gazan, and a human being."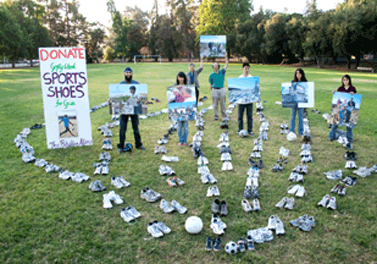 I don't know if this will be successful ... it feels so small in the face of big governments' (our's, Egypt's, Israel's) misguided, intractable blockade -- policies of collective punishment. I take a leap of faith (sometimes just a fragile thread) that the outpouring of goodwill here and all along their way matters. As the shipment moves forward, we are developing the grassroots and diplomatic network needed to reach our next goal: to get building materials in. "Crunchtime" is defined as a critical moment or period (as near the end of a game) when decisive action is needed. This is crunchtime for the blockade. May our collective goodwill score the winning point and end the blockade game decisively.
My team here at the office reminds me that, "Small things in life really matter." The connection between the person who donated his shoes, her shoes to the person who receives them, that connection can brings out the best in us all. Do you agree? What does this mean to you? Please comment below. Over the next week, as the shoes and delegation near Gaza, I'll update you on their progress -- and when the shoes get stuck, I'll ask you to call your Senators and Representatives and then thank them gracefully when the way opens.
FOLLOW HUFFPOST