How do I describe the thrill of receiving a Medal of Gratitude before 25,000 people? -- humbly and with sheer joy!
On August 31, 2010, 25,000 people gathered at the Gdansk Shipyard in Poland to celebrate the 30th anniversary of the founding of Polish Solidarity Movement.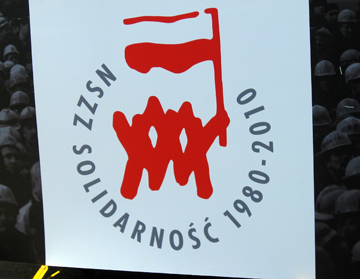 On a raised stage with huge projected images and a stunning concert of celebrities, Nobel Laureate Lech Walesa and Poland's President Bronislaw Komorowski awarded the Medal of Gratitude to four foreigners -- and one of them was me!
First some history: Poland's non-violent Solidarity Movement contributed decisively to the collapse of Communism in Europe in 1989, the dismantling of the Berlin wall, and the resultant collapse of the Soviet Union. Solidarity arose with a labor strike on August 31, 1980 and became the first trade union not controlled by the Communist Party in a Warsaw Pact country. In the 1980s it grew into a broad anti-bureaucratic social movement: 10 million Polish workers, students and intellectuals joined Solidarnosc. In December of 1981, with the imposition of martial law, the Solidarity Movement was outlawed and thousands of Solidarity members were imprisoned. After several years of political repression, the Polish government was forced to negotiate with the union. Finally, free elections were held in 1989.
Why were the four of us awarded Medals of Gratitude? In 1981, upon imposition of martial law, we -- Jacky Challot from France, Tomas Johansson from Sweden, Karin Wolff from Germany and me from America -- each did our best to sustain Solidarity directly and press for policy change. Many of us took big risks. All of us were supported by remarkable teams, friends and associates who came together to take action for a cause we all believed in, a cause that ultimately succeeded. We four foreigners are the first of 285 who will be recognized with Medals of Gratitude by the European Solidarity Center. And thousands of Poles -- Solidarity Members, supporters, and ex-patriots -- deserve similar recognition.
In 1980, Jacky Challot from France was a young employee at the Post Office in Paris when he was selected to represent the Trade Unions of France in the first Congress of Solidarity in Poland, just after the amazing effective Polish workers' strikes. A year later, when martial law was declared, he called his Polish friends and took an unpaid leave of absence to smuggle books and printing and communications equipment into Poland, driving a truck with a hidden compartment. He successfully made 10 round trips before being arrested and was sentenced to 2-5 years in jail. His arrest, and the intervention of noted French film stars, Yves Montand and Simone Signoret, rallied the French government to successfully negotiate Jacky's release and solidify its opposition to the Polish military regime.
The remarkably soft-spoken sports idol, Tomas Johansson of Sweden, is a four-time Olympian (including silver and bronze medals) in Greco-Roman wrestling and the 1986 winner of Sweden's Bragdguldet, "The Feat Gold," an annual award for "the most significant Swedish sports achievement of the year." In 1981, Tomas, who stands 6'4" and is 270 lbs, was a promising player in the Haparanda sports club (his home town), who often trained in Poland where there were good sparring partners. In December 1981, when martial law was declared, Tomas' father brought two teams of Polish wrestlers to Haparanda to coach their training in safety. What is remarkable about Tomas' story is that the entire town of Haparanda -- population 10,000 above the Arctic circle -- urged the 25 wrestlers not to return home, and provided them with all they needed to live with them for 3-4 years, until the wrestlers decided on permanent asylum in other Western countries. Tomas was their constant companion and used his popularity and contacts to transport gifts from Haparanda to Poland. Finnish drivers carried food (-- during this time, Polish shops were empty -- people were waiting in lines through the night for food), Christmas presents, and messages to the Polish wrestlers' families, and very valuable messages to those interned, via the underground press network. Tomas also took big risks by using his international competitions to carry letters back and forth to the wrestlers' families.
Karin Wolff of Germany is an outstanding and deserved translator of Polish literature into German.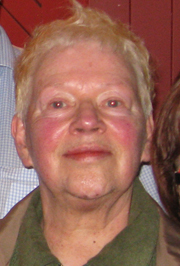 Prior to martial law, Karin was living in East Germany and illegally worked in Poland to translate Polish literature and publicize the Solidarity Movement's writing. She translated works by George Ficowski (KOR), Fr. Twardowski, Anna Kamieńska, and others.
During martial law, Karin continued to translate writers "on the index," translating into German the letters, resolutions, and proclamations of Solidarity and signing the name "Black Cat." Karin also provided individual support for colleagues and friends in Poland. Her activity was observed closely by the East German "Stasi", one of the most repressive intelligence and secret police agencies in the world, which resulted in prolonged interrogation, threats, and black-listing. For her work, she has also received the Polish PEN Club prize, "Amicus Poloniae."
As for me, the American, I was the initiator and co-founder of Support of Solidarity -- Chicago (SOS-Chicago), one of the most successful American organizations supporting the Solidarity underground. When I was 25-years old, hired to work as an engineer in my first job out of college, I stood up at a University of Chicago lecture describing the mass arrests underway in Poland and urged everyone to do more than just talk. Doctors, engineers, professors and a mathematician answered my call. Our core group included Joseph Blass, Janusz Dobrowolski, renowned philosopher Professor Leszek Kolakowski, Michael Lipkin, Eva and John Schorr and Witold Wojciechowski. Blass became the guiding light of our group for good reason -- he was an outstanding strategist and he knew everyone in Solidarity. Back in the '60s, before he escaped to the U.S., he chaired an opposition group that spread like wild fire in 500 high schools before the Polish government shut it down.
SOS-Chicago met weekly. Eventually more than 2,000 people joined us in an entirely grassroots effort to give Chicago and the nation ways to learn about and support Solidarity in Poland. We started with "Pack a Package for a Polish Political Prisoner" parties and then progressed to smuggling more than a dozen shortwave radio sets to the underground Solidarity network. Politically, we effectively pressed for the economic isolation of the Polish military regime, working in an advisory capacity to the head of the Polish American Congress. Eventually, our team maintained ongoing contact with the White House National Security staff. Due to our efforts, the International Conference of Mathematicians, which brings thousands of mathematicians together every four years, canceled the conference that was to be held in Poland in 1982. To help Americans learn about the Solidarity Movement, we organized readings and lectures with Professor Kolakowski and had continuous contact with the media, including journalist Mike Rojko, Chicago Tribune. Our SOS-Chicago network provided American university scholarships to hundreds of Solidarity members given political asylum in the U.S. -- and we also gave Solidarity activists direct financial assistance especially those imprisoned or fired from their state-sponsored jobs.
That Medal of Gratitude is proof that individuals can make a difference, even when they're young. What now for us, nearly 30 years later? Jackie Challot is forming a fund to enable French-Polish understanding, to bring jazz groups and young people on exchange visits and provide scholarships to nurture talent. My own work, as founder of the Rebuilding Alliance, focuses on peacemaking efforts in Israel and Palestine, bringing Israelis and Palestinians together to rebuild Palestinian neighborhoods and engaging the world to make them safe.
I used my medal trip to Poland to learn why Solidarity chose non-violence as their immensely successful strategy, and to learn how Poland is becoming a center for healing the deep wounds of war, occupation, and Holocaust. My husband and I criss-crossed the country to visit the new Warsaw Uprising Museum, the Paths to Solidarity Museum, and the Chopin Museum (a time when borders were open and arts and culture thrived). Then we went far south to stay at the Center for Dialogue and Prayer and learn about their important work before our painful 3 1/2 hour guided walk through the death camps of Auschwitz and Birkenau. There at the Center for Dialogue, I thought about my partners, Combatants for Peace. The Combatants for Peace movement was started jointly by Palestinians and Israelis who have taken an active part in the cycle of violence: Israelis as soldiers in the Israeli army (IDF) and Palestinians as part of the violent struggle for Palestinian freedom. After brandishing weapons for so many years, and having seen one another only through weapon sights, they have decided to put down their guns, and work for peace. I want to bring Combatants for Peace to Poland because this land and people hold lessons that will deeply touch these brave men and woman, and offer them reflection and encouragement in their important work.
And what of Solidarity's 30th anniversary celebration as a whole? Agnieszka Rek, a coordinator with the European Solidarity Center who hosted the grand event, said it best: "We are happy, we are proud of this anniversary... here something started, something begining in Poland, in Gdansk." Poland has every reason to be proud! May the world share in her happiness and draw deeply from Solidarity's model of success!