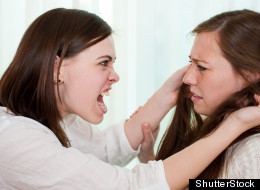 I'll never forget the year my family moved from Southern to Northern California. My dad was a preacher and we didn't have much money, but my parents made sure we attended the best schools.
My first day at the new school, I wore my coolest pair of pants. They were white Levi's with bright yellow, orange and green tulips. Looking back, I don't think I had a good handle on what was cool, even then.
I desired a quiet entrance, so my mother dropped me off at the front door. As she drove away our Hornet AMC wagon backfired, causing a dozen people to turn and stare at me. Add a few more cool points.
I walked up the stairs with my heart pounding. I tried to remember the combination to my locker as I ran my teeth over metal braces that invaded my mouth, giving me an industrial look.
One of the wires had come loose, digging into the side of my cheek. I wadded up some wax the orthodontist had provided.
As I pressed the white wax over the offending wire, I felt the sharp tip of my bicuspid. Both of them were hanging halfway out of my gums, causing me to resemble a vampire. Today, I would have been that mysterious new vampire chick, but not in 1972.
As I walked down the hallway in my tulip pants, I tried to swing my hips a little, in that awkward way 13-year-old girls do the first time they realize boys are watching them. A boy in the hall stopped me.
"Are you hurt or something?" he asked.
"No!" I giggled, sure that he was flirting.
"Oh, it looked like you were limping," he said with a shrug, passing me by without another word.
So much for sashaying.
My homeroom was located in the science class, which meant we sat at tall counters in front of Bunsen burners. I couldn't hide there. The smell of formaldehyde hit my nostrils, and I grew ill as I walked slowly to the one seat that was available near a group of really pretty girls.
One of the girls in a cheerleader uniform said, "Nice blush!" and they all burst out laughing. I realized when I looked in the mirror after class that I had used my mom's blush that morning and had over-applied. That's the last time I would use Raggedy Ann as a make-up model.
At lunchtime I stood with my tray in hand, trying to find a place to sit. I noticed the girls from homeroom, and they seemed to be calling me over. As I approached their table, I asked if I could sit next to them.
"No, we're saving these seats," they replied. I had a sudden desire to use one of those Bunsen burners.
I noticed the plethora of open seats at the table and wanted to ask if they were saving all twenty-seven. Instead, I kept my cool and my cookie and threw the rest of my lunch out. A cookie allowed me to walk around the hallway without having to sit. I believe this started my love of all things sweet.
I walked to my English class following lunch, and noticed a young girl with a tremendous Afro holding an accordion. She looked at my pants and said, "Tulips? Really?"
My face got red and she smiled, saying, "Hey, I'm kidding. I'm standing here with an accordion. Do you really think I'm popular?"
We both laughed and started a friendship that lasted until my family moved a few years later. Our circle of friends soon included James, a gay young man who endured constant bullying, and Flavia, who was mocked because her bushy eyebrows rivaled Khrushchev.
For a brief time in our lives we came together in an awkward, gangly intersection of support. We were still teased, but it hurt a lot less because we could walk away and laugh together.
Maybe we weren't sure why we were laughing then, but I know now.
Now I know that those girls were cruel because they were afraid that gawkiness was contagious. They were afraid of being judged by the same girls who were afraid of being judged by somebody else.
I know now that most of those girls probably peaked in junior high school. While that's nothing to delight in, I think we might have appreciated that knowledge -- just a little -- on the days they knocked James' books out of his hands.
I know now that bullying is not a reflection of strength but of cowardice. Whether a person bullies in the school hallway or by leaving anonymous comments on the Internet, it doesn't matter. Tearing others down is the only way they can feel tall.
If I could meet those junior high school bullies today, I would let them know that Tracy became a neurosurgeon who still plays the accordion. And Flavia plucked her eyebrows and became a spectacularly beautiful woman. The last thing I remember James doing was tumbling down the stairs at school, but I have no doubt he turned his ability to make our group laugh into a career.
Finally, I would share the best news of all -- that no matter how cruel people can be, their behavior is ultimately their burden to bear. Like the Wizard to the Lion, I would want to give them courage so they could stop bullying others.
I would gently put their medal around their necks, and hand them a bouquet of brightly colored tulips.
Earlier on Huff/Post50:
Edith Pearlman, born in 1936, published her debut collection of stories in 1996, at age 60. In March, The National Book Critics Circle gave its fiction award to Pearlman for her story collection "Binocular Vision" (Lookout Books). She has published over 250 works of short fiction in national magazines, literary journals, anthologies and online publications. Her work has won three O. Henry Prizes, the Drue Heinz Prize for Literature, and a Mary McCarthy Prize, among others. In 2011, Pearlman was the recipient of the PEN/Malamud Award, which puts her in the ranks of John Updike, Joyce Carole Oates, and other luminaries. She told Huff/Post50 that with age, "You care less about popularity, write more freely. The ordinary experiences of aging alter and clarify your view of past, present, and future."

Alfred Hitchcock began directing in his 20s, but did his best work later in life. Hitchcock made "Dial M for Murder," "Rear Window," "To Catch a Thief," "The Trouble with Harry," "Vertigo," "North by Northwest," and "Psycho" between his 54th and 61st birthdays. The New Yorker called it "one of the greatest runs by a director in history."

Julia Child didn't learn to cook until she was 40, and published her first best-selling cookbook, "Mastering the Art of French Cooking," when she was nearly 50. She was photographed sitting in her kitchen after it was moved and rebuilt from her Cambridge, MA, home in 2002 as part of an exhibit at the National Museum of American History in Washington, D.C.

Harland Sanders, founder of Kentucky Fried Chicken, held a number of jobs from streetcar conductor to insurance salesman through his 30s, according to KFC.com. In 1930, Sanders opened service station in Corbin, Kentucky, and cooked for travelers who stopped to buy gas. In 1955, at age 65, he began developing his chicken franchise. A decade later, Sanders had more than 600 KFC franchises in the U.S. and Canada. He sold the business in 1964.

Kathryn Joosten, 72, is a character actress who has appeared in more than two dozen prime time dramas and sitcoms. She's perhaps best know for her role as Mrs. Landingham, the president's secretary in "The West Wing." According to IMDb.com, she started out as a nurse and decided she wanted to be an actress in her early 20s, but life intervened: She married and had two sons, and later divorced her alcoholic husband and supported her kids by painting and hanging wallpaper in the mansions of Lake Forest, Illinois. Joosten performed in community theater and in 1991 got a job at Disney World in Orlando, moving her family there. In 1995, at age 56, she packed up and went to Hollywood. She landed her first part as an extra in "Family Matters" and went on to play parts in "Seinfeld," "Frazier," "Dharma and Greg," "Scrubs" and "Desperate Housewives." Her film credits include "Wedding Crashers" and "Bedtime Stories." Joosten is also a lung cancer survivor who works to educate people about the disease.

French artist Paul Cézanne initially studied law but began drawing and painting in his 20s. But his finest works came decades later. According to The New Yorker magazine, the paintings created by Cézanne in his mid-sixties "were valued 15 times as highly as the paintings he created as a young man."

Laura Ingalls Wilder's first book, "Little House in the Big Woods," came out in 1932 when she was 65. It was the first of her eight-volume "Little House" series.
Follow Donna Highfill on Twitter: www.twitter.com/DonnaHighfill