There he was, Sir Simon Rattle, fronting the fabled Berlin Philharmonic. Disney Hall rocked. And swayed. And, yes, rolled. As most of the planet's inhabitants know, there's no orchestra like this one. But just earlier, for several weeks, we heard the same rafters ringing as resident honcho Gustavo Dudamel and his Los Angeles Philharmonic held forth in the new podium chief's first season.
Musical sensibilities of these maestros are mutual - partly for good reason: Rattle mentored Dudamel, calling the Venezuelan dynamo "the most astonishingly gifted young conductor" he's come across. Beyond that, neither one is given to time-beating - no rote mechanics for them, no fussy stick technique. Instead, there's total immersion in the music and absolute connection with the players. All of it is natural, determined by phrasing, expression and dynamics. The baton passes from hand to hand, as though an organic body part, to be used or not. Sometimes the two helmsmen can sense when the engine is purring, so they stand stock still, admiringly, taking it all in. Rattle will merely raise an eyebrow, for a given accent. That's closeness.
If you want to look at their similar physical features, they are equally of slight build, both boast curly mops of hair flying every which way on the podium (one mop white, one black). Also they are setting a standard of egalitarianism among baton-wielders - giving the lion's share of onstage acknowledgment not to themselves, but to the musicians, bidding orchestra soloists and various sections to stand for applause at concert's end. Dudamel has even introduced a new routine: he and the players turn around to face the rear audience of this hall-in-the-round, receiving applause from that grateful quarter.
Maybe not so curiously, over the past month, both bands at Disney have played programs that put together Vienna School composers of different strokes and different centuries.
Rattle gave us Brahms' well-worn lullabye of a Second Symphony and Schoenberg's complex, unsparing yet languid Chamber Symphony, with the Prelude to Wagner's Die Meistersinger to start things off. And did it. To say that the Berliners thronged our ears, that Rattle delivered the tune-driven favorite in cascading waves of brilliance is to understate a listener's experience. He gave us its marches without starchy militarism, just rows upon rows of theme dissected and dissolving into one another. How many times we hear the concert piece played, but never like this, never with musicians swinging visibly into action as though they all were concertizing soloists.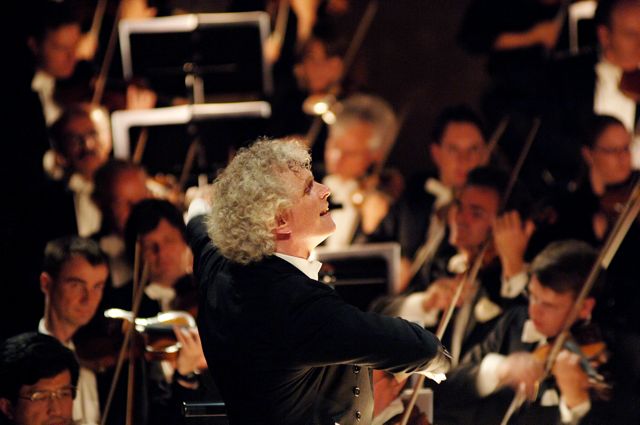 The same with Brahms. Its clarity of line, mellowness of tone, cross-current rhythms, body and depth were all there to bring out the work's burnished beauty, but with an over-arching judiciousness that only a master orchestra and its gifted leader can achieve. In a word, wow.
Dudamel, with Mozart and Schubert in mind, also sandwiched 20th-century paragons - Berio and Berg -- into programs with his own band. As headliners he brought us the glorious Dawn Upshaw to sing Berg's Folk Songs. Although she's recently taxed her voice with the gritty growlings of Kurtag and Golijov (most sopranos would avoid such wounding epics), her "Black Is the Color of My True Love's Hair" was all melting, liquid undulations. And Gil Shaham, in Berg's Violin Concerto, found the purest cries high on the string, abetted by his quicksilver phrasing. Dudamel and orchestra accompanied him wonderfully in their mutual search for the composer's subverted ecstasy.
As to Schubert, the two movements of his "Unfinished" Symphony, Dudamel drew out its old-world character - the dancey, gracioso, tenderly Romantic qualities we can ideally hear. But for Mozart, the "Jupiter" and "Prague" symphonies, our whizkid director has a way to go. Extroversion and ebullience by themselves do not characterize the ultimate classicist. For that, we need to hear the animation, humor and pathos roiling just beneath a gentile, layered surface, not overwhelming it. Let there be refined boisterousness. Give us Mozartean style.
SUBSCRIBE TO & FOLLOW THE MORNING EMAIL
The Morning Email helps you start your workday with everything you need to know: breaking news, entertainment and a dash of fun. Learn more