He's back. After months of tending to his prior duties with other orchestras, Gustavo Dudamel has returned to the Los Angeles Philharmonic for a festival of American music, or, better said, music of the Americas.
What's more, cashing in on his celebrity status our new podium meister was able to put together a program that surely would not entice the throngs -- you know, he could conduct the Yellow Pages and still pack Disney Hall, which he did.
This bill, performed with all scores open, veered off the beaten musical path and away from the obvious blockbusters he so demonstrably revels in.
There was Bernstein -- no, not Lenny the well-known, as in West Side Story, but the so-called serious composer who wrote his Symphony No. 2, aka The Age of Anxiety. And there was the New Yorker, Peter Lieberson, who inscribed Pablo Neruda's love poems in a song cycle written for his late wife, the divine Lorraine Hunt Lieberson. And representing the country south of California there was Mexican composer Carlos Chavez's Toccata for Percussion, inspired by a Chicago ensemble. So we had Anglo-Hispanic cross
connections going on throughout, courtesy of Dudamel. Hurrah for him and the united Americas.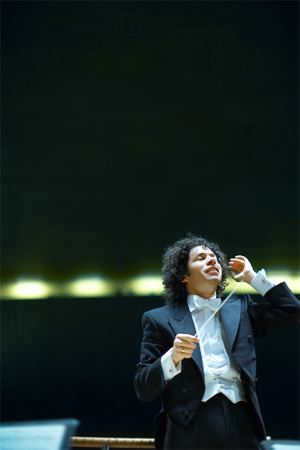 Twelve minutes of finely-wrought razzle-dazzle brought six percussionists into a spotlight they would otherwise never see, courtesy of Chavez. Hurrah for them.
Then began the sorrow and ecstasy. No one at Disney Hall who heard Hunt Lieberson sing the world premiere of these searingly evocative songs five years ago will be satisfied with other performances. Not only because she enveloped them and their exquisite dread of separation in palpably velvet tones, in deep gradations, but because she underlined their prophetic import. What could be more telling than: "If I die and you don't, let's not give grief an even greater field."
But the lovely Kelley O'Connor, who did the Neruda Songs honors this time, acquitted herself ably. She captured much of the score's swooning sensuality and Debussy-like irresolutions, although her mezzo got somewhat lost in the soft singing. Dudamel and the orchestra, often hovering in quietude, brought out its rich, ripe atmosphere delectably.
When they turned to the Bernstein, we got to hear not just this gloss on W.H. Auden's narrative poem, but, tucked into the score, strains of the masters the composer took as his heroes -- a little Copland, a little Mahler, a little Gershwin and yes, the native jazz that was part of his/our consciousness. Not surprisingly, the gifted French pianist Jean-Yves Thibaudet was on hand -- he a jazz devotée -- for those riff-like exercises embedded here, along with the lonely, languid ruminations that were also Bernstein's frequent companions.
LA was not wholly saturated with Americana North and South, though.
When Hubbard Street Dance came to town, for instance, it wore a whole new European look - no longer the company that was once the major repository of Twyla Tharp works. And just as easily as it jived and jammed in her quirky, squiggly, ever-whimsical maneuvers, this time, at the Ahmanson downtown, there was a probing of an inter-relational world fraught with person-to-person complexities, estrangements seen in the abrupt, original moves that signify uncomfortable connections - notably in Ohad Naharin's Tabula Rasa, set to Arvo Pärt's intriguing music of the same name, and Johan Inger's imaginatively surreal Walking Mad.
Director Glenn Edgerton has accomplished this remarkable conversion and held the same, perhaps, even higher, standard with his Chicago-based dancers. Hurrah for them all.