Lorin Maazel, late of the New York Philharmonic -- where he drew both barbs and bravos from the critics -- strode vigorously across stage to the Disney Hall podium, telegraphing to the audience that this was no crochety 79-year-old maestro, but a commanding presence still, no matter which orchestra he stands before (of the 150 he's led over five decades).
Nor should anyone expect otherwise from the man who says he may consider retiring at 95 - since, after all, his father lived productively to 106!

This time he took the Los Angeles Philharmonic in hand for a big, bold, assertive outing - excerpts from Richard Strauss's operas Der Rosenkavalier and Salomé, finished off with that unwaning warhorse Sibelius's Second Symphony. The sound was mighty throughout, the orchestra in fine, crisp form and sensitive to his special phrase-shaping, his dynamic regulation and his sometimes idiosyncratic points of emphasis.
The Rosenkavalier concert suite, which jumps back and forth among ravishing themes of epic splendor and wistful nostalgia, had most of its seductive stuff intact. But, curiously, Maazel did not allow the glorious waltzes to stretch out in their languor or reach their full plangency -- instead going for relatively clipped endings and sudden dynamic changes. Still, there was no resisting this music, whether in the virile horn trumpetings from the boudoir scene to the monologue's introspective musings.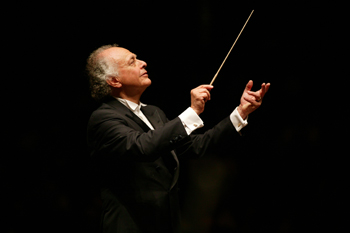 Not to let Strauss, the tonality-breaker, go unheard, Maazel brought on the composer's clashing, crashing chords that accompany Salomé, the teen-aged necrophiliac doing her virginal tryout in Herod's kingdom of depravity.
First there was the famously crazed Dance of the Seven Veils (just the music, folks), which Maazel shaped in sleek, sinuously rampant terms. Then came Salomé herself, portrayed by the towering Nancy Gustafson, a decadent dream in her black strapless floor-length sheath, slit up the middle and bejeweled even to the wide ankle straps of her spike-heeled sandals.
Both she and Maazel turned to face the orchestra -- which left the audience pondering the backs of these two tall, handsome, model-like figures -- while a narrator's voice read the story of Salomé's obsession with her soon-to-be victim, John the Baptist. It was a curious setup, not entirely without dramatic merit, though unnecessary, since well-placed titles translated the Judean princess's final scene that the soprano would next turn around and sing.
And yes, she made it compelling. Not only did Gustafson, in fine voice, quizzically consider and react to the holy man's furious rebuffs, but she found a physical, seemingly spontaneous, way to project her deeply intimate perversions -- wanting to kiss his bloody lips, etc. -- all while standing pretty much in one spot, stooping to underscore her hot incredulity, grabbing at her face. You could arguably call this concert performance, even without benefit of operatic trappings, more powerful than many a staged production.
One wag commented that the evening could have ended there. I agree. But after intermission Maazel and the Philharmonic turned to Sibelius, which predictably got a thorough workout -- what with all the huffing and puffing, harumphing and galumphing of its broadly built themes, its grandly simple, architectural layout. Still, they gave it an impressive reading.
SUBSCRIBE TO & FOLLOW THE MORNING EMAIL
The Morning Email helps you start your workday with everything you need to know: breaking news, entertainment and a dash of fun. Learn more