They were planets apart, Pina Bausch and Merce Cunningham. Even their devotées seemed to breathe different air. But one year after both dance visionaries died -- she, suddenly, at a fully active 69, he at 90 -- Angelenos heard those giant footsteps resounding in great, welcoming celebrations last week.
Bausch's came as the high point of Dance Camera West's annual festival with three films at the Hammer Museum, among them a most revealing interview from 2006. And Cunningham's took place at Disney Hall, as part of what's being called a "Legacy Tour," before his company disbands.
But need I say again that nothing besides this coincidence of showings at the same time in the same city bears comparison? Yes, they're polar opposites.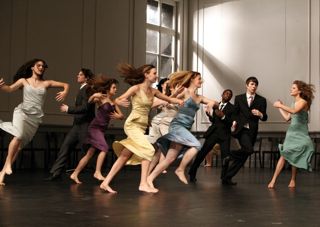 "The Pina," as she was called in Wuppertal, Germany, home of her Tanztheater, changed the face of dance everywhere. She replaced formalism with realism, she left by the wayside choreography as a decorative, beauty-based art, she found material in the dancers themselves and strove to help them uncover their respective sense of calamity, of joy, of dread, of absurdity. She was, variously, a fearless primitive, a keen yet loving satirist, a purveyor of the unmitigated unconscious, a punster who bridged the arcane and the simplistic. She was a mensch with a world view who did not shy away from sorrow.

All of this came spilling out in the films screened at the Hammer. The first was Anne Linsel's sensitive interview, its close-up camera capturing at once Bausch's vulnerability, directness and unlayered simplicity. It revealed an artist who could quietly acknowledge the upheaval caused by her dance-theater revelations without being defensive. From the time we first saw her on this side of the pond - as the 1984 Olympic Arts Festival's main feature at Pasadena Civic - her works were always more about her company members than herself.
"I am not so much interested in how people move as in what moves them," she once said, repeating the mantra of Antony Tudor to explain that steps and movement for their own sake are insufficient.
Testimony from the likes of Dominique Mercy, Helena Pikon, Nazareth Panadero, who are still performing (and were last seen here at Royce Hall in 2007), is just as compelling and direct. These burnished, lived-in personalities are still carrying out the company's tour schedule all over Europe. Indeed, there's a whole marvelous repertoire for them to perform.
The other "process" film, titled Dancing Dreams, involves Wuppertal high-schoolers who audition and win roles in a teen
version of Kontakthof, (Comfort Zone) - with all their shyness, their embarrassment, their lack of self-confidence on display as they confront the opposite sex in this real-life piece. Just as Bausch did with her company dancers, helping them dredge up their baggage and seeing them bloom as distinctive human beings, so did her assistant coaches with these kids -- until she entered to finish rehearsals. The result: a moment-by-moment psycho-drama.
And then there was Merce, at the other end of the world: the leading light of abstract conceptualism. During his dancing days - long-extended, even though arthritis determined their ever-increasing, famously quirky, squiggly style -- he was the wizened imp who led his disciple-filled company and his audiences on excursions of "pure" dance, that is, short movement patterns by the yard, solemn, rigorously difficult, unending activity performed side-by-side with randomly chosen sound scores (most of them devised by his life-partner John Cage) that could go on for hours.
In fact, when Merce appeared onstage he was pure presence, his cosmic humor reined supreme. And where he slotted himself into a piece the material came alive, it engaged us. But his choreography for the expertly trained ensemble often became a clinical, dry ritual that, with its tedium, could shut out the observer. He seemed to know, though, just how long he could assault or deprive an audience before coming to the rescue, his zany persona rushing across the footlights in kaleidoscopic glints.
What rescued Roaratorio, the newly reconstructed work that began as an ode to James Joyce -- specifically based on Cage's Roaratorio: An Irish Circus on Finnegan's Wake -- was the glorious feeling of universality, courtesy of Disney's open stage, its shape and acoustic (although some who sat too close complained of an overly high-decibel level).
For me, though, the superb sound score evoked the immediacy of life as heard in a specific locale -- through perfectly positioned and balanced speakers all around the hall issuing the most natural bird screeches, laughter, a gently gurgling brook (inches away?) and, at center, the dulcet voice of Cage, reciting in gentle cadences what might have been the Finnegan text.
Together with the choreography -- little stations of Irish jigs, step-dancing, ballet studies heavy on gorgeously extended limbs in legato -- "Roaratorio" could be seen as the love song of Cage and Cunningham, the one they left for posterity. It suggested a community, a realm, their sanctum sanctorum of special music and dancers.
SUBSCRIBE AND FOLLOW
Get top stories and blog posts emailed to me each day. Newsletters may offer personalized content or advertisements.
Learn more