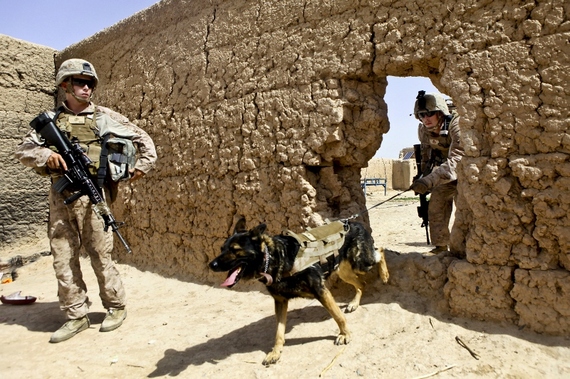 I love dogs and I love to write about dogs -- as so many others do.
Whether the stories are about military working dogs, or therapy dogs, or rescue or drug-sniffing dogs, those pieces become some of the most "liked" ones, indicating that so many people love these animals.
Others and I have written about these wonderful, loyal and intelligent animals who not only protect our troops in the battlefield, root out drugs, explosives and criminals, but also bring a smile to the faces of the sick and the elderly and are therapy to the traumatically stressed, the sick and the injured.
When it comes to military working dogs, these magnificent creatures perform heroic acts, are honored for them and receive awards and decorations, are given "military ranks" -- which they sometimes wear in the form of a patch on their body armor -- and eventually retire from their faithful service.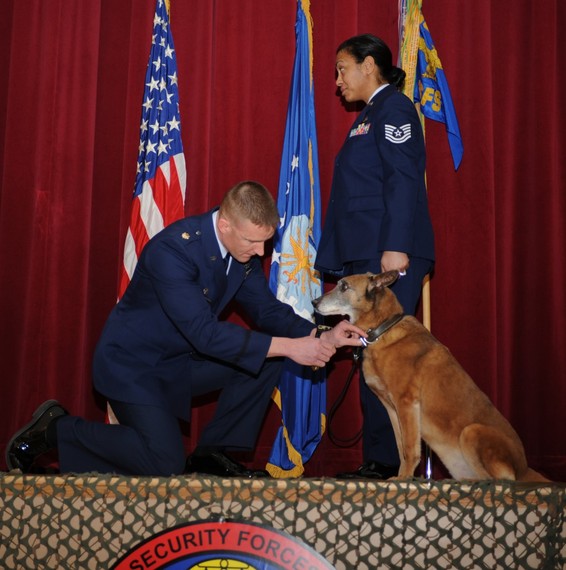 U.S. Air Force Maj. Ryan Bodge, 366th Security Forces Squadron commander, pins a Commendation Medal on retired military working dog Tanja while the canine's last handler, Tech. Sgt. Roseann Kelly, looks on at Mountain Home Air Force Base, Idaho, Jan. 31, 2013. Tanja, a detection and patrol dog, retired after more than 11 years of service and five deployments. (U.S. Air Force photo by Senior Airman Benjamin Sutton)
Recently, a monument was dedicated in their honor.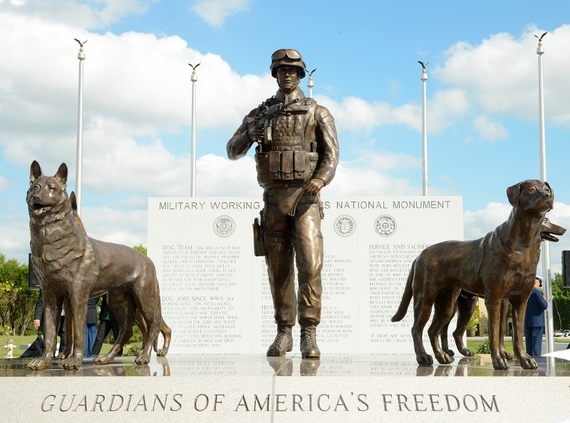 The U.S. Military Working Dog Teams National Monument at Joint Base San Antonio-Lackland, the home to the Department of Defense Military Working Dog Program and the world's largest training center for military dogs and handlers and also home to the largest veterinary hospital for military working dogs. (U.S. Air Force photo by Benjamin Faske)

Sadly, just like their human military brethren, they are also injured and many are killed in action.
A July 2012 article in the New York Times, describing the medical care these dogs receive in and out of combat, reported that as of that date, of the 2,700 dogs serving in the armed forces, 29 had been killed in action in Iraq and Afghanistan.
These dogs share all the hardships, dangers, trials and tribulations their human handlers face and endure, including -- as mentioned -- injury and the ultimate sacrifice.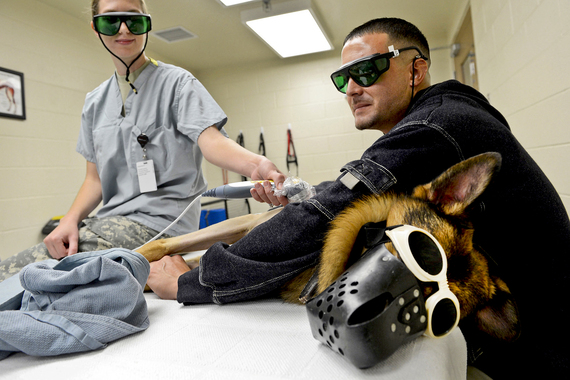 Goggles protect a military working dog, his handler, Kyle Miller, a Defense Department civilian, and Army Pvt. 1st Class Kristi Deal from a laser in use to help heal a wound after surgery in the Holland Military Dog Hospital on Joint Base San Antonio in San Antonio, Dec. 4, 2013. Deal is an animal care specialist. (DOD photo)
But there has been one combat fate that, to my knowledge, our four-legged warriors have not shared with their military friends, until this week -- if media reports prove to be correct.
The Washington Post and other news sources are reporting what seems to be a sad first in the history of our wars and conflicts.*
The Taliban claim they have captured an International Security Assistance Force (ISAF) service dog "after a long firefight between coalition forces and Taliban fighters in the Alin Nigar district of Afghanistan's Laghman province in late December," according to a Taliban spokesman, and as reported by the Post, which adds, "The dog, [the spokesman] said, carries the rank of colonel and was outfitted with sophisticated electronic devices."
The Post provides a link to the video, where the dog -- appearing to be a Belgian Malinois, one of the most common breeds employed by NATO forces -- can be seen on a tight leash, somewhat confused and mournfully looking at the camera while surrounded by armed men, one of them exclaiming, according to the Post, "Allah gave victory to the mujahideen! Down with them, down with their spies!"
The Post:
Lt. Col. Will Griffin, a spokesman for the international military coalition in Afghanistan, confirmed Thursday in an e-mail that the force lost a military working dog during an operation in December. He did not provide further details. Officials at the Pentagon said they could recall no prior instance of a military working dog being taken captive.

The canine was attached to a British Special Forces unit that was engaged in a fatal firefight on Dec. 23, according to a military official who confirmed the nationality of the dog on the condition of anonymity because the British Defense Ministry has chosen not to do so.

[::]

The video caught the attention of analysts at SITE Intelligence Group, which tracks and studies insurgent propaganda. The group's founder, Rita Katz, said she could not recall anything like it.

"I don't remember seeing a dog used as a hostage," she said after checking her database. The only time canines were featured in insurgent propaganda, Katz said, was in Iraq, when insurgents once proposed using them as unsuspecting suicide bombers.
Kevin Dredden, a former Air Force dog handler and Afghanistan veteran who works as a program manager at AMK9, a firm that trains dogs to work with law enforcement and military units, says that one thing is certain: "I know for sure the handler is devastated," noting the tight bonds that handlers and military dogs forge, according to the Post.
So are we.
Rebecca Frankel, a special projects editor at Foreign Policy and the author of the forthcoming book War Dogs: Tales of Canine Heroism, History, and Love, says:
The person I'm thinking of now is this dog's handler. If he has seen this footage, maybe it's given him a sense of hope or maybe a clearer sense of the fate his dog will meet. But either way, these service men and women have lost one of their own. Sure it's "just" a dog, but that dog was in the business of keeping them safe. At the end of the day, that counts as a loss. And I'm sorry for them.
* Note: ThinkProgress reports that "a British dog named Judy spent months as the only official canine prisoner of war during World War II"

Lead photo: U.S. Marine Corps Cpl. Quinton McCloud, right, and Zamp, a military working dog trained to detect improvised explosive devices, search inside an Afghan compound for any evidence of insurgency and weapons during Operation Grizzly IV near Patrol Base Boldak in Helmand province, Afghanistan, July 29, 2013. (DOD photo)
SUBSCRIBE TO & FOLLOW POLITICS
How will Trump's administration impact you? Learn more