I have written plenty about the sad demise of the Lockheed Martin F-22 Raptor fighter program and about the trials and tribulations of the F-35 Joint Strike Fighter program, also by Lockheed Martin.
However, I have not said much about the venerable F-16, "arguably the finest combat airplane of the jet age ... the principal frontline warplane of the U.S. Air Force and of the armed forces of 25 other nations."
The Fighting Falcon has indeed fought valiantly and victoriously in combat, starting on April 28, 1981, when an Israeli Air Force (IAF) F-16 downed a Syrian Mi-8 helicopter over the Bekaa Valley, followed on June 7, 1981, by Operation Opera, where eight IAF F-16s severely damaged the Iraqi nuclear reactor under construction near Baghdad.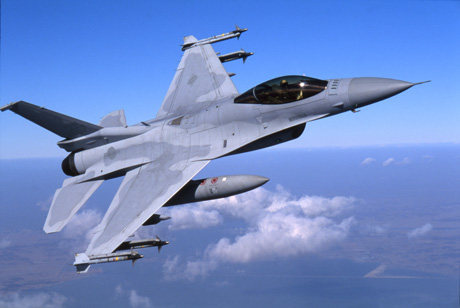 Since then, the F-16 has participated and prevailed in numerous air-to-air and air-to-ground combat missions from Lebanon to Kosovo and Bosnia, to the Iraq and Afghanistan wars.
Lockheed Martin (and, previously, General Dynamics) has built and delivered 4,499 F-16s to 26 nations at its Fort Worth plant and other overseas assembly plants. (Originally designed and built by General Dynamics, the F-16 and its Ft. Worth assembly plant were acquired by Lockheed in 1993).
Today, Lockheed Martin delivers its 4,500th F-16 to Morocco.
It will be a big celebration.
Lockheed Martin is rightfully proud of this milestone, this aircraft and this program: The F-16 program "currently represents the world's largest and most successful industrial cooperation production effort tailoring solutions to meet the needs of customers worldwide... No other fighter can match the F-16's record... because no other fighter comes close to offering all of its strengths," says Lockheed Martin.

In addition to having been and continuing to be an aerospace product that America is proud of, the F-16 has been a significant source of income and employment for the Fort Worth community.
While at the moment about 1,600 Lockheed jobs "remain tied to the program," employment at the Fort Worth plant "topped 30,000" in the late 1980s during peak production.
I was fortunate to visit the Lockheed Martin F-16 assembly line at Fort Worth, Texas, 18 years ago, when the F-16 production was still high. (The peak production year was 1987 when 284 F-16s were delivered.)
I will never forget my impressions of that awesome facility.
Every time I get the opportunity I describe the facility to whomever will listen to me as "a mile-long cavernous building, where the parts, components, and 'raw materials' come in at one side of the building and a few days later out comes at the other side an F-16 Fighting Falcon ready to fly and ready to fight -- just put some gas and bullets in it."
In my excitement and admiration for one of our nation's most venerable companies and products, I may be exaggerating a little bit, but not by much: "The peak delivery month for F-16s from the Fort Worth plant was October 1981 with 33 aircraft... ." That is one F-16 each day, folks!
Read here how a few "conspirators" hatched up the idea of "a fighter jet -- a relatively simple, inexpensive plane that could be sold by the hundreds."
And read here more about that fabulous Fighting Falcon and the equally fabulous "Air Force Plant No. 4."
Congratulations, Lockheed Martin.
Disclosure: The author worked for Lockheed Martin from 1978 until 1995.
Image: Lockheed Martin's New F-16V, Courtesy Lockheed Martin