In a recent Los Angeles Times Op-Ed, David Freed rightfully bemoans the fact that so very few Medals of Honor have been awarded to our deserving heroes who have fought so bravely in Iraq and Afghanistan and he questions the subjectivity, arbitrariness and even the biases and politics that sometimes are part of the recommendation and award process.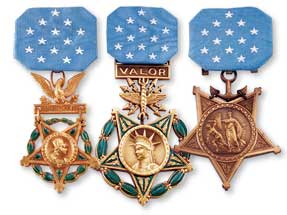 McFarland's life came to a tragic end and the question begs what his fate would have been had he been awarded the Medal of Honor instead.
In the case of another hero, Marine Corps Sgt. Rafael Peralta -- a former San Diego area resident -- there is absolutely no question as to what his fate was and how his life came to an end, because Peralta gave his life in Fallujah, Iraq, saving the lives of fellow Marines. However, as with McFarland, there are still questions, and controversy, as to why Peralta was not awarded the Medal of Honor for which he was recommended by the Commandant of the Marine Corps back in 2004-- a recommendation that was endorsed by the Secretary of the Navy.
Rafael Peralta came to the United States from Mexico at a young age. As soon as he had his "green card," he joined the U.S. Marine Corps, earned his U.S. citizenship and was soon deployed to Iraq where at the young age of 25 he found himself as a scout leader with Company A, 1st Battalion, 3rd Marine Regiment participating in Operation AL FAJR, the U.S. military effort to retake Fallujah.
On Nov. 15, 2004, Peralta and his rifle squad were clearing a house in Fallujah---the seventh house that day -- when the squad opened a door to a back room and immediately came under intense, close-range automatic weapons fire from multiple insurgents. Sergeant Peralta was shot in the head and was knocked to the ground. The insurgents threw a fragmentation grenade as they fled the building. The grenade came to rest near Sergeant Peralta's head.

The citation accompanying the award of the Navy Cross to Sgt. Peralta, the service's second highest award for heroism -- instead of the Medal of Honor for which he was recommended -- says, in part:
Without hesitation and with complete disregard for his own personal safety, Sergeant Peralta reached out and pulled the grenade to his body, absorbing the brunt of the blast and shielding fellow Marines only feet away. Sergeant Peralta succumbed to his wounds. By his undaunted courage, intrepid fighting spirit, and unwavering devotion to duty, Sergeant Peralta reflected great credit upon himself and upheld the highest traditions of the Marine Corps and the United States Naval Service.
On September 17, 2008, Rafael Peralta's family was notified that Secretary of Defense Robert Gates had rejected the Marine Corps' recommendation for Sgt. Peralta to receive the Medal of Honor. Instead, Peralta would be receiving the Navy Cross.
While the citation clearly states that Peralta "reached out and pulled the grenade to his body, absorbing the brunt of the blast and shielding fellow Marines only feet away..." incredibly the central argument used by a panel appointed by Secretary Gates in denying the award of the Medal of Honor to Peralta was that it could not be shown "without any possibility of error or doubt" that the already critically wounded Peralta could have intentionally reached for the grenade, shielding his fellow Marines from the blast with his own body.
Naturally, there has been a huge outcry at this injustice, by fellow Marines, the media, elected officials, the American people and by Sgt. Peralta's family, who refused to accept the Navy Cross.
When Gates' decision was announced, members of California's congressional delegation, including Rep. Duncan L. Hunter, implored President Bush to review and reverse Gates' unfortunate decision.
Numerous other groups and individuals have petitioned the former president and continue to petition President Obama to review and reverse Gates' decision.
After president Obama's inauguration, U.S. Rep. Duncan D. Hunter, R. Ca., a former Marine officer who served two tours in Iraq and one in Afghanistan, sent a letter to the new president raising the case of Peralta.
The letter said, in part:
I am very concerned that the criteria for awarding the Medal of Honor, which has been historically based on eyewitness accounts, has now been replaced by modern forensic science

...

I firmly believe that eyewitness accounts of the event should take precedent through the entire chain of command review process because heroic actions in combat cannot always be explained by science alone.
In addition to the "forensics" issue, there are other controversies surrounding the Peralta case.
A May 2009 Air Force Times article, "Death before this honor," points out the following:
After Sgt. Rafael Peralta was denied the Medal of Honor in 2008 -- a case that drew heavy scrutiny, including use of forensic evidence -- questions were raised about whether Peralta's onetime status as an illegal immigrant played a part in the decision.
As Freed says, we will never know how the Medal of Honor would have changed the course of William McFarland's life, and, of course, an eventual award of the Medal of Honor to Rafael Peralta will not alter what he did for his country nor enhance the honor he has already earned. I suspect, however, that Americans will feel better about themselves when all our heroes are recognized for their valor and sacrifices in a more timely, objective and equitable way.