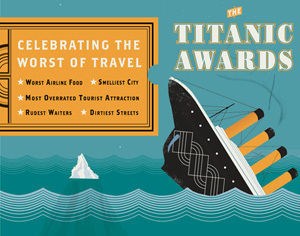 If you've ever wedged yourself into a plane seat, you know there are few perfect trips. When things do go wrong, there's only one decent remedy: someone next to you who had it worse -- much worse. The Titanic Awards, you might say, is like a portable pick-me-up for bad trips, a mildly addictive collection of short, entertaining travel disasters, funny travel photos, irreverent travel survey results, and Twitter-sized travel nightmares from original interviews with over 75 well-known travelers, including Lonely Planet founder Tony Wheeler, Author and Outside magazine legend, Tim Cahill, National Geographic Traveler Editor Keith Bellows, "Dangerous Places" Robert Young Pelton and Conde Nast's Wendy Perrin.
Here's how it works: Maybe you're feeling down because your luggage arrived a week late or you were seated beside a sumo wrestler on a trip back from Japan. But consider this: at least you never had to cough up $20,000 for a single taxi ride when the Icelandic volcano canceled your flight (as a few Italians did). Maybe you're frustrated the airport check-in is taking two hours. Just be thankful your grandmother didn't try to check herself onto a flight by hopping onto the luggage conveyor belt and tumbling down the chute into the baggage area (yes, this happened, too). See, it could be worse. Hopefully you're feeling better already.
You may have enjoyed a few of the Titanic Awards online at titanicawards.com or here in the Huffington Post. (Worst Countries for Toilets, Worst Hotel Names / Worst Inflight Meals / Worst Countries for Beer / Proof that Airlines Hate You). As of today, this panacea is available in handy book form so you can keep them right at your finger tips (or next to the toilet).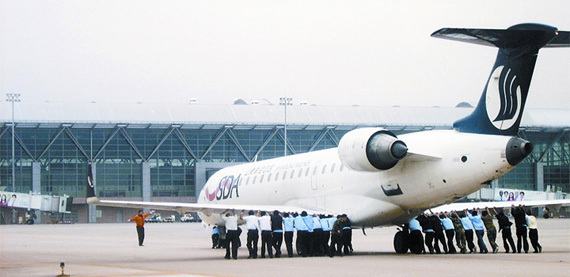 Most Demanding Taxi: Sure you may have had to sit on the tarmac for hours, but you've probably never been asked to get out and push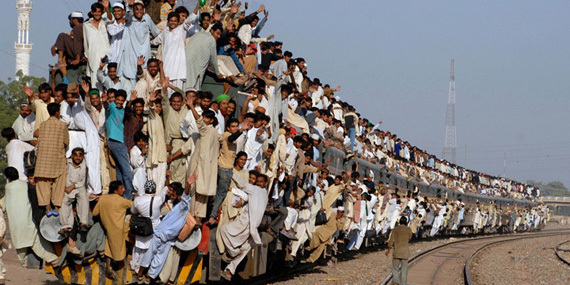 Most Crowded Train: No, no, no... "all aboard" is just a figure of speech
Doug Lansky will be speaking at WORD bookstore in Brooklyn May 11, at 7:30. Come and share a fun travel nightmare or two.
Follow Doug Lansky on Twitter: www.twitter.com/@dlansky