A great beer bar impresses with the breadth of its offerings, but it's more than the sum of its tap list. It's someplace where the clientele is chummy, the food comforting, the bartenders beer-geeky but not snobby. If the taps are listed on a chalkboard, then huzzah. If you can throw peanut shells on the floor, then so much the better. And if you need elaborate directions to find the place, then you're almost certainly on the right track. Here are a few favorites (you'll have to ask around for directions).
Taps: 16, mostly locals with a few hard-to-find imports, plus 200ish bottles.
Vibe: Sophisticated coffee bar. Dim lighting, exposed brick, old tin ceilings, couches, piano.
Wash down: Knockout charcuterie board (above).
Of note: Lots of tap takeovers featuring local brewers; summer beer garden out back. (56 Main St., Bangor. 207-907-4380. nocturnemdrafthaus.com)
Taps: 24, skews regional, some adventurous imports.
Vibe: Upscale-rustic gastropub, guys in flannel next to guys in blazers. Wash down: Attractive small plates, like potato pancakes with house-cured salmon.
Of note: Turntable behind the bar spinning classic vinyl. (2 Government St., Kittery. 207-703-2294. theblackbirch.com)
Taps: 40, plus a great bottle list, about 50/50 locals and imports. Vibe: Small-town British pub on Portland's waterfront.
Wash down: Short rib pot pie.
Of note: Great exposed-brick room was once a cannery. (254 Commercial St., Portland. 207-805-1252. thekingsheadportland.com)
Ebenezer's Restaurant & Pub
Taps: 35, mostly Belgian, plus 1,000ish bottles.
Vibe: If Cheers were filmed in Europe.
Wash down: Chimay burger, with stinky British garlic cheese.
Of note: Repeatedly annointed country's best beer bar by BeerAdvocate magazine; way knowledgeable staff; seating in a barn. (44 Allen Rd., Lovell. 207-925-3200. ebenezerspub.net)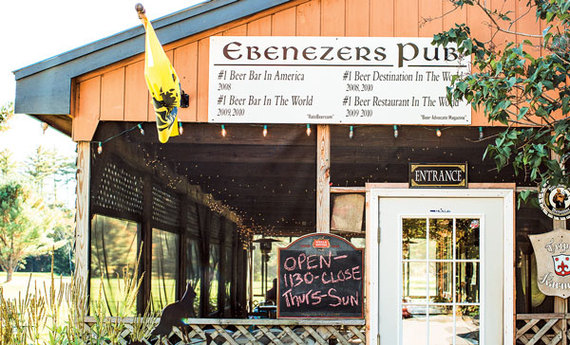 Taps: 78, largely American microbrews.
Vibe: 1990s brewpub, with lots of crazy stuff on the walls and a cast of regulars.
Wash down: The Almighty Cheesus Burger, which replaces a bun with two grilled cheese sandwiches.
Of note: Been doing this since 1979. (540 Forest Ave., Portland. 207-772-0300. greatlostbear.com)
SUBSCRIBE AND FOLLOW
Get top stories and blog posts emailed to me each day. Newsletters may offer personalized content or advertisements.
Learn more