Every once in a while, a book comes out with such a compelling message that you have no choice but to be moved and take action in response to it.
The title of the book comes from the Chinese proverb, "Women
hold up half the sky." Kristof said that if the great moral struggle of the 19th
century was the abolition of slavery and that of the 20th century racial
equality, then that of the 21st century would be gender
equality. He illustrated the plight of
girls and women in developing countries with vivid stories and sobering
statistics that left us with no choice but to sit up and pay attention (and
purchase not one but two copies of the book, in my case).
For example, Kristof remarked that up to the first year of
life, Indian girls have the same mortality rate as the boys. However, between the ages of 1 and 5, the
girl mortality rate is 50% higher. Because
of selective abortion and preferential resource allocation to males in the past
50 years, 60 to 100 million girls are simply missing from the population.
Kristof noted that women are better targets for aid in poor
countries since they tend to spend money more wisely than men. While only 2% of the average family budget is
spent on education, the men spend 20% on alcohol, tobacco, prostitution and
sugary drinks. A fraction of that spent
on, say, mosquito nets or schooling makes a measurable impact on the family's
welfare and that of the community at large.
This is partially why focusing on helping women has such a
disproportionate impact on overall welfare.
Kristof highlighted four problem areas worthy of our immediate
attention:
In 1780, at the peak of the slave trade, eighty thousand
slaves were transported worldwide. Last
year, about eight hundred thousand
women were trafficked across international borders for sexual slavery. This does not even count the number of women
who are kidnapped and coerced within the borders of their own country.
Subsequent to greater awareness and outrage about this
problem, the business model of the sex trade has started to erode in some places. Encouragingly, Kristof witnessed this
firsthand in Cambodia,
where a lady eventually shut down her brothel and turned it into a grocery
store because it had ceased being profitable.
In poor countries, childbirth remains a life-threatening proposition
for the mother, just as it was before 1900.
For example, a woman in Niger
has a 1 out of 7 lifetime chance of dying during childbirth. Kristof brought to our attention that in America, up to
World War I, more women died every year in childbirth than soldiers in that
war. It wasn't until women acquired the
right to vote and became more respected members of society that maternal
mortality rates went down.
3. Financial empowerment
through microfinance: microlending and
microsavings
By now, most people have heard of the power of microlending
though the stories of Mohammad Yunus, Grameen Bank and kiva.org.
But what about microsavings?
"Where do you hide money in a hut with a door that doesn't
shut very well?" Kristof's query brought into sharp relief our world of
ubiquitous banks and ATMs with that of poor villages where money is hard to
hide and access, especially for women who are sometimes not even allowed to
touch money in patriarchal settings. "When
you're having obstructed labor and can't get the $80 for a caesarean
section, you have a real problem," said Kristof.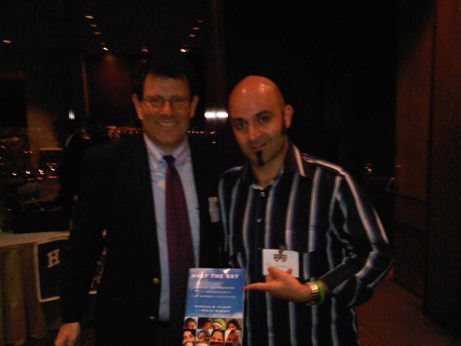 Kristof is not just a brave and talented journalist but also
a wise one: he is able to see the elusive crux of the matter where conventional wisdom can clutter truth.
So it is said that building more bricks-and-mortar schools is the
way to solve the education problem in poor areas.
No -- that costs about $100 per student per year. Turns out it's much more cost-effective to
de-worm the students and provide them with underwear and pads for managing menstruation (that was my second guess, too). A single 50-cent dose of the antiparasitic
mebendazole keeps a girl parasite-free for a year, keeping her from missing classes. Underwear and sanitary pads also cut down
absenteeism. The fewer days of school
missed, the lesser the chance of dropping out, forming the axis of the virtuous
cycle of future prosperity.
Kristof then addressed some of the more common questions he
gets about his work. "Isn't it depressing?" He finds it more inspiring than depressing,
especially when he witnesses the work of people like Somaly Mam who put their lives on the line to
help victims of trafficking.
"And why should we care?" Besides the obvious humanitarian benefit of
the work of empowering girls and women, Kristof reported that the people who
involved themselves out of semi-detached noblesse
oblige quickly found themselves deeply engaged in the work. The work of psychologist Jonathan Haidt demonstrates that
this kind of work raises our baseline level of happiness.
In conclusion, Kristof recounted the story of the
tough-as-nails Darfur aid worker who came back to the U.S. and broke
down sobbing at the sight of the bird feeder in her grandmother's
backyard. She realized that not only did
she have cleanliness, safety and abundance here, but also the luxury of
attending to the needs of wild birds. As
such, she felt as preposterously fortunate as a lottery winner, as all people
who are reading this article with a roof over their head, clean clothes on
their body and food in their belly also should.
Nicholas Kristof's talk was enlightening and uplifting
without being maudlin. I felt
invigorated by the information and encouraged by the options he provided us to
help in a meaningful way. He has all of
those suggestions and much more in his deeply moving book, of which I encourage you to
get at least two copies -- one for yourself and one for a woman you love.
SUBSCRIBE TO & FOLLOW LIFESTYLE
HuffPost Lifestyle is a daily newsletter that will make you happier and healthier — one email at a time. Learn more