Super Bowl Sunday is the second-largest day for food consumption in the U.S., behind Thanksgiving. This coming Sunday isn't just about football. It's about creating memories and enjoying camaraderie with family and friends. But mostly, it's about eating. It's a good time for us to remember that 1 out of 6 Americans suffers from food poisoning each year, according the Centers for Disease Control and Prevention. That's roughly 48 million people. And 3,000 people will die from it. How many people are coming to your party?
While I'm a Pittsburgh Steelers fan, I'll still be watching the game with friends -- and even cheering on the Giants. The important thing to keep in mind when sharing great times and delicious food with those you care about is that the risk of foodborne illness can be reduced by taking four simple steps this Sunday. The U.S. Department of Agriculture and the U.S. Department of Health & Human Services have teamed up with the Ad Council to create "Food Safe Families" -- a campaign aimed at ensuring Americans know what these steps are, during the Super Bowl and any time of year.
Here are the steps you need to take to keep friends and family safer this weekend while watching the Super Bowl.
Clean -- When preparing party foods, wash hands and surfaces often. Remember to use clean cutting boards and to clean utensils and counter tops.
Separate -- Use separate plates for raw and cooked food when grilling. Plates of raw or cooked hamburgers, steaks, sausages and chicken.
Cook -- Cook to the right temperature. Chicken wings and meat products.
Chill -- Don't leave food at room temperature for longer than two hours. Vegetables, salsa and dips.
If you're heading to someone else's party this Sunday, let them know what steps to take by spreading the word. You can tweet about these tips with the hashtag #FoodSafeSB or tweet at the handle @foodsafetygov. If you have questions, then check out our online database with answers to nearly 1,500 questions related to preventing foodborne illnesses.
Following these simple steps is an easy way to keep you and your guests healthy. Food is a big part of this weekend and we want everyone to have a safe, healthy and fun Super Bowl Sunday. Enjoy the food and the game.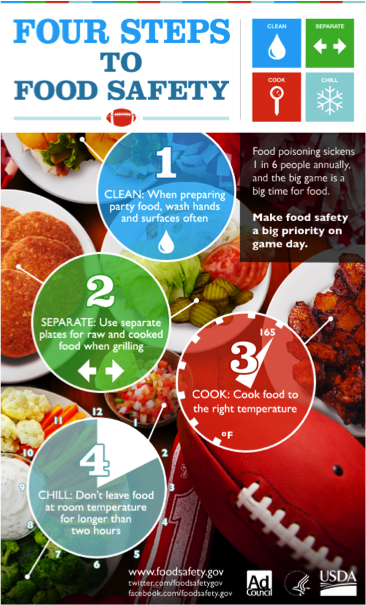 SUBSCRIBE TO & FOLLOW THE MORNING EMAIL
The Morning Email helps you start your workday with everything you need to know: breaking news, entertainment and a dash of fun. Learn more