I have been in Haiti since last Saturday and have had the best time ever in the 5 years that I have been working here. The people are happier and Port au Prince seems more settled and productive. I have no scientific proof of this; it is just how it seems to me after 15 trips.
I am here with four 17-year-old young men who have joined the Worldwide Orphans' Orphan Ranger corps. These boys are sweet and open to life. They are caring and loving to the Haitian kids in Kenscoff where Worldwide Orphans has been working since the earthquake. I am enjoying their ability to go with the flow and to be able to be hard working and patient with young children who speak only kreyòl. They are fully engaged through basketball, soccer, football, arts and crafts, singing, and dancing. They have rolled with the punches with the mountain walking and they have even adapted to an early bedtime and no Internet until about 9 p.m. at night when we share the router with them. They are nice to be around.
More importantly as we start and end the day with a debrief session, they are able to connect with the harshness of life in Haiti and they are eager to make a difference in the life of the children they have met this week. They work hard daily to play sports and games with the kids and they are holding babies and enjoying that very special intimacy that comes with hugging and hand holding so desperately needed by at-risk children. One of the babies called Brandon, "Poppy" which means father here. He smiled and was proud. Each of the boys is quietly absorbing the challenges of life in Haiti and still awakening ready each day this week... to make a difference.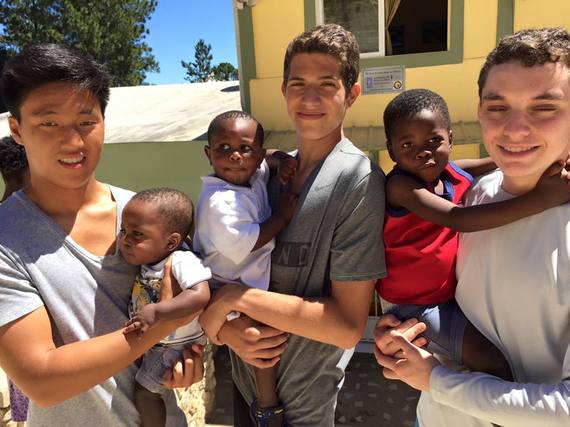 Each day when we debrief and they all have a little to say about how they are feeling... they are having fun with the kids and are eager for more no matter the reality of their lives.
Yesterday, we went to a very dark and difficult orphanage. This is one I know from my past trips, but I have not had a visit there in a while. The place is filthy and the children are dirty and poorly dressed. The older girls are ashamed of how they look. I can tell. The kids are fearful and are told how to say hello to us, the visitors, by the man who runs the place. He is a well-meaning man with no understanding of how to love children. He keeps things in order. The sadness on the faces of these children is hard to bear. They are a punished group for sure.
I am nauseous and speechless. The boys are quiet and Melissa gathers the children into a play and singing circle. She starts the kids out with them saying their names and then they each make a gesture that is personal to them. I love this activity. Can't wait to say my name and then today I decided to twirl like a ballerina.
There are many songs sung, but the singing cannot take away the sadness we all feel. I want to escape from this place and steal the children, but I know I cannot.This is Haiti and its orphans. They are trapped in a place with dark rooms, no electricity, no running water, no clothes that fit, no food that is tasty, no kindness, no education. The programming from Worldwide Orphans is their light and escape to sanity.
I leave a bit blue, but hopeful that we can do more for them. I never feel hopeless... never. I take in the moment of sadness and am always thinking what we can do to help. This disaster that I know exists all over Haiti and the world spurs me on to dream of all the wonderful work we at Worldwide Orphans can do to change up the chances for these kids to feel better and have a life for themselves.
I am at war with the suffering of poor children around the world and I will never let down. I think that the four young men who have joined our Orphan Ranger program this week are at war as well. We have conscripted in our army to change the destiny of vulnerable children.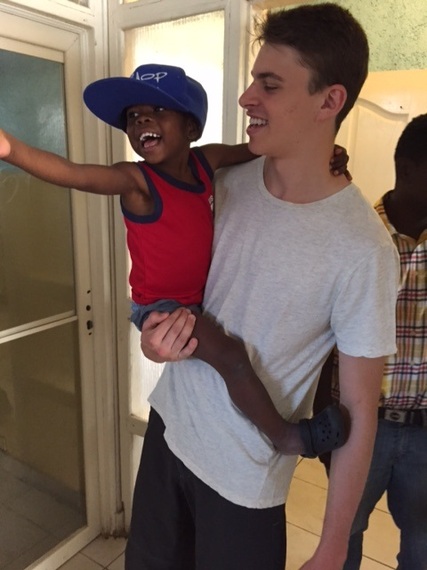 SUBSCRIBE TO & FOLLOW TRUMP'S FIRST 100 DAYS
How will Donald Trump's first 100 days impact YOU? Subscribe, choose the community that you most identify with or want to learn more about and we'll send you the news that matters most once a week throughout Trump's first 100 days in office. Learn more