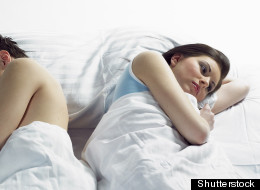 Stress. I'm slightly on edge just writing the word. It brings up thoughts of all of the things I have yet to accomplish. Of all the resolutions I have (thought about) but not yet followed through with (and it hasn't even been two weeks). After years of managing work, marriage, children and relatives, I can tell you that when I'm stressed, I'm not that pleasant to be around. And when it comes to sex, stress makes your sex life suffer. In fact, stress is one of those weird issues that can not only affect your sex life, but also be alleviated by having sex. So if you want to get rid of stress, why don't you just go have sex? OK, that's all.
You didn't really think that I was going to leave it there, did you?
The effects of stress are insidious. It takes a toll on your physical, emotional and relationship health, probably more than you realize. Here are five ways stress can impact your sex life:
1. Stress contributes to a negative body image. Bad body image = bad sex.
The hormones produced in association with stress can impact our metabolism. If we feel sluggish or if we gain weight (unintentionally), it can make us feel badly about our physiques. If we don't like our bodies, it is pretty difficult to find the desire to shed your clothes and jump into bed with your partner. Now, I am not suggesting that you should just get it over with, but it's a vicious cycle. Lower self-image equals less sex and less sex creates relationship problems. Ideally, our relationship should enhance who we are, not make us feel more stressed. And one of the biggest stressors we can have is our relationship, if we don't take the time to nurture it.
2. Stress takes a toll on our libido.
By now, we know that hormones affect our bodies in numerous ways from childhood to adolescence, pregnancy, menopause and beyond. Cortisol is one of the hormones produced by stress, and you might have heard of it if you've ever seen those late night diet pill commercials with the image of the pixelated woman gaining weight in her abdomen. Our bodies need this hormone, but in small doses for short bursts of time. If elevated levels of Cortisol are being produced for a prolonged period of time, they suppress our sex hormones. Lower quantity of sex hormones equals lower libido.
3. Stress makes us question our relationships and our partners.
As I mentioned earlier, when we are stressed, we are not that pleasant to be around -- and vice versa. You don't want a partner who flies off the handle and snaps at you because he or she is overwhelmed. And you don't want to be the one who incites those feelings of frustration in someone that you love. Who wants to go to bed with an emotional monster? Relationships suffer when we are stressed, especially if we stop communicating. Or if our communication consists of rolling our eyes and grunting at a loved one.
4. Stress can lead to excessive drinking. Excessive drinking makes for bad sex.

It's not a surprise that lots of people use alcohol to escape. I, like many women I know, have been known to long for happy hour -- any happy hour. But this isn't about a glass of wine, a bottle of beer or a drink with one of those smile-inducing hot pink umbrellas in them. This is about excessive, prolonged drinking. More than one or two drinks a day. (And we can even debate whether that is too much.) This is the type of drinking that you probably hide from friends. It may be the type of drinking that begins long before happy hour does and goes on far later. Or it may just be one drink beyond that early, feel-good buzz.
We know that men have difficulty getting an erection when they drink too much. But what about us? As it turns out, alcohol can dull sex, making it less pleasurable. Alcohol dehydrates us, making lubrication challenging. Without lubrication, sex is painful. Without lubrication and sufficient arousal, we can kiss the idea of orgasm (or pleasure in general) goodbye. After a number of pleasure-less or mildly painful sexual experiences, we are not going to want it. Would you?
5. Stress impacts our fertility and our menstrual cycle. When we are stressed, our hormones levels take a dive.
I mentioned stress as a factor in why our libidos suffer when we're stressed. But who would have thought that fertility would be challenged, too? (Yes, I know what you're thinking, if you're not having sex, you're probably not getting pregnant. You're right, but there's more to this -- and besides, not all women are heterosexual, and they try to get pregnant, too.)
Stress can impact our pituitary gland, which controls the thyroid, adrenal glands and ovaries. If our ovaries aren't functioning properly, your menstrual cycle is adversely affected. Our periods may become irregular or we may stop menstruating. (This is called amenorrhea and if stress-related, not a permanent condition.)
If you are trying to get pregnant, you need to decrease your stress. Which (as I know) can be difficult, because there are few things more stressful than trying to become pregnant and not being able to do so.
So it's time to make some changes.
Exercise, relax, take a bath, drink one glass of wine (not four), masturbate (yes, I said masturbate), make out with your partner and delegate some responsibilities to others. It will make 2013 a lot less stressful... and hopefully, a lot more enjoyable.
So what will you do to alleviate stress in 2013?
RELATED ON HUFFPOST WOMEN: 7 Steps To Mind-blowing Sex:
7 Steps To Mind-Blowing Sex
It's too easy for us women to convince ourselves to settle for less. We're so helpful and accommodating, so eager to please and afraid of rejection that we're quick to give up the things we need, including when it comes to sex. What we need to see is that doing this will leave us chronically frustrated. While it's true that every relationship requires a certain amount of compromise, going without the things that we really need just doesn't work. We'll end up unhappy in the relationship or resentful toward our partner. The bottom line is, we need to know what we can't live without, sexually, and what we just can't live with. We ignore these non-negotiables at the expense of a fulfilling sex life.

If you can't ask them for what you want in bed, you shouldn't be sleeping with them. Good sex happens when we feel safe and at ease. If we're afraid to ask for something or to tell our partner that we don't like something, sex will never be more than mediocre. This second tip follows from the first one, in that once we identify what we want and don't want, we have to express these things clearly. It's unfair to expect our partner to be a mind-reader and "prove" that they care by somehow knowing what we want without our having to tell them. Healthy sex comes out of healthy communication.

We need to be in touch with our bodies; with what feels good, what feels not so good and what feels wrong. We also really need to stop judging ourselves in terms of our weight and our shape. Only a superficial dope would give us a hard time over our imperfections. If someone makes us feel bad about our physical selves, this is more a reflection of his inadequacies than of our own. Our negative self-talk has to stop. The running commentary on how fat we are, how much cellulite or how many wrinkles we have is guaranteed to kill the mood, often before it even starts. Feeling good about our bodies is crucial if we're going to let go and enjoy ourselves. Being physically self-conscious will keep us from experiencing the joyful abandon of great sex.

In the bad old days, some women were led to believe that the way to get a man to toe the line is to offer sex for good behavior or withhold it when the man has displeased them. Most of us today recognize this as hateful behaviour and a recipe for disaster. Men don't want to be controlled or punished, especially around sex. They don't want to be made to feel like little boys. When we're hurt or angry at our partner, we need to share our feelings with him in an adult way. We can even say that we're too upset for sex, right now. What we mustn't ever do is make him feel like we're deciding when he gets to have sex, based on whether he's been "good" or "bad." On the other hand, using sex as a reward turns us into sex objects and makes sex into a commodity for our partner to "earn." It's no longer two people being intimate or enjoying each other. Commodifying sex makes it into a business transaction and our bodies then become objects for trade.

We might love Fluffy or Rover, but they don't belong in the bedroom when we're being intimate. Our pets are very territorial and could get jealous or want to play, too. Dogs might bark or even growl. Cats might jump onto the bed and start walking around. We can avoid these disasters by remembering to shut the door and leave our four-legged friends outside.

Sex is about connection and intimacy, but also it's about having fun. It can be mind-blowingly great or occasionally, things can go wrong. Having a good sense of humor about sex will keep things in perspective. Being able to laugh at ourselves and at the comical aspects of sex will take the pressure off the whole experience. We might love and adore our partner, but we don't have to be so serious about making love to them. Humour relieves pressure and is a great way to connect.

The best sex is the kind in which each person is trying to please the other one. The sharing in sex is one of the things that make it great. It can be technically amazing, but when one person gets the impression that the other person really isn't there with them, it can ruin the whole experience. What makes someone a fantastic lover is not their technical ability or their repertoire of moves but their attentiveness and their efforts to make their partner happy. When both people show that they really care about meeting their partner's needs, sex becomes something wonderful.
Follow Dr. Logan Levkoff on Twitter: www.twitter.com/LoganLevkoff