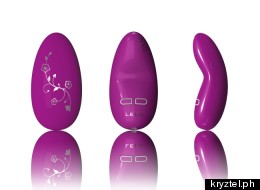 So the moment has come: You want to buy a sex toy.
What do you look for in a vibrator or toy? What's good? What's safe? What will your partner like? What will he or she hate? Perhaps I can be of some help.
Incorporating "toys" into your sex life is a healthy and very common experience for many couples. Got that? It's not just about masturbation. If you don't believe me, the Center for Sexual Health Promotion at Indiana University studied vibrator usage among Americans: 80% of women (users) have used a vibrator with a partner (2009). When I was writing How to Get Your Wife to Have Sex with You, I wanted men and women to understand that shopping for sexual products wasn't just about one person's needs; both partners can -- and should be involved. Whether you are looking for vibrators or lubes, sleeves, cuffs, or rings, shopping can be a exciting experience -- no matter what you're looking for. You just have to know the right questions to ask.
But first, may I digress for a moment? I really don't love the term "sex toys." I prefer to call them sexual enhancements, sex accessories, or as the boutique Kiki de Montparnasse calls them, "instruments of pleasure." For some reason, "sex toys" has always given me the impression that these products are novelties and should be carried home in brown paper bags from the seedy shop that everyone knows about but no one admits to shopping at. Besides, today vibrators (including those from Trojan) are sold in mass food and drugstores. Right there on the shelves next to the condoms and lubes. They are definitely mainstream. But I know that some of you like to wordsmith and think that perhaps I'm being picky. So be it. I just feel like some people (many people) rely on these products in order to achieve orgasm. That means that they are definitely not toys or novelties; they are necessities. Just saying.
Now that I've voiced that, when you (and/or your partner) decide to take a trip to your local erotica shop (or browse online) think about what is it you are looking for. Are the two of you looking for the same thing? Is this for one particular sex act or is it for a variety of experiences? Or just consider the following:
So You Want To Buy A Sex Toy ...
Is the product attractive? Why is this important? Well, if you think that something is visually unappealing, why would you want to put it anywhere near your genitals? We should turn on with our eyes and our bodies.

Does size matter? In this case, yes. Will this product make you or your partner uncomfortable? Is it so large and veiny that your partner is going to pale in comparison? Is it small enough that you can carry it in a purse for those spontaneous moments? Is it small enough that you can use it comfortably during sex?

Don't kid yourself. Power is important. Is this strong enough for you and your partner? Does it have a range of settings and speeds? Is there enough variety in power?

In the bedroom, there are few things worse than having your favorite vibrator or other enhancement die mid-act. In the best case, you can reach over an grab a couple of AA batteries to get that baby up and running again. But what happens if your favorite product takes watch batteries? Well, that sucks, because those aren't likely to be purchased in bulk during your Costco runs. And if they use Cs or Ds, do you have them handy? Do they make your vibe super-heavy and hard to hold? This is important. Check out how the product operates and see if it's convenient for you.

Does this product sound like a jackhammer? Will your roommates wake up? Will your children come barging into your bedroom in fear that construction workers have camped out in your bed during the night? Check out the buzz - is it quiet, loud, do you care? Is the sound going to be so distracting to you that you can't fully enjoy the sensation?

Is this product a piece of crap? Seriously. There are lots of crappy products on the market. Some of them contain chemicals that you wouldn't want to put inside your body. Make sure that the product doesn't contain phthalates. Phthalates are chemicals used to soften PVCs. They are found in many novelty products but there are health hazards associated with usage. Some stores like Good Vibrations and Babeland won't even sell products with these chemicals in them. Check out the "ingredient list." It is important.

You need to know what the product is made out of (i.e. latex, silicone, jelly rubber) because it will give you some insight as to what products you can (or cannot) use with them. Consider the following questions: Can this be used with condoms? Do you need to use a particular type of lube? For example, oils should never be used with latex condoms and silicone or cyberskin "toys" cannot be used with silicone lubes; they can damage the product and erode the surface. But you'd never know if you don't do your research. (And while we're on the subject of lubes, think about the following: Are you using the lube with condoms? Are you using it with a particular toy? Do you want a thick lube or a thinner one? Does the lube have a particular odor or flavor? Is it sticky or silky? What kind of sex will you be having? Seriously, if you're talking about having anal sex you're going to want a lube that doesn't dry out too quickly. These things do matter.)

Feel it. Does it rattle? Does it look and feel so cheap that you think it will only work for about ten minutes before it falls apart or stops working? If so, don't buy it.

Whether you call them sex toys or instruments of pleasure, all of them can be found in a range of price points. Chances are, if a product is super-inexpensive, it's not going to have great longevity. That being said, there's no guarantee that you'll fall madly in love with a $250 product. Price doesn't ensure a fabulous experience. There are great products that you don't have to spend an arm and a leg for. But if you (and/or your partner) are shopping for the first time, less expensive is a good entry point. Pardon the pun, but ease into the experience. Just keep in mind that "less expensive" and "cheap" are not synonymous.

Is this product easy to clean? Is this product easy to store? These may seem like silly questions, but you want your sexual accessories to be pleasurable and convenient to use (before, during, and after).

Whether you are shopping in an actual store or online, there are some amazing salespeople who are available to help maximize your shopping experience. No need to be embarrassed; they've seen and heard it all. They know what customers like and they know what's new to the market. Salespeople are a fantastic resource. Use them! Also, the best sex shops offer education for customers, too. Check out the list of events at your favorite shops, or you can look online at a sample of what some of the following boutiques offer: Babeland, Come as Your Are, Early to Bed, Eve's Garden, Good Vibrations, Fascinations, The Pleasure Chest, and Smitten Kitten. Bet you didn't think that there was so much to consider. If you're not a novice in the sexual product world, you probably have a better sense of what you need or what you would like to try next. However, if this is your first experience - or you are shopping with a new partner - this will hopefully guide you in thinking about what it is that you really want and how to find a product that's going to give you that same result. But in the end, if you're shopping for sexual products, that in and of itself is sexy. And it also means that pleasure is on its way. Hit the stores!
Follow Dr. Logan Levkoff on Twitter: www.twitter.com/LoganLevkoff