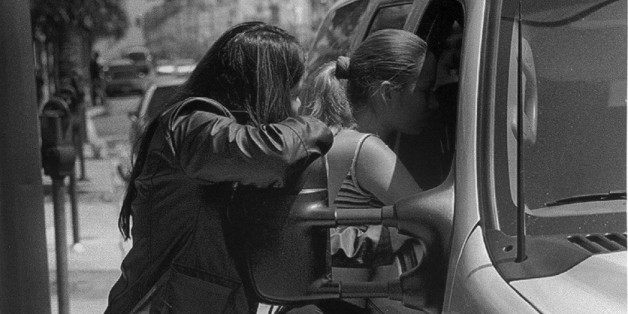 Advocates for America's child sex trafficking victim continue to promote "prostitution" or "sex trafficking" as a disease -- something that requires specialized treatment. Prostitution is not a disease -- it is a circumstance that presents itself as a solution to escaping chaotic homes characterized by sexual abuse, domestic violence, post-traumatic stress disorder, substance abuse and mental illness. These are the underlying factors that lead to child sex trafficking and are the issues that need to be treated when a child is rescued.
Experts in these fields already exist and an effective intervention and program will require a multidisciplinary staff made up of experts in these fields and advocates must realize that -- one size does not fit all.
Restoration? Who wants to be restored to a family where the mother sold you for crack and the father and his friends came into your bedroom at night to have sex with you?
In fact, the pimp presents prostitution as a solution to childhood sexual abuse. He tells the child "You no longer have to lie in your bed and wait for your daddy to come in and have sex with you. I can show you how to control the sex and make men pay you for sex." Prostitution becomes one-upmanship on early childhood sexual abuse.
Children victimized by sex trafficking not only want a way out, they want a way in to the mainstream of society. They want everything everyone else wants: a home, a partner, children, and a business -- they want the American dream. A program that does not provide the child sex trafficking victim with these opportunities will fail.
Child sex trafficking victims have long lost their sexual dignity prior to being sex trafficked in most cases. If not, they were gang raped and humiliated as a "grooming process" prior to introduction to prostitution. In most cases, however, by the time they are prostituting they have learned to "disassociate" their feelings and their minds from the sexual activity involved in prostitution/sex trafficking. When they sob, they are sobbing because their first caregivers betrayed them by sexually abusing them or allowing others to do so.
The degradation and humiliation that accompanies child sex trafficking requires that these children are served in residential programs exclusively with other children who have been sex trafficked. They are a danger to the less sophisticated runaway and they are victimized by older, tougher street youth. In fact, many of these children meet pimps and abusive partners in youth shelters.
Foster care for America's child sex trafficking victim as a placement option has failed miserably. In the '80s, some of the most skilled social workers and agencies trained to work with child sex trafficking victims placed these children in specialized foster care. These skilled social workers and child sex trafficking experts recruited and trained selected foster parents and placed highly screened child sex trafficking victims in specialized foster homes. Other children in the foster homes were sexually abused by the child sex trafficking victim and child abuse reports were filed by the victims against the foster parent -- some valid abuse reports and some out of vengeance.
In one case, a seemingly appropriate, educated teen trafficking victim was placed with a single mom and her 8-year-old daughter. One day when the mom returned home she found her 8-year-old nude and her hands tied to the ceiling hanging over the bed and being fondled with a feather. The child sex trafficking victim did not mean any harm -- she was acting out what had been done to her.
In another case, a man who owned and operated a beauty school accepted a 14-year-old boy into his home. Everything went well for a long time until the foster father announced his 9-year-old daughter was coming for a visit and the foster father asked the teen not to frighten her with "overt" sexual expression. The teen dressed in female clothing, cursed repetitively and told sexual stories. He then filed a child abuse report. Everyone lost. The foster father was humiliated when the Los Angeles County Department of Children's Services visited his school and announced he was being investigated for child abuse, the 9-year-old daughter was alienated from her father for the next several years and the foster child was asked to leave the home only to end up back on the streets.
Yet another case, a social worker's home investigation revealed the foster father was walking the 14-year-old foster boy around on a dog leash in the garage. Such little regard is given to the child sex trafficking victim that many do-gooders feel that any help at all is better than life with a pimp/trafficker.
Child sex trafficking victims require the same level of care as blind, crippled and/or developmentally disabled children. Because "sex is at issue" in their victimization there are some special concerns and safeguards in providing residential care, but we should not throw out State regulations for residential care. These regulations have been designed by accomplished, experienced, esteemed social workers in response to the abuse of children in orphanages of years past. And almost every regulation has a story of a child being abused or neglected in congregate care.
The key guiding principles for these regulations require a balancing act of "adequate care and supervision" and the rights of the child. "Rights of the Child" includes the child's ability to not be locked in a secured facility without access to fire escapes, not be isolated in some remote area where contact with the outside world is prohibited and not separated from the activities available to other children in the same home.
Until we understand these basic premises of acceptable residential care and the challenges presented by America's child sex trafficking victims, residential care for these children may be as damaging or dangerous as life with a pimp/trafficker.