"How many doses should go in a vaccine vial?" seems like a pretty mundane question. But figuring out the best answer has major implications for delivering vaccines in low- and middle-income countries. Recently, the conventional wisdom on this topic has begun to shift -- and this week, health experts from around the world are convening in Washington, D.C. to revisit this key question.
Decisions around vaccine container size and type -- whether single-dose vial, multi-dose container or pre-filled syringe -- have important implications for a variety of stakeholders, from the manufacturers who make vaccines, to the governments and organizations that buy them, to the health workers who administer the vaccines, to the patients that benefit from their protection. With an emerging need for data -- and a framework for organizing and coordinating it -- this week's discussion, cohosted by PATH's Project Optimize and my team at IVAC, is taking place at a critical time.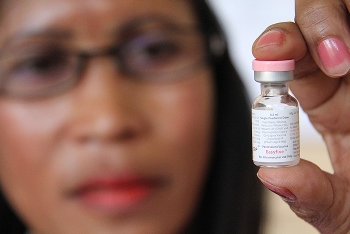 Photo Courtesy of the GAVI Alliance
Traditionally, vaccines for lower-income countries have been packaged in vials containing up to 20 doses. Multi-dose vials allow vaccines to be packaged and purchased at lower cost and to take up less space, making them easier to transport and store along the temperature-controlled supply chain from pharmaceutical company to city or village. However, in rich countries -- where cost is less of a concern and supply chains are more robust -- the preference is more often for vaccines in single-use vials or even pre-filled syringes for their ease of use and disposal.
The primary downside of vaccine vials containing a higher number of doses is the increased chance that unused doses will go to waste. A recent study by our team at IVAC found that wastage rates among 19 GAVI-eligible, low-income countries ranged from 4 to 44 percent for 10-dose containers, compared to just 1 to 10 percent for single-dose vials.
Once a vial is opened, health providers only have a set amount of time to administer all of the doses -- for some, just a matter of hours -- or they must be thrown away. Historically, the cost of a wasted dose for most vaccines was negligible compared to the increased cost of transporting those vaccines in single-use vials. Doses of measles or polio vaccine, for example, can cost less than $0.20 each.
Over the past few years, however, more advanced and scientifically complex vaccines have been made available in low- and middle-income countries to prevent deadly diseases such as pneumonia and diarrheal diseases. These vaccines are critically needed; pneumonia and diarrheal disease are the two leading killers of children worldwide. But instead of $0.20 per dose, their cost is $3.50 -- making wastage cost-prohibitive.
Health workers in the field will sometimes admit to being hesitant to open a brand-new vial with 10 doses at the end of a day in order to give a dose to a single child. They fear that by throwing out the remaining doses, they may not have enough doses they need the next day to vaccinate all of the children that need them. They know this isn't the policy -- they're taught to never deny these life-saving vaccines to any child for fear of wastage -- but they feel the pressure of a Solomon's choice nonetheless.

"All too often, we blame front-line health workers for making 'wrong' decisions in these cases," notes Robert Steinglass, immunization team leader at John Snow Inc., who will co-chair this week's roundtable. "But shouldn't the responsibility rest with decision makers like us to optimize vaccine delivery and take the nail-biting guesswork out of the equation for health workers, whose jobs are already difficult enough?"
Answering the question of how many doses should go in a vial is about much more than cost and the size or number of freezers and cold packs needed. Vaccine safety, waste disposal, delivery issues and supply availability are all potentially impacted by this unglamorous decision.
With leaders from developing countries, the World Health Organization (WHO), UNICEF, vaccine manufacturers, academia and nongovernmental organizations around the table, this week's roundtable is well positioned to capture viewpoints from key stakeholders, as well as to identify areas for optimizing the use of vaccine vials for a variety of situations.
"The size and type of primary container in which vaccines are made available to low-income countries have important implications for immunization programs in terms of safety, logistics and human resources. This roundtable is therefore an important event that will start to shed light on an often totally neglected set of issues," says Michel Zaffran, coordinator of the Expanded Programme on Immunization at WHO, and Director of Project Optimize. "We anticipate that evaluations for each product will still be needed, but that a better understanding of gaps in current data will improve decision making."
This discussion could not come at a better time. It may seem mundane on the surface, but this decision could potentially have huge implications on how many millions of children we vaccinate, how safely we vaccinate them and how much money we save (or waste) in the process.
SUBSCRIBE TO & FOLLOW MUST READS
The internet's best stories, and interviews with the people who tell them. Learn more