A man's home is his castle, at least until alterations come before the local zoning board. In our system, this is where the prerogatives of private ownership rights contend with the private and public interests of the broader community.
The most common experience most of us have with this process is when our desire to "bump out" the family room runs into some detailed zoning regulation, and we trot off the the zoning board to get a variance.
Neighbors may be affected in real, or imagined, ways. Either way, they also have a right to be heard. The objections of the community, and for that matter, the desires of the owner, may be somewhat vague. For this reason, the decision of the zoning board may have more to do with community comity than building codes. As such, the result can be highly political.
The same process applies to a not-for-profit that wants to convert a deserted clothing store into a community center. And that is the story of 51 Park Place, in Lower Manhattan.
Park Place runs for a scant two-and-a-half blocks. It gets its name from City Hall Park, a verdant mecca surrounding City Hall and the Tweed Courthouse, the latter named for the infamously corrupt political boss who had it built. The street starts at the Park Place subway station, serving the 2 and 3 lines, and the 57-story Woolworth Building, which reigned as the world's tallest from 1913 to 1930. Frank Woolworth's private office was modeled on Napoleon's Palace of Compiėgne. It is still one of the 50 tallest buildings in the United States and one of the 20 tallest in New York City. Across the street is Club Remix, a night spot with a reputation for cool disc jockies and rude bouncers.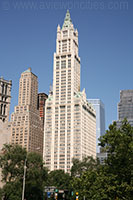 Woolworth Building, world's tallest until 1930
Park Place crosses Church Street to a block of blighted street-level retail, fronting law offices and watering holes like Dakota Roadhouse and Equinox. There you will find 51 Park Place, its steel shutters barring the way to a deserted Burlington Coat Factory outlet store, abandoned since 9/11/2001. This is the locus of all the hullaballoo. The building sold for $4.5 million, chump change in the stratospheric world of Manhattan real estate. A few blocks away, that figure might buy a nice Tribeca condominium, but certainly not an entire 16-story building.
Cross West Broadway and you come to a truncated block flanked on either side by non-descript mid-rise office towers. And there Park Place ends at Greenwich Street. If you back up to West Broadway, turn south, walk two blocks, and cross Vesey Street, you come to the edge of the World Trade Center site. To get to Ground Zero, turn east and walk another two blocks.
From 51 Park Place, X-rated entertainment can be found on the next block up at New York Dolls on Murray Street.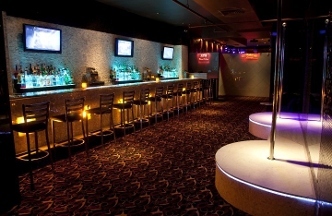 Courtesy of Citysearch
But did we mention that Park Place crosses Church Street? True, the street's namesake Trinity Church is nine short blocks south, and is one of the most historic religious buildings in the United States. But St. Peter's is just down the block on Barclay Street. It is the oldest Catholic parish in New York City. The first American to be cannonized, Saint Elizabeth Ann Seton, converted to Catholicism at St. Peter's.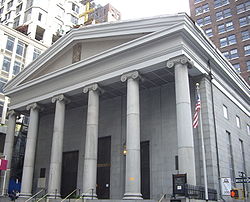 St. Peter's Roman Catholic Church built 1840 in Greek Revival style
While on the subject of religious observance sites, it is worth noting that there has been an Islamic congregation the same distance from the Twin Towers (four blocks) since 1971. Worship of Allah proceeded without interruption in Lower Manhattan, with little notice and less controversy, since before the Towers opened. That site, however, lies beyond this neighborhood survey of Park Place.
Park Place, like much of Lower Manhattan, like America itself, is a dizzying mix of humanity and its edifices, ranging from the venerable to the venal. Its few unshuttered shops serve pin-stripped lawyers and bankers as well as denim-clad construction workers, and a stream of humanity bent on everything from revelry to reverence.
So who are the neighbors? Bankers and lawyers? City hall clerks? Strippers and sybriates? Congregants of New York's longest-established churches? Subway riders? Pizza and sandwich shop patrons? World Trade Center re-developers?
All had their say. The issue of the use of 51 Park Place for an Islamic community center indeed came before the New York City zoning board. Hearings were held. Views were expressed. And the board voted - to permit the owners to proceed with their plans. Like most zoning disputes, the vote was, I am quite sure, entirely political.

After surveying the neighborhood, it strikes me that the center will be an improvement. If St. Peter's can co-exist with the fleshpots of New York Dolls, the "Cathedral of Commerce" (Woolworth Building), and the work of Caesar we call City Hall, surely a center for physical exercise, culinary instruction, and religious devotion is not out of place.
When the present St. Peter's church building opened in 1840, the loathed and feared element in American society, particularly in New York City, was not blacks or Muslims or Jews. It was the Irish Catholics. "No Irish need apply" signs abounded on shops. Irish were relegated to the worst-paying, dirtiest, and most dangerous jobs in a way that makes the lives of today's illegal immigrants look cushy. The prejudices and fears bred in centuries of religious wars in the Old World had their echoes in the New World. And nowhere was this more apparent than on the hard streets of Lower Manhattan.
Today, Catholics, Jews, and, to an increasing extent, blacks are integral part of society, particularly in cosmopolitan New York City. Muslim Americans want the same.
SUBSCRIBE TO & FOLLOW THE MORNING EMAIL
Start your workday the right way with the news that matters most. Learn more