When Tasmanian Liberal Senator Richard Colebeck said there would be "minor boundary modifications" to Tasmania's World Heritage Wilderness Area, I was appalled that "minor" meant 44 percent or 165,000 acres of the 389,000 acres of the wilderness area's "outstanding universal value" would be available to logging.
The Coalition government has so far sanctioned the destruction of 16,000 acres of the magnificent Bimblebox Nature Refuge in favor of coal from the Galilee Basin- ostensibly to enable more supertankers to export coal. This is in addition to its 240 million tons of heat-trapping emissions annually, and the 3 million tons of dredging dumped from Abbott Point harbor onto the dying UNESCO Great Barrier Reef. It has quickly become a resource extraction free-for-all at the expense of our biosphere.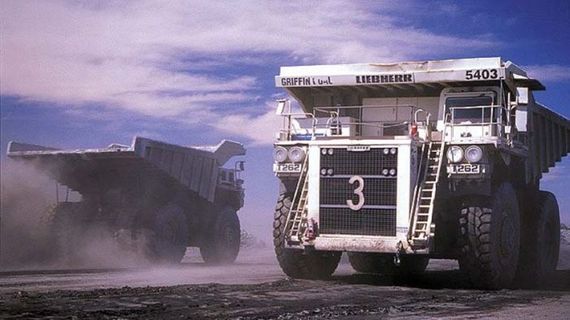 The Waratah Coal Project is part of the expanding Galilee Basin in western Queensland that will bring Australia's coal export to whopping 770 million metric tons per annum in the coming decade -- as Prime Minister Tony Abbott's Coalition government overseas the ransacking of the largest coral reef on the globe -- The Great Barrier Reef. Photo credit abc.net.au

Trees, in particular old trees, are vitally important for life, as we know it. Trees are effectively the greatest carbon dioxide warehouses to have ever evolved on Earth. For every one ton of wood created, 1.5 tons of carbon dioxide is absorbed and one ton of oxygen is released.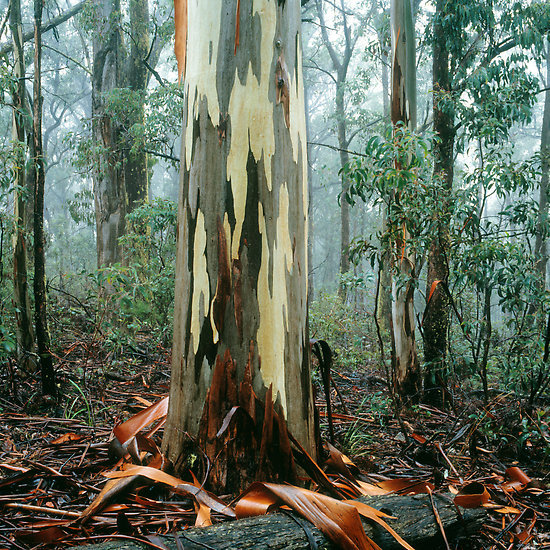 This is one of my favorite eucalypts - Shining gum. It grows like a rocket in the mountains and has breathtaking colors in its bark. Photo taken by Em Mainka.

This much we know: Old growth forests are superlative at capturing and storing vast amounts of carbon dioxide. Even after 200 years, second growth low elevation temperate forests could not compete with the colossal storage capacity of nature's ancient forests.

New research examining over 650,000 individual trees from 403 temperate and tropical species found that the older, largest trees everywhere grew faster and captured far more heat-trapping carbon dioxide compared to the younger, smaller trees.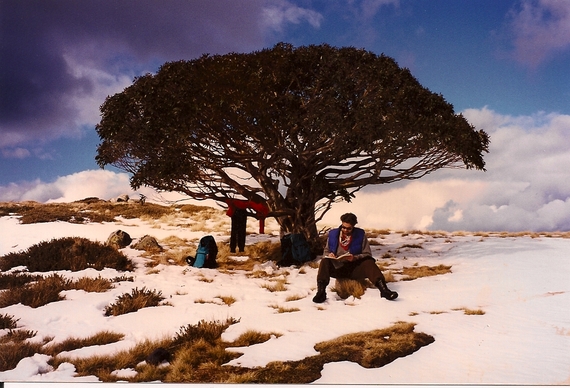 Ancient trees like this Snow gum centurion, twice over, on Mount Stirling, Victoria are phenomenal carbon dioxide warehouses. Photo credit Earth Dr Reese Halter

Frighteningly, mature trees on every forested continent are dying at an alarming rate from rising global temperatures, which beget increased droughts, bushfires, diseases and insect epidemics. In truth, all remaining ancient forests are in need of protection. Felling them is hastening our demise.

According to Peter Hitchcock, a key adviser on the original Tasmanian World Heritage nomination in 1989, about 90 percent of the land is outstanding tall eucalypt forests - never logged. With heights of 333 feet they are the Southern Hemisphere's tallest remaining forests. Tasmanian mountain and alpine ash are the noblest specimens left on the Australian continent and easily comparable in height to northern California's coastal redwoods, the reining world champions.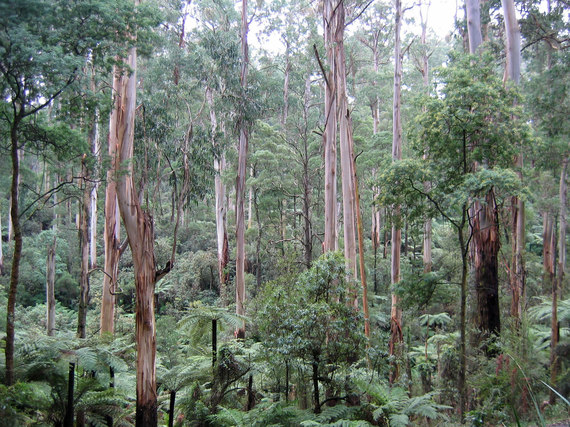 Mountain ash forests are very tall, glorious, replete with myriad birds and extremely fast growing, too. They do not live nearly as long as Californian redwoods because stand replacing fires occur about once every century and a half resetting nature's biological clock, starting the forest anew. Photo credit: wikipedia.com

So why do the Tasmanian Liberal's plan, should they win the 15 March election, to release an additional 730,000 acres for logging of non-World Heritage protection under the Tasmanian Forest Agreement?

Tasmania's timber and pulp mills are designed to run 24/7, 365, yet foresters cannot grow plantation wood quickly enough to supply the Japanese demand. So in the short-run the Liberals intend on trading some of Australia's finest natural heritage to these automated mills (which require less than a dozen men to operate each facility). In fact, Tasmanian wild forests are irreplaceable therefore priceless, and most worthy of their designated protection status.

This proposed Tasmanian ecocide is symptomatic of forthcoming global plans facing every remaining tropical, temperate and boreal forest that is not legally protected. Quick profits are taken from "liquidating" ancient forests and locals are then left to contend with the dire consequences of massive environmental degradation.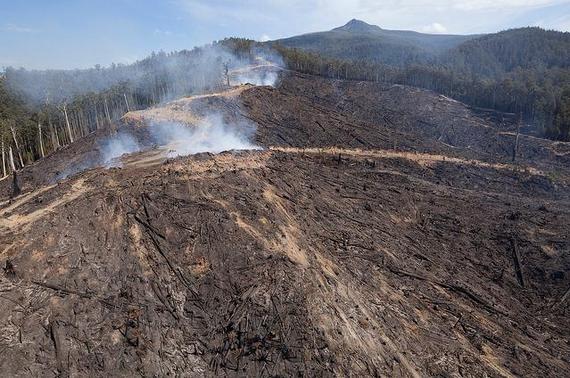 It is time for a worldwide moratorium on logging all remaining ancient forests. Humans have razed and ruined enough wildlands. Foresters have more than enough denuded lands to grow plantations and practice the art and science of forestry. Photo credit habitatadvocate.com.au - Styx Valley Tasmania.

There are, however, other long-term sustainable economic alternatives to consider here. Logging these majestic tall forests jeopardizes the future of Tasmania's multi-billion dollar annual tourism industry, which grows by about 10 percent per annum and depends upon living forests for its livelihood. Tourists from around the globe flock to Tasmania's sublime UNESCO protected wilderness.

If foresters in Tasmania cannot work with the existing clear-felled sites under their current management, why should they be allowed to destroy more ancient forests and plant more monoculture plantations, thereby further impoverishing Australian biodiversity?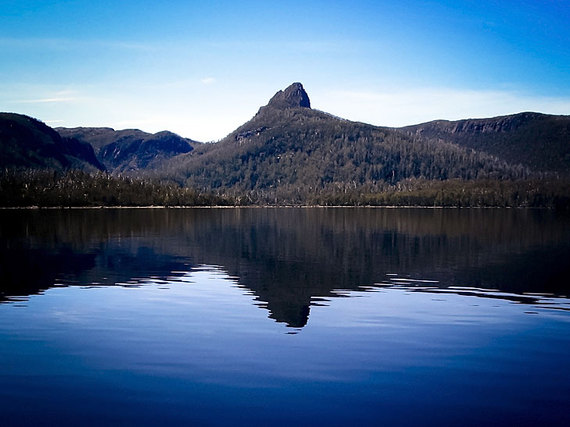 Fresh water and biodiversity are two crucial components for a healthy future for all Australians. Photo credit urlaub-australien.net -- Cradle Mountain Lake, Tasmania

Moreover, it is indeed worrisome that Abbott's government is attempting to follow a failed model of resource looting by Russia, which tried to remove protection of its virgin Komi Forest in the Urals for toxic gold mining and Tanzania's bungled plans to "modify" boundaries to Selous Game Reserve to facilitate uranium mining.

Let me remind you that the oceans are missing 40 percent globally of their oxygen-making phytoplankton. By 2024, according The United Nations Food & Agriculture Organization there will be eight billion people on our planet. That's an immense amount of additional oxygen requisite just for them to breathe. It is therefore incumbent upon all nations to protect their remaining oxygen-rich ancient forests.
It is inconceivable that anyone would deliberately kill these living masterpieces. Spend an hour with any ancient trees, minus all electronic gadgets; breath, listen, smell and truly discover Zen. Photo courtesy of Professor Steve Sillett, Humboldt State University, California.

Australia is a powerful G-20 country. Its time for us to guard Tasmania's World Heritage Wilderness Area not squander it, like an entitled nouveau riche resource baron.

Earth Dr Reese Halter is a broadcaster, biologist, educator and author of The Insatiable Bark Beetle.
SUBSCRIBE TO & FOLLOW THE MORNING EMAIL
Start your workday the right way with the news that matters most. Learn more