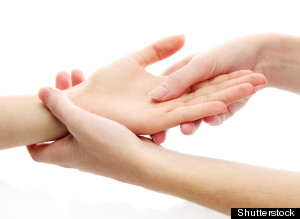 Acabo de medirle el metabolismo a una paciente que desayunaba dos horas después de levantarse. Su resultado fue impactante. Los alimentos le engordaban en vez de darle energía.
Según mi medidor ella no tenía energía para vivir y eso explicaba por qué engordaba aún sin comer muchos carbohidratos. Rápidamente le enseñé un truco casero para medirse el metabolismo.
Cómo medirse el metabolismo
Al tardar 2-3 horas para desayunar sube la hormona que frena el metabolismo. Todos necesitamos desayunar al levantarnos pero si las proteínas no entran por la boca, el cuerpo empieza a "auto-devorarse". Esta hormona provoca que el motor del cuerpo vaya más lento para sobrevivir.
Dos señales del metabolismo
El motor lento no se calienta al quemar menos calorías. En las personas con el metabolismo lento sus manos son más frías.
Todos despertamos con el metabolismo lento y las manos más frías. Si el desayuno tiene más de 15 gr de proteínas, el motor del cuerpo se acelera, los alimentos se transforman en calor en vez de ser almacenados (engordar) y la temperatura del cuerpo se eleva.
Cómo medir el metabolismo
Al darle la mano a cada paciente puedo adivinar si desayunó o no.
Avísame si tienes tus manos frías (metabolismo lento) o si se calientan después de desayunar proteínas (metabolismo normal).
Cómo acelerar el metabolismo para bajar de peso
Primero hay que descartar las tres causas más frecuentes de metabolismo lento: resistencia a la insulina, testosterona alta e hipotiroidismo.
El siguiente paso es mejorar la alimentación. Quien no desayuna se auto-devora.
Seguir las indicaciones para dormir correctamente es aún más importante para adelgazar que la alimentación.
Por último, es recomendable evitar hacer ejercicios en ayunas. En vez de caminar es preferible realizar 5 minutos de este ejercicio intenso para acelerar el metabolismo.
10 súper alimentos para adelgazar
MÁS VIDEOS:
SUBSCRIBE AND FOLLOW
Get top stories and blog posts emailed to me each day. Newsletters may offer personalized content or advertisements.
Learn more