I would have gladly gone to The Shubert Theater to see Noel Coward's "Blithe Spirit" last month just to see Angela Lansbury take her curtain call. Her absolutely infectious and charming rendition of Madame Arcati was a complete pleasure if not honor to witness, but it was her eyes that most arrested my attention. The look on her face, the aliveness and gratitude in her blue gaze, became one of the most touching moments I have spent in the theater. She was radiant in that way that people are when they are present to more of life than our ordinary consciousness sometimes allows. She was so obviously in full possession of an awareness of the magic of just standing there, I couldn't fight the lump in my throat as I watched her capacity to take it all in, the laughter, the applause and the, I guess you could say, "unbearable lightness of being." That feeling that is probably there at all times for all of us but we ward off for reasons that have occupied the minds of philosophers and psychoanalysts for all time. Maybe we fear losing it, maybe it's just too beautiful to feel, or maybe we just don't have the eyes to see it.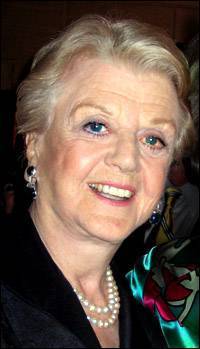 When Angela Lansbury received her Tony she confirmed everything I had felt that evening. All she seemed to say was that she was grateful, grateful to be standing in front of the community that she has been such a part of for most of her life, grateful to be standing in front of a group who loves and appreciates her both for her talent and her resilience and grateful, well ... just to be standing at all. To add to the enchantment of the moment she, in the spirit of true generosity, gave it all away by saying that her winning the Tony was hopelessly unfair but that she loved it none the less and appreciated the indulgence of all involved. Blowing kisses and taking a slight bow she seemed to be thanking not just the theater community but life itself for treating her with such love.
This sort of magical moment, replete with laughter, depth and inspiration that New York is so capable of offering up, is what makes this place so unique. Somehow this city has a heart that beats almost on its own, an internal combustion created by the interface of elements from the world over that fuels it's passion and drive. I remember riding in a taxi when the driver reminisced about "That time I was driving my cab at 2:00 a.m. through the Lincoln Tunnel and saw one long line of elephants all connected to each other being walked to the circus.It's an island, they had to go through the tunnel.....or swim." He referred to it as "one of those 'free shows' you only get in New York." This is such a strange and mysterious city with so much room for so many. New York, it would seem, invented diversity and valued it with a grassroots wisdom long before anyone did so in the main media. It's is a land of reinvention, reinvention of self, of community and of art forms.
I suppose the Angela Lansbury moment was so extraordinary because somehow she is a symbol to me of how to live the full length and breadth of one's life. The idea that she experienced such large success even late in life with Murder She Wrote, that she was able to play a character so close to her own personality and give all of her old friends roles to boot is both moving and inspiring. It makes getting older seem as if wonderful things can still happen, as if life can continue to open up all the way along. That I learned that she had been married to the same man for over fifty years put the frosting on the cake, she just lasts. There is a grace and ease to Angela Landsbury's expression that seems to say that if you treat life well it will treat you well, and a dignity and discipline about her that makes one want to be better themselves. Congratulations Angela Landsbury on your Tony, congratulations on a life well lived!
This Blogger's Books and Other Items from...
FOLLOW HUFFPOST