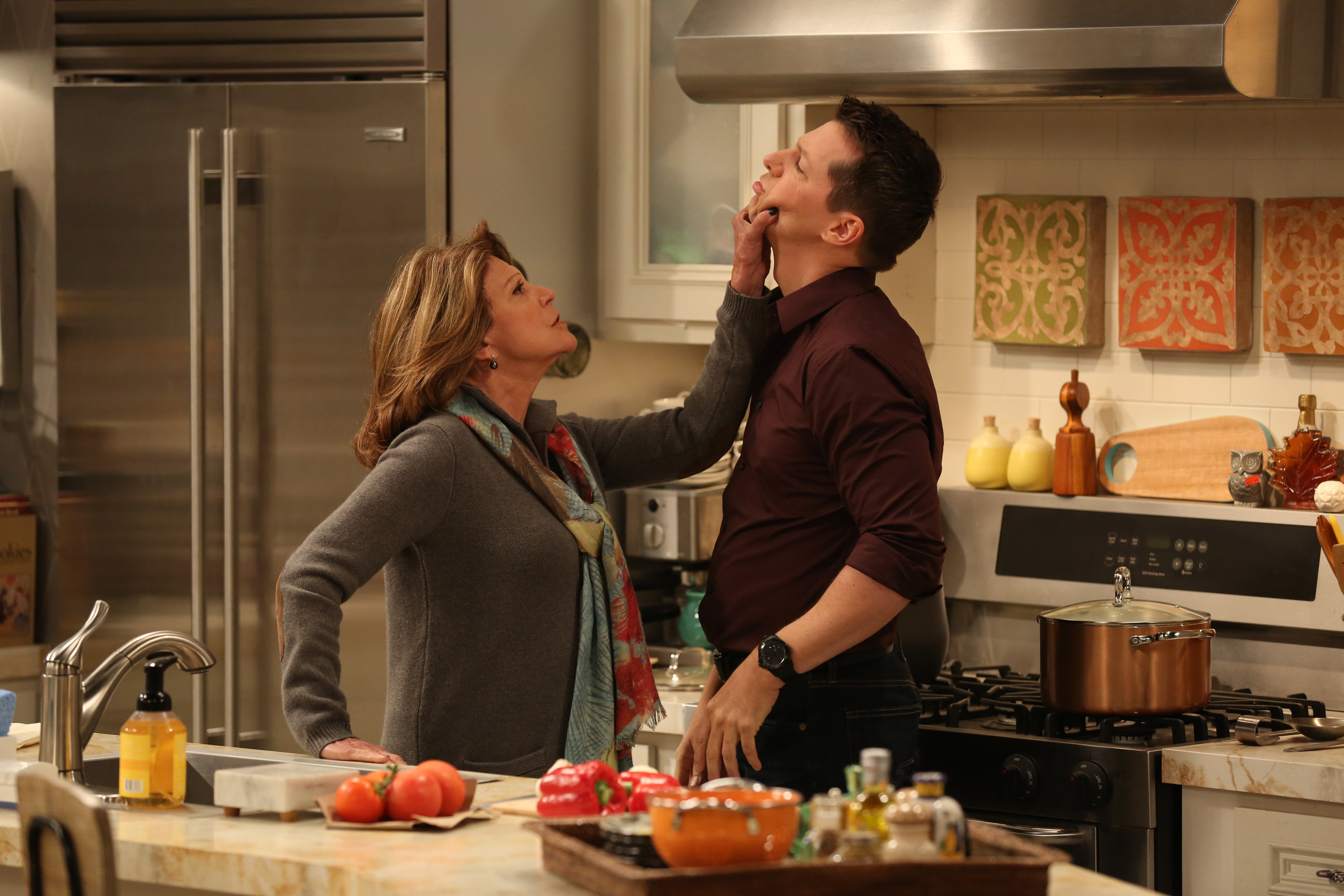 When Linda Lavin sang the theme song to her hit television series "Alice," she was, as the lyrics said, "a new girl in town." Having worked in the theater in New York for over 10 years, TV was relatively new for Lavin. She landed her signature role as a waitress at Mel's Diner after the head of Warner Bros. saw her doing a tiny part on another show. After nine seasons and two Golden Globe Awards for Lavin, "Alice" ended in 1985.
Now for the first time in many years, Lavin is returning to a leading TV role in NBC's new comedy, "Sean Saves the World," starring "Will & Grace's" Sean Hayes. Upon reading the script, Lavin knew she wanted the role of Lorna, the mother of Hayes' character.
"When I'm sitting there with a script and a cup of coffee, if I am moved to start reading it out loud, I know it's something I want to do. That doesn't happen too often," Lavin said from Los Angeles on her morning walk with her dog, Mickey. "This is one of the best pieces I've read in a very long time for television."
Dividing her time between LA and New York, Lavin recently moved from Wilmington, N.C., the place she called home since 1995. She initially moved there to produce and star in the television movie "Stolen Memories: Secrets from the Rose Garden." She never anticipated it would become an exciting new chapter in her life.
"I got there at night and woke up the next morning, went for a walk and realized I was supposed to be there. That was home," Lavin said.
Five years after moving to Wilmington and restoring houses in impoverished neighborhoods, she met the love of her life, Steve Bakunas. He had recently moved to the area and Lavin's friend asked her if she would meet him. The two exchanged phone calls for about a week. Then Lavin found herself sitting directly behind him at the theater. When their eyes finally met, she felt the magic.
"When I looked at his face, I thought, "Oh wow! I'm glad I have my hair done today!"
During her early days in LA, Lavin would often perform in nightclubs. She once joked that she'd sing Stephen Sondheim's "I'm Still Here" to people who didn't even know who she was. Today that's not the case. Her legacy is firmly cemented, and she's proven that with some luck and love life's gonna be so sweet.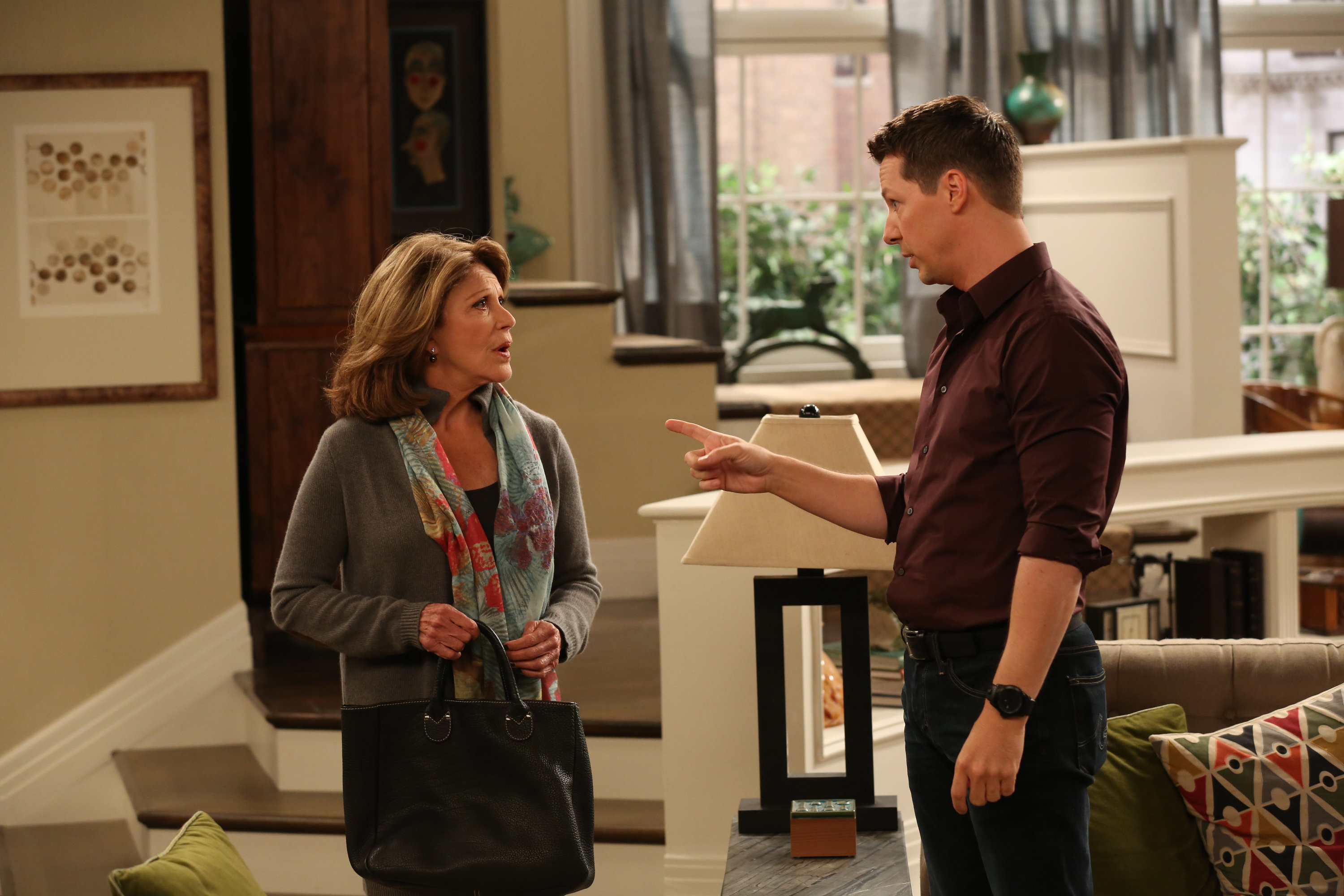 First off, I know TV themes are a thing of the past, but couldn't they have brought it back for you on "Sean Saves the World?" What do you say to people who want you to sing the theme?


(Laughing) That's not going to happen!
What was it about the script and your character that brought you back to television?
It's refreshing. I think it's important that we model realistic behavior. One of the reasons I wanted to do this show and this part is because she was a unique mother in sitcom television. She is not the butt of jokes or a joke. She's opinionated and very involved and devoted to her son. They have a sense of humor about life without making fun of each other.
You have referred to Sean Hayes as a combination of Jimmy Stewart and Charlie Chaplin. What's it like working with him?

He's a real handsome, attractive and assertive leading man. He has extraordinary physical comedy chops. Watching him reminded me of Chaplin and other early film comic actors who could also break your heart. From the moment I met him, I felt like I had known him for a long time.
You have so much vitality and are still so driven. Many people would be surprised to know that this month you turn 76. What are your thoughts on aging?

It depends on the day. I don't think about it a lot. I wake up each day and realize I'm grateful to be alive and walking the dog right now and feeling very physically fit. I'm in very good health. I feel many different things about aging. I feel surprised. I still think of myself as being 35, and then I realize that's kind of denial. I hang with young people who keep me informed on what's happening and keep me feeling vital and included in the contemporary moment.
I don't dwell on aging. I have family members who have lived a long time. My father is a month away from his 97th birthday. My mother died when she was almost 79. For me that was young. It is now. We're in a very different time from our parents and grandparents in terms of fitness and health. And yet something can surprise us and take us into a different realm. I'm not philosophical at all about death, but I'm trying to be realistic about it. I feel there is a lyric to a song that I've known forever that goes, "I feel like I'm going to life forever." And I do. That isn't a realistic notion, but that is how I feel right now. I feel completely alive, and I'm not thinking about the future.
How do you keep, as you said, "physically fit?"

I work out at a gym here. I hate it! I hate my trainer, and I tell him that. I coined a phrase the other day in the midst of lifting something that's probably nothing to most people. I said, "What can I do to put you out of my misery?"
Even though we've been talking about living in the moment, let's reflect back. It's been 37 years since "Alice" premiered. If you could, what would you say now to the Linda Lavin who was beginning her role on "Alice?"

I'd have to look at her realistically and find out what she'd want from me in order not to give advice. That's something I don't do. I would share my experiences with her, and it wouldn't make any difference because she'd still have to go through her own journey. She'd still have to open her own book and read the pages as they come upon her. We can tell young people all about what we did to learn from us, but one of the qualities of being young is that we get to do our own thing and not what the older population tells us to do.
I recognize who I was 37 years ago. I was very new to all of this. There was a huge amount of pressure, and I didn't have the tools and skills to handle the pressure. So, I would say to her, who is me actually, enjoy yourself as much as possible. Whatever you can do to stay in the moment and know that you're exactly where you're supposed to be. It's enough that you show up every day and do your work. Every day you're going to learn something. I still do. I'm freer and happier than I've ever been, and that's not because someone told me what to do about it.
Over the years you have played many different kinds of mothers. You have two stepchildren. What kind of mother are you?

I'm an accepting parent. I'm comfortable with myself where I don't need anybody to be different from who they are. There's a wonderful mantra that I use that says "Today let me not do anything to ruin anybody else's day." I believe as a parent we can give our children their own path. We can lead by example, but not by lecturing or punishing the spirit.
You have been married for eight years to Steve. What makes your relationship so strong?

Everything we've learned in other relationships and the work we've done on ourselves, which provides us with the tools and skills for us to live generously and lovingly -- separately and together. We were two individuals on our own road until we met each other, and then we decided to make a life together. We are still each on our own road, but we're on parallel paths. We give each other space to find out and explore our own individuality, but we also support each other in that.
After everything you've done and accomplished, what are you the most proud of?

My relationship with Steve. My life is so good. I have such joy and gratitude for the love I feel with him and that I get from him, and I'm capable of giving that love back.
"Sean Saves the World" premieres on Oct. 3 at 9/8c. Linda Lavin plays the Catalina Jazz Club in Los Angeles on Nov. 16. For more information, visit www.catalinajazzclub.com

Earlier on Huff/Post50:
25 Celebrities Who Are Aging Gracefully
The actress told Huff/Post50 that with age has come more clarity and focus -- attributes she said she didn't necessarily have in her 20s and 30s. "I think it gets more difficult as you get older because you're facing the end and endings are ... unbearable. Our lives are basically about facing that tragedy. And I think the sooner we face that we're going to die, the easier it is to appreciate the moments in life... When we realize that our lives will end, we take less for granted. That is what I've learned from loss. The whole thing is a fantastic mystery so all we can do is appreciate each moment."

When it comes to aging and beauty, Sarandon takes an admirable "to-each-their-own" mentality, telling The Independent she would never weigh-in on what people do to make themselves happy. Her best advice? Sarandon has said: "The only thing I'd say is that learning how to forgive yourself for not being perfect is probably a really positive step."

The legendary crooner has a straightforward, make-no-apologies take on age. "That number doesn't mean a thing," she told Oprah in 2008. "It just doesn't."

"I think you have to enjoy getting older. That's the most important factor. If you sit around and think, 'Well, at 21, I was doing this,' or 'at 31' -- or what have you ..." Eastwood told CBS news back in 1997. "A lot of people maybe do their best work when they're 40 and then tail off. But I think that's a mental attitude. I've done my best work, I think, now," he said.

Modesty and a healthy dose of humor are keys to Mirren aging so gracefully. When a gym recently gave her Body of the Year, she told the women of The View that she just sucked in her stomach. "It was a beautiful thing that these fitness people did, I have to say," she said. "I think it was recognition of the fact that you don't have to be perfect."

The cancer survivor told Health.com that she is enjoying the aging process: "I definitely am embracing aging. When you shoot your face with Botox and stuff, you rob yourself of your ability to have youthful expressions, and that's why sometimes people look a lot older."

In addition to maintaining a healthy love life with his wife Trudie Styler, the musician throws himself into yoga and embraces a positive outlook on life, telling USA Today: "When you reach a certain age, you realize that life is finite. You can be depressed by that, or you can say, 'I'm going to appreciate every minute to its maximum potential.'"

"I consider 50 to be young. People are living so much longer, and besides, I don't think I look 50. I take really great care of myself," the actress told BlackBook magazine. Which is not to say Cattrall's afraid of her wrinkles. According to BlackBook,when the actress was asked if she wanted to have some photos heavily retouched she said, "F*** it. Leave it all in."

When it comes to aging well, the stunning supermodel embraces kindness in its many forms. "For me, skin care rituals are a form of meditation -- they keep me balanced. I am kind to my skin. I remove my makeup as soon as I get home and I apply moisturizer," she told O, The Oprah Magazine. "But just as important as being kind to my skin is being kind to younger women," she continued. "Kindness is a lovely quality to nurture as you get older. It makes you feel good about yourself."

Often known as the great actress, Streep has embraced her age -- and recently being a rom-com leading lady -- with admirable glee. "I'm 60, and I'm playing the romantic lead! Bette Davis is rolling over in her grave!" she joked with Vanity Fair in 2009.

Julianne Moore is a natural beauty, and plans to remain one. When asked about Botox, Moore told Allure magazine that she, herself, is not a fan. "I hate to condemn people for doing it, but I don't believe it makes people look better. I think it just makes them look like they had something done to their face," she told the magazine. "When you look at somebody who's had their face altered in some way, it just looks weird."

The actor has been refreshingly candid about both his accomplishments and his struggles as he ages. When Reader's Digest asked him what one thing he'd change about himself, he answered: "My weight! Mind, body and spirit. It's a discipline, and the body has been lagging. Mind's really good right now. Spirit is strong, but body's been lagging. And the body helps the mind. I feel better today having worked out."

Pfeiffer is measured, but honest about how growing older makes her feel. "Honestly, there's certainly a mourning that takes place," told the Los Angeles Times in 2009. "I mourn the young girl, but I think that what replaces that is a kind of a liberation, sort of letting go of having to hold on to that. Everyone knows you're 50. So you don't have to worry about not trying to look 50."

"This great fear of laugh lines and wrinkles and getting old is really unnatural. It happens to the best of us -- what are we going to do? It's a matter of whether you want to go to war with that and have surgery," the actress told iVillage UK. "Ultimately it's a slippery slope. I think you wind up looking like a thing rather than a younger version of yourself. I think you have to make peace with what you have and keep it all in order," she continued.

After being dropped as James Bond because, according to some reports, he was "too old" for the role, the actor had a positive take on things -- embracing the unknown with gusto. "Oh, it turned out very lucky," he told Parade. "Within the space of the punch and the pain of being passed over or rejected or the bottom of your world falling out, within that same breath came this liberation of, 'I'm free. I can do anything I want.' It's up to me to have the guts to make the next stage of my career as interesting and as exciting and unexpected as possible."

"Actors' faces have to move," Weaver once told ABC, weighing in on cosmetic surgery. "It's a personal choice. It depends on what you want. Yes, we probably want to see perfect people, too, but we also want to see people who look like us. It's just about skin care to me and maybe exercise." And her laugh lines? "I've earned them," Weaver said.

AARP magazine put The Boss on its cover when he turned 60 a few years back, because the editors believed he exemplified aging well. "He's one of these crop of 50-plus and 60-plus celebrities who are busier than ever in their older years and doing some of their best work," editor Nancy Perry Graham told The New York Times. "The message with Bruce Springsteen is that 60 rocks."

According to The Telegraph, the beauty loves her changing beauty, believing it reflects a rich life. "Our wrinkles are our medals of the passage of life," she said. "They are what we have been through and who we want to be."

The British actress has said that she, personally, is all about aging naturally. "I'm not fiddling about with myself," she told The Telegraph. "We're in this awful youth-driven thing now where everybody needs to look 30 at 60."

The actress has been open about embracing her age-related changes, famously posing for a magazine shoot sans clothes and sans Photoshop. But she's equally candid about how building self-confidence is a gradual process -- one that's gotten easier as she has aged. "I feel much more authentic," she once told More magazine. "I'm not saying I'm a spiritually perfect person. I'm flawed and contradictory and fraught in many areas. But I'm better. I'm growing, and that's all I really want.

"In interviews, the first question I get in America is always: 'What do you do to stay young?'" Rossellini told O, The Oprah Magazine. "I do nothing. I don't think aging is a problem ... I'm so surprised that the emphasis on aging here is on physical decay, when aging brings such incredible freedom. Now what I want most is laughs. I don't want to hurt anybody by laughing -- there is no meanness to it. I just want to laugh."

Lane told Glamour magazine that aging has given her welcome perspective. "I wouldn't go back to being 20. Because here's the thing ... there is something wonderful about coming to terms with time -- that it is finite," she said. "You want to have as much joy in your life as possible, and you take responsibility for your own joy."

"I do yoga every morning, then I run for half an hour and take a sauna," the actor told AARP magazine of his healthy-aging routine. "And I eat properly. I drink a lot of white tea -- it's a very powerful antioxidant.

Though people look to her as one of the top models of aging well, the actress said she's never given it much thought. "I never thought about age much," Betty told AARP magazine. "I learned that at my mother's knee. Age was not important. It was where your head was."

The writer-director of The Kids Are All Right said she cast Bening in part because she wanted someone who was real and who would not shy away from showing her age on screen. "We never had a wrinkle conversation," she told The Wrap. "I just said, 'I want the make-up to be super-modest,' and that was the end of it."