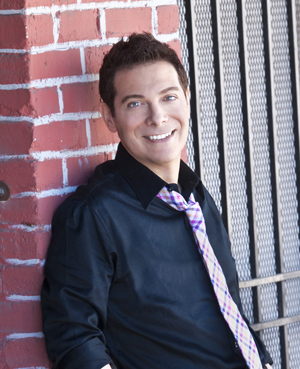 When Michael Feinstein first started recording 25 years ago, people told him that he would never have a successful career singing songs that were perceived as old. However, the music from people like the Gershwins and Cole Porter is what resonated in his heart, and instead of listening to his critics, he defied the odds and remained true to himself.
Today, the man hailed as "the Ambassador of the Great American Songbook" is a five-time Grammy Award nominee. Most recently he was nominated for his album, The Sinatra Project. With so much material to choose from in Sinatra's career, it was inevitable that there would be another. Feinstein calls The Sinatra Project, Vol. II: The Good Life a collection that is about not only Sinatra but also his friends who influenced him.
Feinstein not only admired "Old Blue Eyes" from a far, but he also had many chances to interact with the legend. The first time they met, he was hired to play at a party for Sinatra's wife. At one point in the evening, Marvin Davis, who owned 20th Century Fox at the time, disappeared. Sinatra yelled out, "Where did Marvin go? Where did the bum go?" A young Feinstein took the cue and began playing the Jimmy McHugh song, "Where Are You?" Sinatra started belting the tune out in full voice. Feinstein likes to fondly say that he accompanied Sinatra for two bars. Later in the evening Sinatra, who was amazed how someone so young knew so many classic songs, invited Feinstein to sit down and talk. Hearing Sinatra tell stories left Feinstein speechless.
I talked with Feinstein about his new album, his dreams for the future and how he managed to make his marriage work.
When you did the first Sinatra tribute in 2008, did you always know you were going to do a follow-up?
I did not always plan on doing another one. I decided to do another one because of the success and the attention that the first one got. I liked the challenge of figuring out what else I could do that would be a Sinatra-themed tribute that would not be on the nose and doing things like "My Way" and the kinds of things that make me want to run in the other direction screaming.
I'm sure Mr. Sinatra wouldn't mind, since he never liked "My Way," either.
He hated the song but had to sing it. It was one of the things he recorded and then he had to sing over and over again. He said, "I hate that goddamn song!"
Was going for more obscure songs your intention for this collection?
I wanted to do something that was, for the lack of a better term, "pushing the envelope" a bit by expanding on the idea of Sinatra's influence on others and various influences on him, then try in some cases to revive and recapture some of the songs of that time that are not heard as often.
What do you think is the most obscure song on the album?
I think for most people it's a song by Duke Ellington and Marshall Barer called "C'est comme ça." I included that because Marhsall Barer, who wrote the lyrics, told me that was a song he wrote with Sinatra in mind. I think it would have been a great Sinatra saloon song.
So Sinatra never did record "C'est comme ça?"
That is correct, and some of the others weren't [recorded] either. He never did "Thirteen Woman." That's one he absolutely didn't do.
You named the album The Good Life because you said it reflects the '60s, when Sinatra had gotten to a point in his life where he became iconic in a way that was different from the '50s. How did he become iconic?
The legendary persona became more fully formed with the image with the hat on his head at a certain angle and the coat slung over the shoulder. There was the evolution of the hip approach to the music, for better or for worse. I say that because at his finest, to hear his swing version of "I've Got You Under My Skin," is nothing better. Then to hear him try and do a hip version of "Mrs. Robinson," there is nothing more kitschy and unhip, ultimately. Of course, this is to celebrate the greatness and not look at the things that were not lasting or, I should say, are not the hallmark of his greatness.
Why do you think after all these years people still love him and his music?
It was his ability to communicate a lyric. The words always came first for him. He told me that one of his great influences was Mabel Mercer. She was a woman who didn't have much of a voice, but he used to go hear her perform to hear how she would phrase and interpret the songs.
The last song on the album is "Once in a Lifetime." The lyrics include, "This is my moment. I feel like a giant. Soar like an eagle." What was your defining moment?
I've had a couple of times where things were so extraordinary wonderful that it changed my world. One of them was when I met Ira Gershwin and started working with him. That was a game-changer for me. It changed the entire course and direction of my life. The chances of this kid from Columbus, Ohio who loved Gershwin's songs to meet and then work with him for six years was so likely impossible. When that happened, there was a jubilation that I had rarely felt before. The other time that comes to mind is when I had gone from playing in piano bars, which for the most part I loved, to doing a show where people would actually come hear me perform -- not as background music but as foreground music. It was a show in San Francisco. Somebody reviewed the show, and it got this growing notice, and suddenly I was selling out shows and gaining attention. That was extraordinary. The realization that I could make a true living doing what I loved was a tremendous gift.
Everyone knows Michael Feinstein, performer. Who are you offstage?
You should probably talk to my husband.
And if I did, what would he say?
I think he'd say that I'm fundamentally a kind person who can be very difficult. Not out of desire, but because I'm very emotional. I'm very mindful of trying to do something good in the world. When I see injustice in the world, it's very hard for me. I wake up every day and count blessings.
Since your career started, has your taste in music or your interpretation of the music changed?
Definitely. The way I used to perform songs was just with piano. I was quite happy doing that, but I started working with rhythm sections, small instrumental groups, symphony orchestras, and jazz bands. I've taken a lot of different musical approaches. I've certainly developed as a vocalist. I find my early recordings very difficult to listen to. I like the way I sing now, and I didn't for most of my career.
I'm not sure what's next. There are a number of projects that I'd like to do, but I'm not sure what is commercial anymore. I don't think that word applies to me anyway. I would like to do more recordings that collect the songs of different writers whose work I adore that are not necessarily well known. Marvin Hamlisch is an extraordinary pianist and has a combination of very well known songs and great ones that are lesser known. I'd love to do that with him. I just wrote a song for the Macy's Parade. I'm going to be in the parade, and they are putting me on the pirate float. So I wrote a children's pirate song.
Before I let you go, I do want to get back to your husband. You married Terrence Flannery in 2008...
Yes, and in total, it's been 15 years together. What is the key to a lasting relationship?
For me the key is, above all else, communication. The thing that has kept us together is we chose to go to therapy really early on to be able to decipher the behavioral and other issues that can develop without being acknowledged. There are things that build up that can suddenly become a major problem. We try to never let anything build up. We've never said goodnight without having resolution if there's ever been an issue. It's sometimes volatile because we're both strong people. The thing that I love about Terrence is that he has a very different way of looking at things than I do, which sometimes I don't love, but in retrospect I always do.
For more on Michael Feinstein, visit michaelfeinstein.com. Join Feinstein and this year's Kennedy Center honoree Barbara Cook from Nov. 29 to Dec. 30 at Feinstein's at the Lowes Regency Hotel, where they will be rolling back the price to 1999. For more information, visit feinsteinsattheregency.com.
Photo credit: Gilles Toucas
SUBSCRIBE TO & FOLLOW TRUMP'S FIRST 100 DAYS
How will Donald Trump's first 100 days impact YOU? Subscribe, choose the community that you most identify with or want to learn more about and we'll send you the news that matters most once a week throughout Trump's first 100 days in office. Learn more