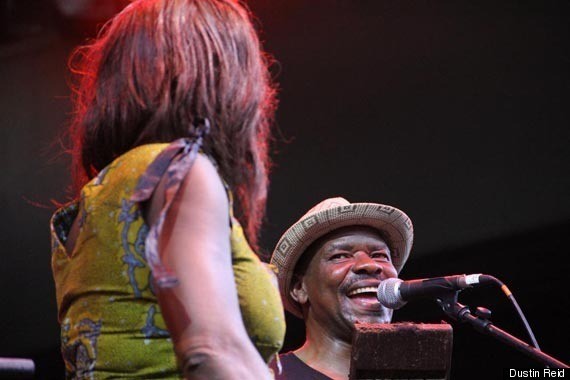 Hailing from the Democratic Republic of the Congo, Konono No. 1's bright and distinctly tribal sounds seemed fit for a sunny day at Prospect Park. However, Konono's show the following night at the more intimate (le) Poisson Rouge was a much better fit. Konono No. 1 completely embraces DIY. The likembe (similar to the mbira or kalimba) that gives the band its signature resonating, nuanced, jingling melody is hand crafted from items salvaged from a junkyard. They also use a wood carved microphone powered by parts from an automobile alternator.
The band's origins are also shrouded in mystery. According to their wikipedia page, their record label places the group's formation in the 1960's but there is no recorded evidence until 1978. I'd have asked the group personally but they do not speak English. They communicated with the audience throughout the evening with smiles, bows and dance. There was plenty of dancing to be had at the Prospect Park show however with the language barrier, non-verbal communication was very important to create that energy that exists with any great concert experience between the band and it's audience. The crowd was set too far back and the stage too high at Prospect Park for a DIY band that demanded engagement not from their lyrics or guitar hooks but through long African dance numbers.
At (le) Poisson Rouge the band was obviously playing to it's faithful who danced in sync with the bands steady rhythm. From the back of the room you could see the audience as a whole bobbing up and down. Certainly Konono No. 1's lengthy jams aren't fit for radio culture but there's too much fun in this sound for someone not to popularize the "thumb piano" dance at some point.
Follow Dustin Reid on Twitter: www.twitter.com/RedHotMusic