I'm fascinated by cities that live. Cities where people come together and do more than shop, work and sleep behind closed doors, gates and locks. Cities where the community participates in creating living environments that respond to the emotions, challenges and needs of residents. Driven by the spontaneous and unconstrained creativity of community members, I am referring to the urban artistic gestures that inspire people to notice how they are living.
A few months ago TED, the California-based lecture series named for its roots in technology, entertainment and design, gave its 2011 annual One Wish to Change the World award to an unlikely suspect: J R, a Parisian street artist whose large-scale photographs of local people plaster the walls of some of the poorest neighborhoods in the world, from Paris to Brazil. J R uses his camera to freeze moments in time and to reinforce the connection between people found in the exchange of a smile or the gaze of another. The power of J R's work is not in the illegally mounted photographs, but rather in the sense of pride he evokes in the people with whom he works. To accomplish this incredible act, the community must trust each other, be vulnerable and be willing to allow the camera to see who they really are. (Watch the video on the right side of the page showcasing J R. It'll be worth your time.) J R brings humanity back to cities.
Most of us know the work of Banksy, another creative force who makes his mark on our moral psyches by stenciling anti-establishment imagery on city walls while we sleep. The Banksy Effect, the term coined by journalist Max Foster several years ago, speaks to an awakening of interest in the (often illegal) interventions that artists use to call attention to the way we complacently live under larger-than-life infrastructures built (often) by one-eyed men. Artists such as Arno Piroud, Ji Lee, Joshua Allen Harris, Yola, and Roadsworth use the context of the city as a canvas to shake city inhabitants from slumber -- providing us with opportunities to question our systems, look anew at our neighbors, and/or simply experience an unexpected moment of joy outside of the day's Pavlovian routine.
Urban Play, organized by the super-Dutch design firm Droog and Scott Burnham, was a city's first attempt at "authorizing" unauthorized urban art. Building on the success of earlier city-wide art experiences, Urban Play invited twelve internationally recognized artists to Amsterdam to create urban installations that would be temporary, ever changing and unpredictable. The only condition was that art in the public space be used to stimulate the creativity of the city's residents. Organizer Scott Burnham referred to Urban Play's creative methodologies as "open-source," borrowing a technology term that refers to the tension between hackers and developers and which leads to the creation of new and dynamic systems.
Open-source cities. Cities where the people (hackers) give and take with the system-makers (the developers) to create authentic, livable cities that reflect the people in them. With the rapid emergence of social networking sites, Twitter and other portals which expedite communication, projects like the US Initiative and Give a Minute are popping up around the country- linking the ideas of the people to leadership who, in turn, promise to respond in a timely fashion.
So, what have city dwellers asked of their leaders? And for what are they now patiently waiting?
• Access to more green space. Spanish artist SpY offers a basket-ball friendly DIY solution, Dutch architectural firm NL Architects offers a Moving Forest for people-on the-go and San Francisco design firm REBAR has perfected the PARKcycle for longer stays.
• City beautification. Fixed cracks and holes in the city's buildings. German artist Jan Vormann's Dispatchwork project provides a colorful solution using items you'd find in your child's toy chest.
• An end to racial discrimination and hatred. Artist Paul Harfleet plants pansies at the site of homophobic abuse around the world bringing both beauty and spontaneous conversation to places of hatred.
Which brings me to Los Angeles. (Which by the way is not part of the US Initiative or Give a Minute. Want to share your good idea with a leader? Try to friend him/her on Facebook.)
Driving north on La Brea I caught a glimpse of the latest Banksy installation. Mr. Brainwash painted the Oscar statue to resemble the frequently hooded Banksy and then surrounded the statue with Storm Troopers. I sighed. Why? Because this may be the best we get. A multi-layered inside joke mocking the very industry that makes this city great. Not bad. But Los Angeles needs so much more.
Around the world artists put pen to paper, hammer to nail, tree to shopping cart to give voice to those who want to contribute to and create change in their cities. Los Angeles is home to an army of talented and influential artists. Los Angeles is a dynamic metropolis of incredible homes, private gardens and jaw-dropping art collections. Yet the city is also home to third-world poverty, desperately failing schools and racial hatred. Los Angeles is full of chipped walls. And sadly our "hackers" don't hesitate to use spray cans and sharpies to leave graffiti reminders of our city's lack of humanity.
As I type this, I wonder if we aren't better than recycled wheatpaste posters on utility cabinets... If we can't do more. I wonder if we can't find our own unique urban artistic gestures that bring humanity back to Los Angeles.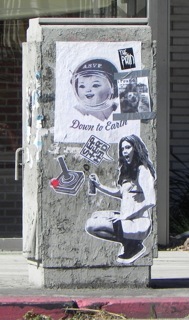 SUBSCRIBE TO & FOLLOW CULTURE SHIFT
Level up. Read THIS and be the most interesting person at your dinner party. Learn more