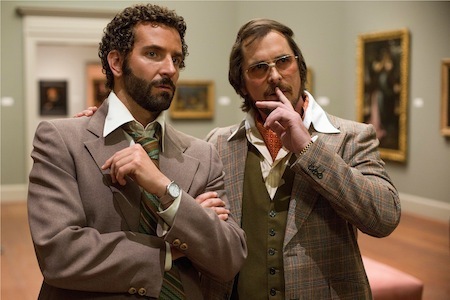 To cinema lovers, this year's Dubai International Film Festival appears like a dream come true. Running from the 6th through the 14th of December this event, which kicked off in Dubai in 2004 and started a far-reaching cinematic movement in the Gulf, will feature 174 films, will include 70 world premieres and 11 international premieres from 57 countries in 43 languages from both established and upcoming talent.
The festival kicks off with the Gulf premiere of Hany Abu-Assad's Omar, a favorite of mine since Cannes which is representing Palestine in the Foreign Language Oscar race. The closing night gala will be David O Russell's American Hustle which is already creating Oscar buzz and features incredible performances by Christian Bale, Amy Adams, Jeremy Renner, Bradley Cooper, Jennifer Lawrence, Louis CK and Robert De Niro. It's no surprise the festival just announced a partnership with the Academy of Motion Picture Arts and Sciences with highlights that will include a panel discussion with member of the Academy titled "Beyond the Oscars®," and master classes for filmmakers. After all, there are Oscar contenders everywhere you look at this year's DIFF.
This year the festival is also blessed with superstar filmmaker Jim Sheridan as head of the Muhr Arab Feature jury and truly, the "job" could not have been given to a better man. I know I'm not alone in thinking that if someone can understand deeply and thoroughly the struggles of the Arab world, it is the Irish Sheridan, who time and time again shows us what the human spirit is capable of even while living alongside "weapons of mass separation." Walls that divide in the hope of conquering, but in truth only manage to unite people more, across borders and causes. The glowing Cate Blanchett instead returns to DIFF to head the IWC Filmmaker Award jury for the second year running. The award offers a US$ 100,000 cash prize to one winning filmmaker and will be presented at an event hosted by 'Supporting Sponsor' and Official 'Festival-Time' Partner IWC Schaffhausen on Saturday, December 7th. Another wondrous filmmaker and personal favorite interview, the Egyptian Yousry Nasrallah will instead lead the Muhr Documentary category.
Lifetime Achievement Awards will be handed out to the great actor and activist Martin Sheen, while the Arab Lifetime Achievement Award will go to veteran Egyptian film critic Samir Farid. DIFF will also partner once again with Dubai Cares and Oxfam for 'One Night to Change Lives', an event which will bring out the glitterati of the UAE and beyond, and also benefit Oxfam to support their work responding to the current refugee crisis from Syria. Mark Ruffalo and Rooney Mara have been confirmed as guests, among the many, many more stars in attendance.
To coincide with this year's 10th anniversary edition of the festival, DIFF has released a much-anticipated book on Arab cinema titled Cinema of Passion, featuring the 100 most beloved titles, compiled with input from over 475 of the region's and international most prominent film critics, writers, novelists, academics, and other arts professionals. Even yours truly had her say and picked a few titles that ended up being in the book. The festival will also present two galas every day at Madinat Arena, with a selection that varies from 12 Years a Slave, to August: Osage County, from Frozen to The Secret Life Of Walter Mitty, from Mandela: Long Walk to Freedom, to Rock the Casbah. There will also be free screenings in Burj Park downtown which will include Chadi Abdel Salem's 1969 The Mummy, the number one most beloved Arab film according to Cinema of Passion, and China's beloved Hark Tsui's Young Detective Dee: Rise of the Sea Dragon.
Finally, there are the films, the most important reason to attend DIFF and the filmmakers, the most important part of any film festival. And Dubai goes above and beyond in their support of filmmakers at all levels of their cinematic careers. From the Dubai Film Connection, the festival's co-production market, to Enjaaz which offers post-production financial support, Forum sessions during the festival and Cinetech, a digital platform for sales and acquisitions, it's no wonder the Dubai Film Market has become the definitive one-stop-shop for Arab filmmakers. It's no coincidence that both the Saudi Wadjda and the Palestinian Omar, two of the contenders for this year's Foreign Language Oscar, have been supported by DIFF. And who knows how many more will blossom here for the years to come.
Check out the slideshow below for a few personal picks, in no particular order, and check out the Dubai International Film Festival website for more info and tickets.
Director: Rok Biček Genre: Drama Slovenia / 2013 / Slovenian and German dialogue with English subtitles / Color / DCP / 112 minutes I watched Class Enemy at the Venice Film Festival and was blown away. Because it made me think about my own definitions of what is right and wrong and how I approach both. If a film can do that, it's a winner in my book. The acting is sublime and the way the film is shot makes it a must-watch. One of my favorite films of the year and Slovenia's entry to the Foreign Language Oscar race. SYNOPSIS: The relationship between a group of students and their new German teacher is tense, due to key differences in their perception of life. When one of the students commits suicide, her classmates hold the teacher responsible for the tragedy. After the incident, emotions run high and every one begins evaluating the situation – but in black and white.

Director: Cherien Dabis Genre: Comedy and Drama United States of America (USA), Qatar and Jordan / 2013 / Arabic and English dialogue with English subtitles / Color / DCP / 100 minutes Watched Dabis' follow up to her wonderfully poignant Amreeka in Venice and loved interviewing her about May in the Summer, which also happened to be one of the best films at the festival, in my humble opinion. Dabis herself plays May and one has to applaud a filmmaker who not only knows how to write and direct a film, but also act in it. Not an easy feat, but one Dabis pulls off perfectly. SYNOPSIS To all appearances, May Brennan has it all – she is intelligent, a successful published author and is set to marry her loving fiancé Ziad. But the cracks in her seemingly perfect life begin to show when she returns to her hometown Amman for the wedding. Her headstrong, born-again Christian mother Nadine disapproves of Ziad, a Muslim. Her sisters Dalia and Yasmine revert to behaving like rebellious teenagers. And her estranged father Edward, newly remarried, awkwardly attempts to make amends. May's carefully structured world appears to unravel as she grapples with her own truths.

Director: Mais Darwazah Genre: Documentary Jordan, Germany, Palestine and Qatar / 2013 / Arabic dialogue with English subtitles / Color / DCP / 80 minutes When I watched My Love Awaits Me by the Sea, I cried and cried. And I loved feeling so much that I thought my heart would burst. If you've ever been in love, or even in love with the idea of love, this film is a must-watch. And don't even get me started on the Palestinian cause, which has found a permanent spot in my heart, and now affects the way I approach anything and everything in life. SYNOPSIS My Love Awaits Me by the Sea follows the director's journey as she returns to Palestine, exploring it through the poems and drawings of Palestinian artist Hasan Horani – a lover she never met. Horani drowned in the Jaffa Sea in 2003. The film explores the idea of escaping home, the need to believe in dreams and the Palestinians' persistence to hang on to their homeland, despite all the years of struggle.

Director: Jehane Noujaim Genre: Documentary United States of America (USA) and Egypt / 2013 / Arabic and English dialogue with English subtitles / Color / HDCam / 90 minutes I think the Egyptian revolutions have managed to inspire us, engage us but also somehow baffle us. I know for me, watching from afar, I've often wondered where things were going. Noujaim's The Square enlightens the audience on the day-by-day struggles but also decodes some of the inner issues that Egyptians face, and which we in the West may never understand without her help. Think of it as the 'Revolution decoder' and the perfect example of why a film is always better than the news to truly get to the heart of the matter. SYNOPSIS The Square is an immersive experience, transporting viewers to the ongoing roller coaster that is the Egyptian Revolution – but behind the news. The young revolutionaries in the film are armed with nothing but cameras, social media and videos posted on YouTube and a resolute determination to liberate their nation. The Square was first released as an unfinished cut at Sundance in January 2013, where it received the Audience Award for Worldwide Cinema Documentary. It is a live developing story of the quintessential struggle for freedom and democracy and the peoples' fight for their rights against institutional powers.

Director: Ritesh Batra Genre: Drama France, Germany and India / 2013 / English and Hindi dialogue with English subtitles / Color / DCP / 104 minutes If there is one actor that truly has made the crossover from Indian cinema to Hollywood, and beyond it's Irrfan Khan. I've been observing his unavoidable ascend since the very beginnings of his career, when he would play short cameo roles in indie classics like Mira Nair's Salaam Bombay. Now he's beloved in India and adored in the West and I got to interview him at the Abu Dhabi Film Festival, understanding completely the reason why. Charming and smart, Khan is a superstar with both brains and heart, a wonderfully winning combination. SYNOPSIS In Batra's celebrated debut feature, The Lunchbox, Ila, a housewife, tries to add some spice to her marriage – this time through her cooking. However, the special lunchbox she packs for her husband is mistakenly delivered to Saajan, a lonely man on the verge of retirement. She adds in a note in the following day's lunchbox, and triggers a strange relationship with Saajan. Through the lunchbox, the two embark on a curious journey of discovery, sharing their regrets, fears and joys through these notes. Still strangers physically, Ila and Saajan are in danger of losing themselves in a virtual relationship that could jeopardize both their realities.

Director: Steve McQueen Genre: Biography, Drama and Historical United States of America (USA) / 2013 / English dialogue with subtitles / Color / DCP / 133 minutes This is undoubtedly the most talked about film of the year and all the reviews for it are singing its praises. I personally like the real true-to-life story aspect of the movie and I can't wait to watch it in Dubai, where it will be featured as one of the galas. Plus, Chiwetel Ejiofor was on David Letterman recently and he smolders, with his British accent and intense eyes, so there's more than one reason to check out this soon-to-be multi-award-winning film. SYNOPSIS Based on an incredible true story of one man's fight for survival and freedom, 12 Years a Slave is set in pre-Civil War United States. Solomon Northup (Chiwetel Ejiofor), a free African-American New Yorker, is abducted and sold into slavery. Facing cruelty from a slave owner (Michael Fassbender) and receiving unexpected kindnesses, Solomon struggles not only to stay alive, but to retain his dignity. In the twelfth year of his unforgettable odyssey, Solomon's chance meeting with a Canadian abolitionist (Brad Pitt) will forever alter his life.

Director: Caroline Link Genre: Drama Germany / 2013 / Arabic, English, French and German dialogue with English subtitles / Color / DCP / 122 minutes I really enjoyed Link's film Nowhere in Africa and am waiting to see what she does with modern-day Morocco after feeling the depth of her pre and during WWII Kenya. Sometimes the reasons for wanting to watch a film are just that simple. SYNOPSIS Years after his parents' divorce, 17-year-old Ben goes off to visit his theatre director father Heinrich (played by the prolific German star Ulrich Tukur) during his holidays. Determined to experience Morocco to the fullest and with his relationship with his father taking a turn for the worse, Ben sets off into the underbelly of Marrakech and beyond. Part road trip, part family drama, Exit Marrakech is a compelling film from the Academy Award-winning Caroline Link.

Director: Mahamat-Saleh Haroun Genre: Drama France and Chad / 2013 / Arabic and French dialogue with English subtitles / Color / DCP / 101 minutes We all have impossible dreams. And when we actually begin to do something about those far-fetched ideas, that's when the true definition of a hero comes in. Grisgris is about one such hero and features great acting, dancing and wonderfully infectious music. But I think I'll need a double box of tissues for this one... SYNOPSIS Despite a paralysed leg, 25-year-old Grigris dreams of being a dancer. His dreams are dashed when his uncle falls critically ill. To save him, Grigris resolves to work for petrol traffickers. The film also features some riveting dance moves and music by Senegalese composer Wasis Diop.

Director: Amal Al-Agroobi Genre: Documentary United Arab Emirates / 2013 / Arabic and English dialogue with English subtitles / Color / Apple ProRes / 61 minutes I'm a huge fan of Emirati filmmaker Amal Al-Agroobi, because she's one no-nonsense woman and has made wonderful strides in the industry, despite being really young and self-taught. Her first short titled Half Emirati was a revelation for me, and this next project -- one of two in this year's DIFF line-up recently funded on crowdfunding site Aflamnah (another project close to my heart!) -- is going to be another great one. I just know it. SYNOPSIS The Brain that Sings follows the journey of two autistic boys in the UAE – 19-year-old Mohammed and six-year-old Khalifa – and their progress over three months of music therapy. The film explores the cultural stigma associated with having a special needs child in the Arab world, and the issues the families face when they plan out the future of their children.

Director: Jinan Coulter Genre: Documentary Palestine and United Arab Emirates / 2013 / Arabic dialogue with English subtitles / Color and Black & White / Digital File / 72 minutes This is another project recently crowdfunded on Aflamnah which I've been yearning to watch since hearing about it. It's exciting to know that this new way of financing films can bring to light projects which may have had, in the past, a hard time getting made. SYNOPSIS Saris was a Palestinian village in the Jerusalem area that was ethnically cleansed in 1948 during the creation of the state of Israel. Today, it is inhabited by Israelis. Searching for Saris is a journey that is physical and metaphoric. It is a search of the legacy of Palestinian dispossession in 1948, and its still unfolding chapters.

Director: Khalid Ali Genre: Comedy and Drama United Arab Emirates / 2013 / Arabic and English dialogue with English subtitles / Color / DigiBeta / 25 minutes This film is part of the 'Soul of Dubai' trio of shorts, showcasing the personal stories of the grand city of Dubai. The project was announced at last year's DIFF and I've been looking forward to it ever since. SYNOPSIS Al Lailah is set in the vibrant city of Dubai, capturing its pulsating spirit, identity and simplicity. It focuses on one Emirati family as they prepare for the children's festival, Hag Al Lailah, and explores their joys and sorrows.

Director: Havana Marking Genre: Documentary United Kingdom / 2012 / English and Serbo-Croatian dialogue with English subtitles / Color / DCP / 89 minutes Havana Marking is one of those women who truly earned the title. Of 'Woman' I mean, with the a capital "W". She made a touching, beautiful documentary about a singing competition in Afghanistan titled Afghan Star, and I've been a fan of her work ever since. Smash & Grab was in the prestigious Tribeca All Access program a couple of years ago and I'm chomping at the bit to watch it. SYNOPSIS In their own words, the most successful jewel thieves of all time take audiences into their world: the post-Milosovic Balkans, the modern diamond trade and a 21st century crime gang. Made over four years, the film features interviews with five members of the Pink Panther gang and associates – the same group responsible for the AED14m Dubai jewel heist in 2007. As many of the criminals are caught (two in Dubai after the robbery) and extradited, this film asks: Is this the end of the Pink Panthers?

Director: Mohamed Malas Genre: Drama Syria, Lebanon and Qatar / 2013 / Arabic dialogue with English subtitles / Color / DCP / 97 minutes Syrian filmmaker Mohamed Malas headed one of the juries at this year's Abu Dhabi Film Festival. He's an interesting, humble, beautifully fascinating human being and Ladder to Damascus is a film that must be watched, during these difficult times for our brothers and sisters in Syria. SYNOPSIS Ghalia is possessed by Zeina's spirit. Haunted by the life of a girl, who drowned the day she was born, Ghalia travels to Damascus, where she studies acting. There, she meets Fouad, an aspiring film-maker who becomes fascinated by Ghalia's duality. He takes her under his wing and helps her find a place to live. Fouad's love for Ghalia and Zeina blossoms, while the tumultuous events in Syria start unfolding in the streets around them and gradually encroaches on their idyllic isolation.

Director: Justin Chadwick Genre: Biography, Drama and Historical South Africa / 2013 / English, Afrikaans and Xhosa dialogue with English and Arabic subtitles / Color / DCP / 147 minutes Well, I read the book, Mandela's autobiography by the same name. He's a legend. Humanity should wish for more men like him. He's said things like: "For to be free is not merely to cast off one's chains, but to live in a way that respects and enhances the freedom of others." What more reasons do I need? SYNOPSIS Mandela: Long Walk to Freedom is a celebration of Nelson Mandela's extraordinary journey from his childhood in a rural village through to his election as President of South Africa, in the country's first democratic vote. In this intimate and unflinching portrait of 'Madiba', the world discovers a man, who is known for his charismatic appeal, who is a boxing enthusiast, and who is ultimately immortalized in history as one of the greatest freedom fighters in the modern era. Epic in scale, the film features stunning performances by Idris Elba and Naomie Harris.

Director: Rashid Masharawi Genre: Drama Palestine, Tunisia, France, Norway, United Arab Emirates, Italy and Switzerland / 2013 / Arabic dialogue with English subtitles / Color / DCP / 90 minutes A story of resilience, courage and strength, and attempting to achieve one's goal at any cost, Palestine Stereo has been on my radar for a while and is a great case in co-production, from the looks of it. SYNOPSIS Two Palestinian brothers – Samy and Milad (aka Stereo) – plan on immigrating to Canada after the Israeli air force bombs their family home. Milad used to be a wedding singer but when his wife dies in the attack, he becomes disillusioned with his life in Palestine. The bombing also leaves Samy mute and deaf. The two set about earning money for their travel by buying a secondhand sound system that they rent out for events in Ramallah.

Director: Laïla Marrakchi Genre: Drama/Romance Morocco and France / 2013 / French, Arabic and English dialogue with English subtitles / Color / DCP / 100 minutes A film that features superstars Hiam Abbass, Omar Sharif, Lubna Azabal and Nadine Labaki. I'm sold. SYNOPSIS With a powerhouse Arab cast, Rock the Casbah is a family drama set one summer in Tangiers. A family comes together for three days, following the death of the family patriarch. Swapping their swimsuits for djellabias, emotions run particularly high, when the youngest daughter Sofia, arrives from New York. Sofia, an actress in the United States, has settled into a new life, away from her family. As the order once maintained by the deceased father breaks down and unravels, the women of the family are forced to face certain harsh truths.

Director: Ben Stiller Genre: Comedy/Drama United States of America (USA) / 2013 / English dialogue with subtitles / Color / DCP / 114 minutes I think the reason I love the movies so much is that from the comfort of your theater armchair you can fly to all corners of the world and live different adventures. When a film manages to capture that magic, that spirit, it's a must-watch for me. And the poster for Stiller's film simply makes me dream. SYNOPSIS Directed by and starring Ben Stiller, The Secret Life of Walter Mitty is the story of an ordinary office worker (Stiller) who escapes his anonymous life by daydreaming about a life of adventure, heroism and romance. However, when his job is threatened, he decides to take action in the real world, and he sets off on an extraordinary quest to set things right.

Director: John Curran Genre: Adventure/Biography Australia / 2013 / English dialogue with subtitles / Color / DCP / 110 minutes Perhaps Tracks is my one wildcard. I could sit down to watch it and hate it, but I doubt it. I'm a woman who loves adventure, but the kind served on the big screen, with strong female heroines and exotic lands with a purpose. Curran's film seems to possess all that and more... SYNOPSIS Based on the inspirational story of Robyn Davidson, a young woman who went on a 2,700 km trek across the deserts of western Australia with her four camels and faithful dog, Tracks is an adaptation of Davidson's memoir of the same name. Mia Wasikowska delivers a stunning performance as Davidson, and the hauntingly beautiful Australian desert is a memorable backdrop to this story of courage, self-discovery and adventure.
All images and synopses courtesy of the Dubai International Film Festival, used with permission
Follow E. Nina Rothe on Twitter: www.twitter.com/ENinaRothe