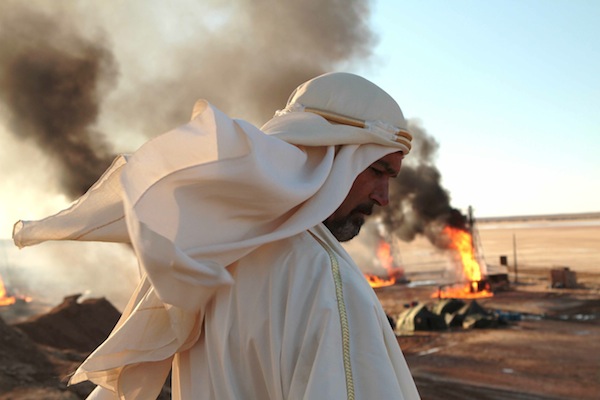 In his latest oeuvre, Woody Allen perfectly channels the spirit of Ernest Hemingway by having the actor portraying the American novelist utter this year's most unforgettable cinematic line: "No subject is terrible if the story is true, if the prose is clean and honest, and if it affirms courage and grace under pressure."
While Allen's Hemingway speaks in reference to writing the perfect novel, the idea of honesty, courage and grace under fire applies so easily to all great works of art. It is definitely what most appeals to me personally in films from the Middle East and North Africa, where stories still focus on the daily struggles of humans trying to connect more simply and deeply to one another, while also finding the poetry within their tumultuous life journey here on earth.
The vibrant epicenter of great cinema from MENA has undoubtedly become the Doha Film Institute, an independent cultural organization established in 2010 to incorporate Qatar's film initiatives under one banner. DFI's many enterprises include film and TV funding for the region and internationally, year-round education in the art of making movies, panels, film screenings and what I can only describe as its "crowning occurrence" -- the yearly Doha Tribeca Film Festival.
The Doha Tribeca Film Festival is the kind of event that can make all other film festivals seem unexciting, especially for an Arab film aficionada like me.
For this year's third edition, there is an extensive line-up slated which will include the much celebrated B&W, silent beauty of The Artist by Michel Hazanavicius, Luc Besson's biopic of Nobel Peace Price winner Aung San Suu Kyi titled The Lady, a touching documentary on beloved South African singer Miriam Makeba, befittingly titled Mama Africa, Kristin Scott Thomas playing opposite Ethan Hawke (as an American novelist who travels to Paris) in the thriller The Woman in the Fifth and an interactive masterclass by cinematographer Christopher Doyle as part of "Doha Talks 2011."
If you think that's enough to make it an outstanding experience already, hold on to your hats as you read the rest of this piece. Because this year's DTFF features the world premiere of Black Gold, the first big budget blockbuster produced entirely in MENA, by DFI in partnership with Tarak Ben Ammar's Quinta Communications, and filmed in Qatar and Tunisia. The film tells the story of an emir in the 1930s, fighting to protect his land at the onset of the discovery of oil in the region. Black Gold is directed by filmmaker extraordinaire Jean Jacques Annaud, features music by Academy Award winning composer James Horner (you may still be singing "My Heart Will Go On," part of his soundtrack from Titanic) and stars Antonio Banderas, Freida Pinto and Mark Strong.
Banderas, who plays Nessib, the Emir of Hobeika, explains that what drew him to this character was a combination of his wanting to create a bridge between two worlds that have been polarized since 9/11, due to Arab society being mostly misrepresented in the West, but also as an Andalusian "the opportunity to show a little bit more of this culture that I consider, in part, my own." Banderas' lighter fare, Puss in Boots (renamed for the region Cat in Boots) will also be shown on Family Day at DTFF, in all its 3D animated splendor.
To explain my delighted anticipation for this next film, I must confess that I credit its director with starting my love affair with Arab cinema -- not to mention the reason I find Beirut the most exciting city on earth. Since Nadine Labaki's Caramel was released in 2007, I've watched it at the most joyous, as well as most difficult times in my life and have always come away wanting for more: More of the heart, more of the understated passion, more of the exciting flavors and more of the womanly camaraderie that I have always found in the Arab world.
Now my craving will be finally satiated by Labaki's highly anticipated MENA premiere of Where Do We Go Now? her newest masterpiece. The film is already sold out at the festival, which is no surprise considering it won the Audience Choice Award at this year's Toronto International Film Festival and is probably on the must-see list of all ladies (and the men who love them) on this planet. Where Do We Go Now? is an ode to the great unifying power of women, who will always find a way to make the opposite sex come around to their way of thinking.
This year, DFI also announced that it will partner with world cinema filmmaker Mira Nair to bring to the big screen the highly anticipated cinematic version of Mohsin Hamid's bestselling novel The Reluctant Fundamentalist. The film will star Riz Ahmed, Kate Hudson, Liev Schreiber, Kiefer Sutherland, as well as Om Puri and Shabana Azmi in supporting roles. The word excited does not even begin to describe how I feel about one day viewing a film based on Hamid's literary masterpiece, which still haunts my dreams with its bewildering final chapter.
In leaving, I share with you some wise words by DFI's Executive Director Amanda Palmer, who offers a bit of advice on how to choose films from the overwhelming program at this year's DTFF: "Say to yourself 'I am not going to a place where I'm going to have an expected experience.' So mix it up and put yourself on a rollercoaster ride!" Guaranteed, you will never view a film quite the same way again...
The Doha Tribeca Film Festival runs from October 25th through the 29th at Katara Qatar's new cultural hub in Doha.
Still of Antonio Banderas from Black Gold. Photo by David Koskas, courtesy of Quinta and DFI.
SUBSCRIBE TO & FOLLOW THE MORNING EMAIL
The Morning Email helps you start your workday with everything you need to know: breaking news, entertainment and a dash of fun. Learn more