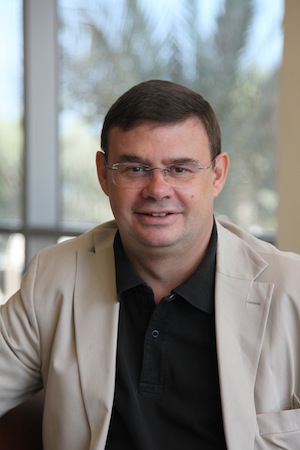 In person, Pascal Diot is as kind as he is insightful. A great mix of knowledge and class, Diot's soft French accent certainly helps in getting his point across with that extra bit of sophistication. But don't let his casual elegance fool you, for his understanding of world cinema, and all the important tricks of the trade needed to turn a film from someone's love child to a great international success, is tremendous. Diot has had more than 26 years of experience in film sales, worked for entertainment organizations such as Pathe, Canal+, UGC and TF1, runs his own production company and currently juggles quite a few co-producing duties on what I would dare call world-unifying film projects.
Three years ago, Diot began lending his expertise to the Dubai Filmmart, which runs concurrently with the Dubai International Film Festival and is the biggest film market in the region. Last year he became Manager of the Filmmart and is also the head of Venice Film Market, which will be part of this year's Venice International Film Festival. His knowledge is a stupendous resource to tap into for any filmmaker but also for a journo with a passion for world cinema. Following are four reasons why.
A great film market is all about cinematic cross-pollination.
Diot is quick to point out that DIFF's tagline is "From Script To Screen" which basically means that they have all kinds of development programs, "from scriptwriting to production, and the Filmmart is the final one, dealing with sales" as Diot explains. One beautiful case study to grow out of this nurturing program has been Wadjda, with filmmaker Haifaa al-Mansour starting out at Torino Film Lab, another DIFF partner, and ending up at the festival in 2012, with distribution deals all over the world. Diot continues "we have two goals, one to help the Arab world but also Asia and Africa to sell, to co-produce, to be exposed in the remaining parts of the world, but the second is also to bring the rest of the world to the Arab world and to emphasize and develop co-productions."
Filmmakers can't also be their own lawyers, publicists, sales agents and producers.
Unfortunately, filmmaking can't be created in a perfect artistic bubble. Which is why Dubai Filmmart has consultants available for their guests, six specifically in 2012, to help with the legal, co-production, sales and marketing aspects of cinema. These are invaluable professional resources and to have this kind of knowledge available all in one place, while more than five hundred worldwide distributors attend the market looking for projects, can make all the difference for an independent film. Ultimately, as Diot admits "cinema is an industry, so it's always a question of profitability and money" when it comes to film deals, but for those projects which may not be right for big releases in the multiplex, the key to success may lie within newer platforms like VOD and the internet.
Creating cinematic bridges helps everyone.
While audiences undoubtedly win at a film festival, with that endless flow of movies, talks, events and celebrities to fill their time, filmmakers at the market benefit from all the great alliances that Diot and the Filmmart have formed. Diot lists a few, "there is the Venice Film Market, then a partnership with the Annecy International Animation Film Festival, one with MIP TV Cannes, the biggest TV market in the world, Toronto, the Producer's Network in Cannes, we also give a prize at la Francophonie, then we have the Gulf Film Festival which focuses on short films and student work, and a number of other partnerships." In 2011 Diot admits "twenty films were sold during the festival" and already this year quite a few titles, including audience favorite Bekas, as well as Jordanian rom-com When Monaliza Smiled and the Lebanese drama Blind Intersections have found distribution.
The landscape of cinema distribution is changing. Are you?
It used to be that if a film went "straight to video" it was considered a failure, like the ugly duckling of the cinema world. These days, because audiences are changing, the way films are watched is also changing. While a trip to the multiplex is still considered a popular family outing in some parts of the world, the reality of DVDs, VOD, SVOD and YouTube is here to stay. Diot also addresses the change in how films are distributed by mentioning the Filmmart's "partnership with Festivalscope, an online platform where all the professional exhibitors and film programmers can have access to a number of the films shown here." He continues, "I hope we'll still have some independent exhibitors who will create events and keep showing those kinds of films on the big screen, but I would say the future of cinematography is more on the internet and directly at home."
Photo of Pascal Diot courtesy of the Dubai International Film Festival, used with permission