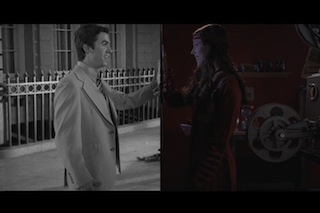 It is undeniable that most of us who are passionate about films wish to live in an alternate universe, where the darkness of a movie theater feels a lot like the inside of a world class airliner and those padded old seats take the place of reassuring arms holding us tenderly. While we sit in the dark for a couple of hours, feeling transported to another world, another culture, or simply another way of looking at life, we heal something that feels wrong in our own lives, cure a void that only fills up when the lights go down and the movie comes on. If what we witness on the screen is great, then those characters become our friends, our lovers, our families and inhabit our daydreams for as long as we allow ourselves to fantasize. Sometimes, they can stick around forever...
That is the basic premise of J.S. Mayank's 26-minute film Supernumerary, which will be shown at the Newport Beach Film Festival on April 30th as part of a program of five titled Careful What Shorts You Wish For. Mayank is a young, though wise beyond his years, filmmaker I had the pleasure to meet last year when we were seated together at the Tribeca All Access welcome luncheon. He had been selected by the TAA folks for his big budget feature thriller script Marathon, about an FBI agent who takes on a career-defining case when an enigmatic woman holds the entire NYC Marathon hostage, including the agent's sister. With that project now scheduled to become a major production, no one can accuse Mayank of thinking small, and even with Supernumerary, he does not disappoint.
Mayank himself best describes the story of his 26-minute film:
To me, movies transport us to a magical place, offering both an escape and a therapeutic experience, and I wanted to try and capture that. The main character -- Sally, is a projectionist who's suffered great trauma owing to her father's death, and has retreated into becoming a recluse. She uses her imagination by escaping into the world of movies, and it takes a fictitious tryst with a make-believe celluloid hero to get her to accept the reality of her life.
Mayank's approach is light and entertaining, yet the techniques behind this cinematic feat -- that finds his hero at one point sharing screen time with Cary Grant and Rosalind Russell -- are anything but simple. I asked him about his infectious passion for the movies and why he made Supernumerary:
Supernumerary was a culmination of my long-gestating affair with the movies, a love letter of sorts to cinema. To me, movies transport us to a magical place, offering both an escape and a therapeutic experience, and I wanted to try and capture that. Films can be whimsical, outrageous, totally suspend our disbelief, and yet leave us moved, changed, better almost. That's what I wanted to try and accomplish with this short. That, and I really wanted to pay homage to all my favorite films, those I've grown up with, particularly my love for old movies, and the musical genre.
Finally, with a simple duet of a film like Supernumerary, great performances are essential. And Mayank lucked out with his two leads, Mckenzie Cowan as Sally and Chris Fore as the Supernumerary. Cowan is pretty and conveys the right mix of vulnerability and romantic ideal, while Fore, with his boyish good looks, seems right at home in all the classic movies he "invades." Together, they make the audience dream and love along with them, in a film that asks the question "Would you want to live in a movie?" The answer is one you can only find within your heart.
SUBSCRIBE TO & FOLLOW THE MORNING EMAIL
The Morning Email helps you start your workday with everything you need to know: breaking news, entertainment and a dash of fun. Learn more