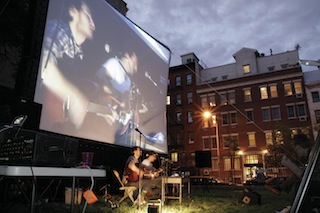 Ah, yes, the joys of summer in the Big Apple: the cacophony of jingles from the ice cream trucks playing at every corner, children splashing each other at city pools, friends dining alfresco at sidewalk cafe and... watching great films on rooftops, in parks and backyards! If you don't yet know about the best kept secret in NYC, then you are missing out on one of my favorite summer activities, the Rooftop Films Summer Series.
Aptly subtitled "Underground Movies Outdoors" and running from this weekend, May 13th, through August 20th, Rooftop is a rare opportunity to watch exquisitely fresh films, mingle with super cool and mellow crowds, while also discovering new places. The series can take you to spots all over the five boroughs which you might never have a chance to experience otherwise, not as makeshift movie theaters anyway. And by makeshift, I definitely don't mean impromptu. Having been to a few Rooftop Films screenings, the organization behind these pop-up "drive-ins" of sorts allows for maximum enjoyment and minimum aggravation. Not to mention, there are some locations where you can even have a glass of wine or a beer with your movie!
The venues range from the picturesque Brooklyn Grange, where a commercial organic farming community has literally sprouted on the roofs of warehouses in Long Island City, to the atmospheric old world charm of the Ace Hotel basement in Chelsea, to the outdoor wonder of the BAM Cinematek parking lot in Brooklyn (while the Opera House is lit as a dramatic backdrop), to the performance space of the Bruckner Bar and Grill in the Bronx.
But of course, the primary attraction of a film series are the films themselves, and this year's Rooftop program does not disappoint. Ever democratic, even the opening night tickets go for a low $10 -- which include admittance to an after party -- kicking off on Friday with a program of shorts titled This Is What We Mean by Short Films at the Open Road Rooftop on the Lower East Side. With shorts from Germany, France, Italy and Ireland, as well as local filmmakers, the evening will be at the very least magical.
On my own must-see list -- growing longer every day -- are SIFF 2011 official selection The Redemption of General Butt Naked, a verité documentary about Liberian warlord turned evangelical minister Joshua Milton Blahyi, the US premiere of Bad Posture, a fiction feature about young life in Albuquerque, New Mexico directed by Malcolm Murray, the NY premiere of The Extraordinary Ordinary Life of José González, a documentary feature about the complex Swedish-Argentine singer whose cover of Heartbeats is a teen favorite and Pietro Marcello's Italian narrative La Bocca del Lupo (meaning "the mouth of the wolf") about a man who returns from prison to the back alleys and red light districts of Genoa, to reunite with his love. With the mafia in Liguria featured prominently in the news lately, I am really curious about the filmmaker's treatment of this touchy subject for Northern Italians.
For tickets, a full program and to view trailers of selected films, visit the Rooftop Films website. But remember, come August 20th you'll have to wait until next year to enjoy this rite of summer in the city.
Photo by Sarah Palmer, courtesy of Rooftop Films

SUBSCRIBE TO & FOLLOW THE MORNING EMAIL
The Morning Email helps you start your workday with everything you need to know: breaking news, entertainment and a dash of fun. Learn more