SIKKA 2013: Strengthening Cultural Infrastructure in Dubai "Art is a microscope which the artist fixes on the secrets of his soul, and shows to people these secrets which are common to all." Leo Tolstoy, from his diary.
Art, like beauty, lies in the eye of the beholder. But even more importantly, art resembles love, in that one has to be open to it to receive it. If someone had stated ten years ago, when I first visited Dubai, that the Emirate would one day become a global art destination, I would not have believed them. At the time, the city seemed immersed in plans to outshine and outdo all major metropolises and it appeared as if their motto was "bigger, better, more golden and glamorous."
Yet in the last couple of years, perhaps having personally delved deeper into the society and customs of the Emirates, I increasingly find in Dubai a hub for art, music, film and culture. A nurturing place for artists of all disciplines, all nationalities and from all walks of life. It's no coincidence that my artistic familiarization with Dubai has coincided with an initiative started five years ago by H.H. Sheikh Mohammed Bin Rashid Al Maktoum, UAE Vice-President and the Prime Minister and Ruler of Dubai. The Dubai Culture & Arts Authority is now under the Chairmanship of his son, H.H. Sheikh Majid Bin Mohammed Bin Rashid Al Maktoum and the initiative has brought worldwide attention to local artists, filmmakers, musicians and writers.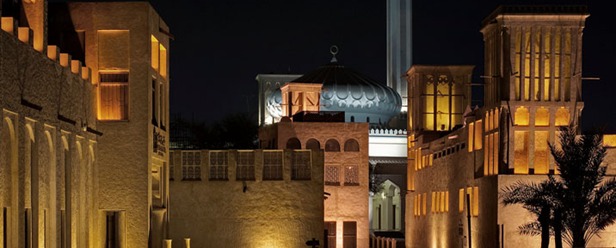 Five years after its inception, Dubai Culture is marking the date with an extensive repertoire of cultural and artistic initiatives. The last five years, in H.H. Sheikh Majid's own words, have "strengthened the city's national identity and cultural infrastructure." Not an effortless task considering that Dubai is home to more than 200 nationalities, each with their own cultural fabric and ideas of what "ART" means to them. The concept is also helping to achieve the goals created in 2007 when the Dubai Strategic Plan 2015 was released. In common terms, the DSP 2015 addressed the needs of this varied population, by creating a sense of community and belonging through urban planning, business practices and of course, artistic initiatives.
SIKKA 2013 is one of the great showcases growing out of Dubai Culture's Art Week, and will be held from March 14 through the 24, in and around the Al Fahidi HIstorical Neighborhood (pictured left). This multimedia art fair, featuring a repertoire of entirely commissioned work, draws its name from the alleyways between the historic houses of Dubai and will feature outdoor film screenings, live music and entertainment, cultural walks, talks, workshops and of course, lots and lots of art.
In the words of H.H. Sheikh Majid "This is an opportunity for the world to explore the artistic achievements in the city, interact with our artists, and further promote the spirit of intercultural dialogue that defines Dubai's identity." I believe that it is indeed through art that we'll eventually create a bridge to unite us all and Dubai Culture's mandate fulfills everything needed to make that day, that wish, a much nearer reality.
Check out the slideshow below, for a closer look at some of the artists and initiatives included in SIKKA 2013.
Ahmed Bouholaigah "Cameras" Interactive Installation Bouholaigah presents an interactive installation composed of multiple cameras that capture photos of visitors. The images are projected on screens and display a figure looking at a screen displaying a figure looking at a screen displaying a figure looking at a screen displaying a figure looking at a screen displaying a figure looking at a screen, ad infinitum. The artwork explores the duality of egoism and insecurity. 

Abdul Azim Al Ghussein "Your Mother-in-Law Loves You" Comic Book/ Illustrations Your Mother-in-Law Loves You is a book of three short comics that revolve around Palestinian foods and the community living outside of Palestine. 

Beatbox Ray Ray is the unofficial 2012 beatbox champion of the entire Middle East and the official vice-champion for 2011 and 2010. He is the only pure electro beatboxer in the country. It's not the title that makes him the best at what he does; his powerful stage presence, the exhilarating performances he delivers and his ability to leave his audience completely dumbfounded are some of the traits that he is best known for. 
Having opened for or shared the stage with artists such as Foreign Beggars, Erykah Badu, De La Soul, Keith Murray, etc, Ray is no stranger to the UAE's underground music scene. He has performed at venues and clubs throughout UAE, be it at small chill out gigs or a corporate gig or events packed with audiences. He has been beatboxing for 4 years now and with no sign of stopping.

 For SIKKA he is planning on showing his audience that a beatboxer can in fact be regarded as a musician, with sets based mostly on musicality. Ray is part of Cannonball Production which is a new indie record label based in Dubai. His buddies and fellow members of Cannonball are Azarel Fernandes and Ali Emara (A.K.A. Andeo), who are also very talented accomplished singers/songwriters & producers. They are set to perform with Ray in SIKKA 2013 and together are hoping to show the audience what they have never seen before.

Brusselssprout Established in 2009, Brusselssprout is an independent curatorial magazine based in Dubai, focused on developing cultural action, thought, and desire by proliferation, sprouting, juxtaposition, and disjunction, and not by subdivision and pyramidal hierarchization. Brusselssprout has been working on several projects such as the Dubai Manifesto, Graphic Encyclopedia and recently on Dubai Art World Cartography. Brusselsprout is presenting an interactive exhibition from the archives of UAE contemporary artist Mohammed Kazem. The metadata will include newspapers, writers, topics and an exhibition treatise of the artist.

Caravan + Studio 7 "False Ceiling" Installation "False Ceiling" is an installation of a suspended hyper-surface that adapts to changing physical attributes. Caravan in collaboration with Studio 7 explores the existential concept of the 'roof above', which represents ever-changing values of happiness and self-realization.

Möbius Design Studio "Illustrated Hybrids" Graphic Design Visual Illustration Mobius presents a contemplation of typography through drawing. Using illustrated letterforms, they impose specific behavior on letters in both Arabic and English. This process explores new ways of matching typography. The typefaces of both languages share the commonality of behavior without attempting to imitate one another.

Sara Al Hadad "Without" Installation Al Hadad's inspiration for her artwork comes from the change that the Al Fahidi Historical Neighborhood has gone through across the years. The artist adds focus in her installation on the recreation of dust and its symbolic relation with memories.

Tasmena Tasmena is an international not-for-profit association engaged in empowering others to develop place-specific design solutions for sustainable urban living. They believe everyone, indiscriminate of age or social standing, can contribute actively to city making. Tasmena members value socially responsible design and the role of design in daily life and the group aims to create an impact on contemporary design, research, education and policy-making through a series of laboratories, workshops, competitions, forums, publications and exhibitions. They also promote open, critical, cross-cultural dialogue and collaboration of students, educators and professionals locally, regionally and globally. Tasmena is presenting a series of walks, talks and social events in and around the Al Fahidi Historical Neighbourhood at SIKKA 2013 to promote an open, critical and cross-cultural dialogue about the Al Khor area.
All images courtesy of Dubai Culture & Arts Authority, used with permission
Follow E. Nina Rothe on Twitter: www.twitter.com/ENinaRothe