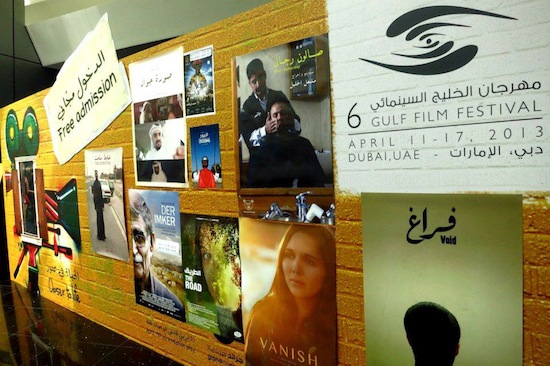 If you're reading this expecting to hear praises about the jewelry in Abu Dhabi, the wonder that is Burj Khalifa in Dubai, or the beauty of Arabian horses, you'll be disappointed. I'm all about cinema from, in and about this region and my personal gems were collected during the Gulf Film Festival, which was held in Dubai's Festival City from April 10th to the 17th. Read on for a list that is definitely not in order of importance but proved for me cinematically life-changing.
Wadjda
U.S. audiences will get the chance to watch this masterpiece in the fall, when Sony Pictures Classics will finally release Wadjda -- not a moment too soon. But the full meaning of Haifaa al-Mansour's touching, worldly film about so much more than a girl yearning for a green bicycle was best summed up by Gulf Film Festival Chairman Abdulhamid Juma when he confessed, "to me personally Wadjda is a dream." He went on to explain the undeniable importance of the film by saying, "what I love about Wadjda is it really touches very sensitive issues that a lot of people would not even wish to talk about -- not only one, many, many issues -- without confrontation." I found myself as touched by it, if not more the second time around and catching up with the film's generous, delightful filmmaker at the opening night screening kicked off the festival just right.
Bani Adam
While I remember Wadjda for all the right reasons, I perhaps will always hold a special place in my heart for Bani Adam, for some wrong ones. It's destined to be one of those films audiences watch again and again, creating its own cult following in the process, similar to what the American film The Room has done in the decade since it was released. The third feature by Emirati filmmaker Majid Abdul Razak, Bani Adam turned out to be the great conversation starter at GFF, undeniably imprinted in everyone's mind. And yes, it is so unusual that nearly everyone I asked watched it both times it screened during the festival.
Masoud Amralla Al Ali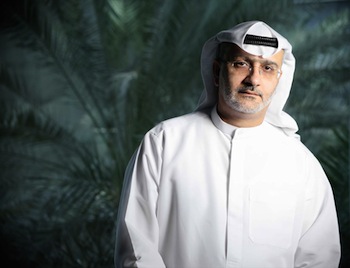 Dubai International Film Festival and GFF Artistic Director Masoud Amralla Al Ali is a wonderfully refreshing combination of poet, mentor and inspiration. While his impressive figure may at first seem intimidating, his warmth and naturally encouraging ways put me at ease, the very moment our conversation started. His insights into some of the films screened in the festival allowed me to view them in a different light and at times, that light of reason changed my mind. Also, I'll never forget his hospitality at the closing night ceremony, as he greeted guests on the red carpet, and so welcomingly shook my hand, ensuring a magnificent end to a fantastic festival.
Abdulhamid Juma
While on the subject of hospitality, of course, the other undeniably impressive figure of the Gulf Film Festival is DIFF Chairman Abdulhamid Juma. I walked away from his interview inspired and energized perhaps because I saw within him everything that I find so right about this part of the world. Excited about a film that owes so much to DIFF and his vision, Juma talked more about Wadjda by disclosing that "ten people last night came from Saudi, to finalize that they are going to vote for it to go to the Oscars, as the Saudi Arabian entry." As they say here, Insh'Allah.
It's About To Rain
I always gravitate towards stories of displacement, emotional and physical. I am not a refugee, my parents left Italy of their own free will but I've always felt like I fit in everywhere yet belong nowhere. Haider Rashid's film hit close to home, quite literally, as the story takes place in Florence, my hometown, and deals with an Algerian Italian family struggling to come to terms with an Italy that has come to reject them. It's by a filmmaker that Artistic Director Amralla Al Ali confessed is "like family" within the festival and although I didn't connect as strongly as I thought I would to its main character Said, It's About To Rain is destined to become a success story, and a great start to the right conversations about just who "The Other" is.
The Gulf Film Market
The great thing about a more personal film festival geared towards filmmakers is that the conversations become more intimate and all the defenses come down. Film Market Manager Samr Al Marzooqi generously walked me through the Gulf Film Market, which included panels, masterclasses and two brilliant screenwriting workshops for five lucky filmmakers. It's not everyday that a young filmmaker can learn from Egyptian master Yousry Nasrallah and the writer of Emirati success story Sea Shadow Mohammed Hasan Ahmed, and both teachers and students came away inspired and energized. The panels on "How To Festival" and "Marketing" short films were also a great resource for filmmakers, who could make dream connections with the likes of Fortissimo Films' Chris Paton and OSN SVP of Programming Khulud Abu Homos. Ultimately, Al Marzooqi's passion for what he does makes him a force to be reckoned with in the Gulf film industry.
Grand Marriage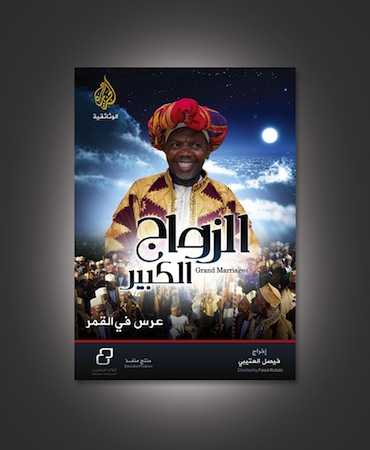 OK, so if you live in the U.S. you probably didn't even hear about the Iran earthquake. But if you sat in a movie theater in Dubai, watching a beautiful Saudi documentary about a marriage ceremony in the Comoros islands as I did, you would have been so involved in the film to hardly notice the earth shaking under your seat. For a good 30 seconds I thought my seat mate was moving her foot, maybe to the chanting in the film... We were all so taken by what we were watching, and a little surprised about the rare occurrence, that not a single audience member even talked about it after the screening. It wasn't until I checked in on Twitter hours later that I even knew buildings had been evacuated and spirits shaken as the powerful earthquake was felt throughout the Gulf region. Yes, Grand Marriage was that good.
Aflamnah
With all this talk about crowdfunding and just how much money the Veronica Mars project raised on Kickstarter, you would think there was still no way for a filmmaker from the Arab world to get his or her film funded. But there is. Just eight months old and already responsible for raising post production marketing funds for one of my favorite films, Annemarie Jacir's When I Saw You, Aflamnah is slowly but surely making a name for itself as the "little cinematic funding site that could", to paraphrase one of my favorite childhood stories. One of their current campaigns is 51, a short thriller based on numbers and starring Homeland's Navid Negahban, to be shot entirely in the UAE. The project is seeking the highest amount asked so far on the Dubai-based site: $170,000 for production costs. I met up with Aflamnah founders Vida Rizq and Lotfi Bencheikh and was impressed by their passion for cinema as well as their impressive backgrounds in the film industry.
Yousry Nasrallah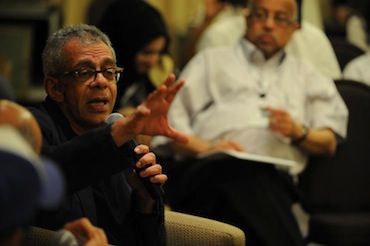 It was great to admire the selfless generosity of a filmmaking great with his five students during the Gulf Film Market mentoring sessions. In one of his ever-inspiring tweets -- if you are not following him on Twitter you are missing out - Nasrallah wrote "Have spent the last few days with five talented, enthusiastic and inspiring young filmmakers in Dubai. Thank God, for cinema." Yes, thank God for cinema indeed, and great filmmakers like Nasrallah who clearly possesses the means to help bridge this chaotically separated world of ours! When I had the chance to finally have a conversation with Nasrallah, we agreed to sit out in the Dubai midday sun, which added a mirage-like quality to our talk and made it utterly unforgettable.
The Man Inside
Karim Goury's film about the search for his own father, in the room where he spent his last years, appealed to me on instinct alone, then conquered my heart once I finally got to watch it. From the film's imaginative way to tell the story of a man no more, to The Man Inside's personable French/Egyptian filmmaker, this turned out to be a favorite at this year's GFF. Perhaps as a daughter of divorce, I felt a deep connection to the idea that no matter how strong and independent we grow up to be, we were once pawns in our parents' game, and we end up forever changed by it. During one goose bump moment in the film, Goury wonders if he could remain in his hotel room, and never go home again, just as his father did during his lifetime -- thus escaping his own responsibilities. I'll admit that the great luxury of the Intercontinental in Festival City, combined with the respectful, proud ways of the Emiratis and the cultural grandness of the Gulf Film Festival made me also wonder if I could stay in Dubai forever...
All images courtesy of the Gulf Film Festival, used with permission