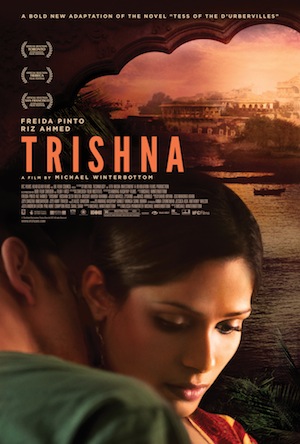 In his latest film Trishna, Michael Winterbottom manages to capture the essence of India, the true chaotic blend of beautiful and infuriating that make the country one of the most beloved and talked about destinations in the world. And he does it so authentically, so organically, I dare say no other filmmaker has ever managed to do it in quite the same way before him. It is a feat even more astounding when learning that the film is based on Thomas Hardy's Tess of the d'Urbervilles, which was originally set in turn of the century Britain.
Perhaps the clues to Winterbottom's great understanding of India can be found in his own connection to the "maximum country," where he has already filmed on two occasions before Trishna, though not films that were set there. But his true genius lies in shying away from hand feeding his audience with his own views and preconceptions because, he admits, "I like films that are open to interpretation."
The plot of Trishna revolves around two lovers, as different in social class and character as they come. Trishna, played by Freida Pinto, is stunning, strong and from a Rajasthani lower caste family, while Jay, played by Riz Ahmed, is a spoiled, rich and irresolute NRI (Non-Resident Indian). Their relationship travels from Osian, in a remote area of Rajasthan, to Bombay, the center of modern India and its film industry capital. While the Rajasthani sequences successfully show the rural resistance of a country in transition, the Bombay scenes dig deep into the free yet unreal world of Bollywood. Winterbottom even manages to bring in star filmmaker Anurag Kashyap -- whose company presents the film and who has been named "the poster boy of Hindi cinema" -- along with his muse and wife Kalki Koechlin and the film's composer Amit Trivedi, to act in precious cameos. Their presence adds a wonderful authenticity to the setting and story.
I sat down with Michael Winterbottom at this year's Tribeca Film Festival where he generously shared his thoughts on Trishna, his work process and setting the Thomas Hardy story in modern-day India.
Why did you choose to move the Hardy story to India?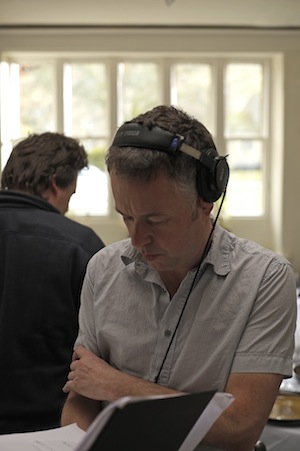 It's partly because it's about a society in transition and change. In Britain, it feels like it's stagnating, which is a different sort of problem. In India, people's lives are changing a lot. A lot of people are improving their lives and a lot are risking their lives trying to make changes in a world that is different from the one their parents grew up in. For all the people who make it, there are all the others who don't make it. It's interesting because it generates a lot of stories that are simple but have big things at stake. There's the danger of falling through the gap between one world and the other. Obviously the rural village farming community where Trishna comes from doesn't provide her with a lot of opportunities to express herself as an individual. You're protected and safe as long as you stay within that group; but as soon as it becomes modern and urban, all that protection disappears and you have to get what you want by yourself.
The other major change from the Thomas Hardy novel to Trishna is that you've combined the two male characters, into one: Jay. How difficult was that?
It's tricky. I love Tess, but it's frustrating that Hardy makes such a clear distinction between Alec, her sensual lover, and Angel, her spiritual lover, because I think most people are both. I thought that in the movie it wouldn't be as interesting to have two such black-and-white characters rather than one character who is wrestling with bits of both of those aspects. Jay is someone who wants to be in love with Trishna, thinks he's in love with Trishna and makes love to her because he thinks he loves her, yet he has an armor of weakness. If you think about it, if he genuinely loved her he wouldn't have made love to her. He's the owner of a hotel, he's from Britain and he's rich -- he can make love to her without any real consequences... But for her as an employee and a woman in Rajasthan, he should be able to imagine that he can't make love to her and have it all be fine. As soon as her fellow worker Chanchal is aware she has gone off with Jay, her position changes. Jay wants to be good but he's weak and spoiled.
Is he also a victim of the culture?
He is spoiled. But he's a victim of his father in a sense. His father is infuriatingly strong and confident and has made his fortune. Jay, like Alec in the book, is a bit of a victim of that upbringing. He doesn't need to work or have a career... But in the end, it's really hard to have sympathy for a spoiled rich kid. I wanted that sense that he could be good. In the beginning, he is likable in lots of ways and could be a good person, but he doesn't have the strength of character in the end to carry that through. For me, he's the least clear character in the film. He falls in love with her but doesn't really know her, even in Bombay, they love each other in the moment but are from two very different worlds. But in the end that's not why things go wrong. It's very simple, he has a lack of imagination... When he comes back from Britain, he has already decided to go back to Rajasthan and he sees it as being a good son who takes over his father's business. But he doesn't think what that means to Trishna. He basically forces her to go back to being his mistress and a worker who pretends not to be his lover. But as soon as he turns her into his employee who is having sex with him on the side, as opposed to being his partner, he has destroyed their relationship. Obviously neither of them want to acknowledge it at first, but it is Rajasthan, a world where they can't be together, where an incredibly rich person and an incredibly poor person can't come together.
When you say Jay is not clear, did you want him to be vague?
I like films that are open to interpretation. I like the idea that you watch something and you have to make up your own mind about what happens and the way we work is like that, a lot of improvisation, not scripted in this precise way. It's not like this moment must be the moment when characters realize something or laugh or cry or whatever. Some people have pointed out that conversation is what destroys their relationship, but actually I think him wanting to go back to Rajasthan is what destroys it... I don't mind that people have different views.
At which point did Anurag Kashyap come into the picture and when did you decide to have him, Kalki and Amit act in the film?
Trishna likes to watch films and dance and the dance element was in from the very first draft of the adaptation, obviously cinema is part of Indian culture. Anurag himself I met at the beginning of the process of making the film, at the beginning of pre-production and he introduced me to Amit and Kalki. I always wanted the film to be in that world and had hoped to get real people to play themselves in a way but I didn't know he would be up for acting. He's actually quite up for that! And he's really good. Amit's quite shy but it was great because I'd never really worked with a songwriter writing songs for film. So it was really fun and sweet that we were able to have him in the film. And the dancers we met were great.
'Trishna' is distributed in the U.S. by Sundance Selects, will be in theaters starting July 13 and available through VOD July 20th.
Images courtesy of IFC Films, Michael Winterbottom photo by Phil Fisk, all used with permission
FOLLOW HUFFPOST