Apparently, half a trillion dollars doesn't go as far as it used to.
The United States invested more than that amount into "reforming" our public education system in 2009, and is on track to spend even more this year.
But where are the results? Third grade reading rates are stagnating, 1.2 million students are dropping out before graduation each year, and our students continue to fall further behind their peers around the world.
Some say the system can't be fixed. I disagree. The answer is investing more wisely.
Despite the overwhelming evidence that investing in children during the first, most critical years of life (birth to 5) pays the greatest future dividends, nearly every penny of the $634 billion we'll spend on education this year will be poured into grades K-12. Meanwhile, more than one-third of American children (34 percent) are entering kindergarten without the basic skills they need to learn to read, many of them already a year behind their classmates developmentally before the first day of school.
We're asking elementary school teachers to ensure that all of our children catch up by the third grade, while challenging and educating their classmates at the same time. That's like cutting a quarterback's arms off and asking him to throw you the ball.
And the results aren't very surprising. Eighty eight percent of children who read below grade level in first grade will fail to read at grade level in 4th grade, leaving them at increased risk for school failure, dropping out, drug use and teen pregnancy.
We've got to give our teachers and our schools a better chance to help students succeed -- and we can do it by ensuring that every child arrives on the first day with the tools they'll need to excel.
We have limited resources, so we must invest in what works: strong families, engaged parents and high quality early education and early literacy programs.
The landmark HighScope Perry Preschool Study followed children until age 40, and found that those who had been enrolled in a high quality preschool program had higher earnings, were more likely to hold a job, had committed fewer crimes, and were more likely to have graduated from high school than adults who did not have preschool. The Carolina Abecedarian Project found similarly extraordinary results.
Far too few children have access to high quality preschool programs like these, and it's not just the children who are left out who feel the impact. In fact, Nobel Prize-winning economic James J. Heckman found that economic returns on dollars invested in early education are as high as 15 to 17 percent per year.
There are other, even less expensive alternatives that can significantly affect the school performance of young children, including the Reach Out and Read program.
Reach Out and Read targets children in infancy and builds on the relationship between parents and pediatricians to promote early literacy and school readiness. Pediatricians speak to their patients' parents at every regular checkup about the importance of reading aloud, and give each child a brand-new, age-appropriate book.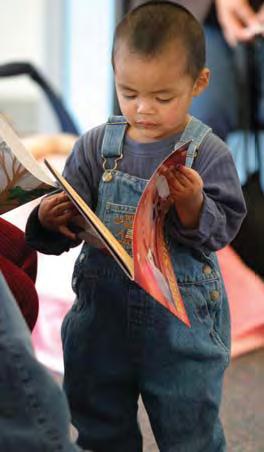 That simple act has an extraordinary impact. Families served by the program read together more often, and their children enter school better prepared to succeed, with larger vocabularies, stronger languages skills and a six-month developmental edge.
Because Reach Out and Read operates within the healthcare system, the full, five-year program costs just $50 per child -- $10 per child per year. That means that a $100M investment, like the one recently made by Mr. Zuckerberg in New Jersey, could ensure that every child living in poverty in the United States -- over 5.5M children -- would be served by the program and on track to enter school ready to succeed.
When compared to the cost of remedial reading classes for a second grader, or the cost of incarcerating an adult (most of whom have experienced failure in school), the choice could not be more clear.
If our ultimate goal is to change educational outcomes for children and break the cycle of poverty, it's time that America began investing in them when it matters most.