In April, First Lady Michelle Obama and Dr. Jill Biden launched Joining Forces, a national initiative to mobilize all sectors of society around providing opportunities to military families.
It was an important move to support America's service members -- and their children.
We were thrilled that Reach Out and Read was on the short list of national education organizations asked to work with Joining Forces. As a partner, Reach Out and Read has committed to expand to 100 U.S. bases by 2013, serving more than 200,000 children of military families.
Reach Out and Read targets children in infancy and builds on the relationship between parents and pediatricians to promote early literacy and school readiness. We currently serve 3.9 million children and families nationwide, including 90,000 military families on 48 U.S. bases worldwide.
While military children receive many of the same books as all other children served by Reach Out and Read, we also provide special books specifically for military families. These books focus on issues that military families face including frequent relocations and the stress of separation, deployment, and homecomings.
It's been nearly two months since I attended the White House press conference that launched Joining Forces, and the wheels are in motion to ensure we deliver on our promise to our military families. We're engaging donors to support the increasing number of families who will be able to participate in our program. We are also working with the Department of Defense to guide our expansion, and have identified military installations in Colorado, Florida, Oklahoma, Virginia, and California as areas to focus on in the next two years!
Reach Out and Read's Military Initiative began in 1999 with a single program. By 2007, we had only expanded to 12 programs. However, through a joint project with Department of Defense in 2008, Reach Out and Read added another 20 new military programs worldwide - several of which were in military pediatric residency locations. Residents who learned about Reach Out and Read in their residency and saw its tremendous impact, are now starting Reach Out and Read programs in the military clinics and hospitals where they serve.
We've received scores of letters from military doctors underlying the importance of books in an environment often riddled with uncertainty. They tell us that highly engaged parents reading to their children may be one of the greatest protective factors for families during deployment.
"By promoting early literacy...we are giving families the key to early development and school successes, not to mention a great tool for family bonding," wrote a Read Out and Read military provider serving in an Illinois clinic. "As a military member recently deployed to Iraq, I can attest to the power of books and reading for bridging the gaps of distance and time. Every month or so while I was away, I sent home DVDs of me reading books to my 6-month-old son. My wife played them to him every night and I definitely felt like he recognized me when I came home in November."
Given the countless sacrifices that members of our Armed Services and their families make for our country, they deserve nothing but the best -- including quality health care and proven school readiness strategies.
Reach Out and Read is proud to serve those who risk so much to serve us.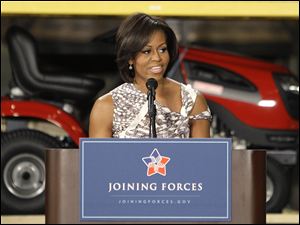 First Lady Michelle Obama speaking on Joining Forces. (Courtesy of toledoblade.com)
SUBSCRIBE TO & FOLLOW MUST READS
The internet's best stories, and interviews with the people who tell them. Learn more