Some 5-year-old patients at MetroHealth Medical Center in Cleveland call him "Dr. Book." Some parents confuse him with Dr. Spock, since he's the author of the most recent edition of the parenting expert's classic parenting manual, "Baby Basics."
But anyone who knows Dr. Robert Needlman will tell you he's a passionate advocate for children, a cheerleader for parents, and an extraordinary pediatrician who has spent his career breaking down the traditional boundaries of health care.
As co-founder of the national school readiness initiative Reach Out and Read, Dr. Needlman has changed the practice of medicine for tens of thousands of doctors nationwide, who now spend time with families during regular checkups to promote early literacy.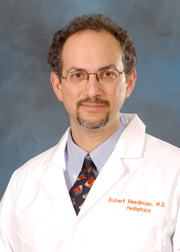 The impact of his work is clear -- his patients are entering kindergarten with a six-month developmental edge over their peers. I recently had the opportunity to sit down with Dr. Needlman.
EARL: As a pediatrics fellow in Boston, you co-founded the literacy initiative Reach Out and Read in 1989. Why should pediatricians be involved in promoting early literacy?
ROBERT: A physically healthy baby who doesn't have a chance to fall in love with reading is at risk for long-term educational problems that may prove as dangerous as lead poisoning or a fall on the head. Pediatricians have the opportunity to work with parents to assure their children are healthy in every way.
EARL: When should you start reading to your child, and when should you stop?
ROBERT: Start before they are born! Take a book you want to read, and read it out loud; even better, read it to your partner, or to another child. It doesn't matter what the book is. Babies can hear before they are born; your child will learn to recognize your voice, and to prefer it. When to stop? When your children tell you that they are too busy reading for themselves! Even then -- when your kids are teenagers or older -- you might make time to read aloud to each other. It never has to stop.

EARL: What impact has technology (computers, smartphones, Kindles, etc.) had on your patients' school readiness and use of books?
ROBERT: Young children learn best when they use all their senses. The act of holding a book, turning the pages, patting the pictures, and of course talking and listening and cuddling -- this is a complete learning experience. Children only learn language when it is part of a social interaction, that is, when there's a give and take with a person they care about. Not even the smartest computer can come close to reproducing that interaction.
EARL: Recently, the New York Times reported that sales of picture books were falling -- some say it's because of parents' desire to share "big kid" books or chapter books with their children instead. What's your thought on this trend?
ROBERT: Child development is a pyramid, not a race. Every stage depends on the stages below it. If we rush children through the early stage of enjoying beautiful pictures and great stories together, they won't be as likely to develop their own rich visual imagery. This won't make them better readers or better thinkers in the long run.
EARL: When's a good age to start taking your kids to the library?
ROBERT: While they're still in the stroller. Let them see you picking out books for yourself. Make it an every week outing. Let them know that the library is a special, wonderful place.
EARL: You give a brand-new book out to every patient five and under at every regular checkup. Every child is different, so how do you pick the right book for each child?
ROBERT: You don't. Sometimes you let the child pick. Sometimes you pick, and if it's not the right book -- it doesn't matter! Children and parents improvise all the time; if the story in the book isn't the right one, they make up their own. It's important, though, that the books be beautiful, durable, and culturally relevant. A good children's book is a work of art; it has a creative spark. With a book like that, the child's own imagination makes it the right book.
EARL: We would all be wise to follow this doctor's prescription for school success.
SUBSCRIBE TO & FOLLOW THE MORNING EMAIL
The Morning Email helps you start your workday with everything you need to know: breaking news, entertainment and a dash of fun. Learn more