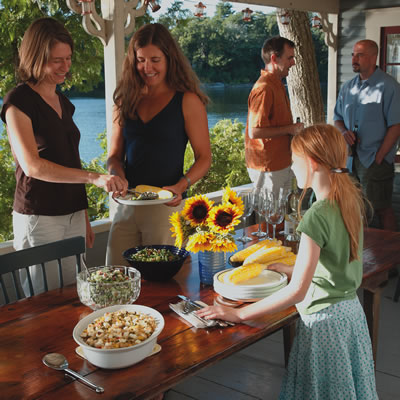 By Jessie Price, Deputy Food Editor for EatingWell Magazine
It's no surprise that I love a potluck—I am a food editor, after all. Potlucks mean the chance to get to try tons of different dishes. But there are always a couple that I wish I hadn't tried. So what if I could orchestrate a dream potluck with a guest list of great chefs? Each chef would bring a dish. The spread would be fantastic! I can't bring a bunch of chefs over to your house for dinner, but I can help make this fantasy a reality. And that's just what I did for the May/June issue of EatingWell Magazine: a virtual celebrity-chef potluck, with a great take-along party recipe from each chef.
Here are three of my favorite recipes from the story. Make one of these recipes from Mario Batali, Tyler Florence or Bobby Flay and your dish is sure to be a standout on any potluck spread!
3 Fail-Safe Potluck Recipes from Celebrity Chefs
By Jessie Price
Jessie Price is the deputy editor of food for EatingWell Media Group, where she directs all food content. Besides her work on nine other EatingWell books, she is the author of EatingWell on a Budget and The Simple Art of EatingWell. She lives in Charlotte, Vermont where she stays busy growing her own vegetables in the summer and tracking down great Vermont food products when she's not working. Related Links from EatingWell: