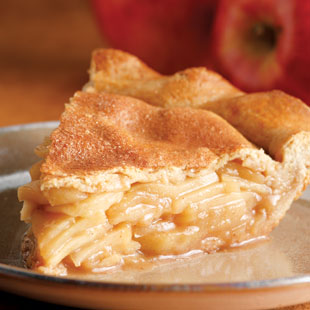 By Hilary Meyer, EatingWell Associate Food Editor
Apple pie is an iconic American dessert. It's pretty simple to make; put together a crust, throw in some apples, bake and wham! Apple pie. But if you want your pie to be memorable, true apple pie aficionados know a few secrets that can really elevate the apple pie experience. One of these pie aficionados is Stacy Fraser, our Test Kitchen manger. She was born a baker extraordinaire and her Deep-Dish Apple Pie is second to none. On top of being delicious, it's healthier than the average pie. What do you think: Which is healthier: apple pie or pumpkin pie?
How did she do it? Here are some of her secrets:
Secret #1: Use a deep dish.
What's the best part of an apple pie? The apples, of course! Stacy ditched a regular pie pan, and opted for a deep-dish. Why? There's more room for more filling. You can squeeze in about 1 1/2 more cups of fruit into a deep-dish pie pan vs. a regular pie pan. (See how we do it in this Test Kitchen How-To: 6 Tips for Flawless Deep Dish Apple Pie Every Time.)

Secret #2: Keep your crust ingredients cold.
Follow the basic rules of great pastry: Always use chilled butter and ice-cold water. Dough likes to be cold. If the butter melts into the flour, the crust will be tough. Try it yourself with these Step-by-Step Photos For Tender, Flakey Pie Crust.
Secret #3: Use two kinds of apples.
Some apples are better suited than others for baking. Stacy uses a mix of McIntosh and Granny Smith in her pie. The McIntosh add a bright flavor while the Granny Smith also contribute flavor and break down less when they cook so you get a filling with texture instead of mush.

Must-Read: The Best Apples for Cooking, Baking and Eating

Secret #4: Pre cook your apples.
Throwing them all in raw may be easy, but it isn't the best way to go. When you add the apples to the crust raw, they let off steam and shrink in size. That can leave you with a void between the crust and the filling. Precooking your apples just a little bit causes them to shrink less when they're in the crust.
Here's the recipe for Stacy's Deep-Dish Apple Pie (and if you're a true pie lover, don't miss this Oatmeal-Nut Crunch Apple Pie and More Fall Pie Recipes).
Active time: 1 1/4 hours | Total: 4 hours (including cooling time) | To make ahead: Prepare the crust (Step 1), wrap tightly and refrigerate for up to 2 days or freeze for up to 6 months. | Equipment: 9 1/2-inch deep-dish pie pan | Makes 10 servings
With all that delicious fruit an apple pie should be healthy, but the truth is a slice can have as much as 750 calories and 30 grams of fat. For the most part, the culprit is the crust. We use whole-wheat pastry flour to add fiber and lower the saturated fat by replacing some of the butter with canola oil. The brown sugar-sweetened filling in this pie is made with two kinds of apples for the perfect balance. A slice has half the calories of a typical version and only 10 grams of fat-sweet!
Crust
1 1/4 cups whole-wheat pastry flour (see Ingredient Note)
1 1/4 cups all-purpose flour
2 tablespoons granulated sugar
1/2 teaspoon salt
4 tablespoons cold unsalted butter
1/4 cup reduced-fat sour cream
3 tablespoons canola oil
4 tablespoons ice water
Filling
6 cups thinly sliced peeled McIntosh apples (about 2 pounds)
6 cups thinly sliced peeled Granny Smith apples (about 2 pounds)
2/3 cup packed light brown sugar
1 tablespoon lemon juice
1 1/4 teaspoons ground cinnamon, divided
1/8 teaspoon ground nutmeg
Pinch of ground allspice
Pinch of salt
2 tablespoons all-purpose flour
1 teaspoon granulated sugar
1 large egg white, lightly beaten, for brushing

1. To prepare crust: Whisk whole-wheat flour, 1 1/4 cups all-purpose flour, 2 tablespoons sugar and 1/2 teaspoon salt in a large bowl. Cut butter into small pieces and, with your fingers, quickly rub them into the dry ingredients until the pieces are smaller but still visible. Add sour cream and oil; toss with a fork to combine with the dry ingredients. Sprinkle water over the mixture. Toss with a fork until evenly moist. Knead the dough with your hands in the bowl a few times -- the mixture will still be a little crumbly. Turn out onto a clean surface and knead a few more times, until the dough just holds together. Divide the dough in half and shape into 5-inch-wide disks. Wrap the dough in plastic and refrigerate for at least 1 hour.

2. Meanwhile, make filling: Combine apples, brown sugar, lemon juice, 1 teaspoon cinnamon, nutmeg, allspice and pinch of salt in a large bowl. Reserving 4 cups, transfer the rest of the apple mixture to a Dutch oven. Cook over medium heat, stirring, until the apples are tender and beginning to break down, about 10 minutes. Remove from the heat, stir in the reserved apples and 2 tablespoons flour; let cool for about 30 minutes.

3. To assemble and bake pie: Position a rack in lower third of oven; preheat to 425 degrees F.

4. Remove the dough from the refrigerator; let stand for 5 minutes to warm slightly. Roll one portion between sheets of parchment or wax paper into a 13-inch circle. Peel off the top sheet and invert the dough into a 9 1/2-inch deep-dish pie pan. Peel off the remaining paper. Scrape the filling into the crust. Roll the remaining portion of dough between sheets of parchment or wax paper into another 13-inch circle. Peel off the top sheet of paper and invert the dough onto the fruit. Peel off the remaining paper. Trim the crust so it overhangs evenly. Tuck the top crust under the bottom crust, sealing the two together and making a plump edge. Flute the edge with your fingers. Combine 1 teaspoon granulated sugar and the remaining 1/4 teaspoon cinnamon in a small bowl. Brush the crust with egg white and sprinkle with the cinnamon-sugar. Cut six steam vents in the top crust.

5. Bake the pie on the bottom rack for 20 minutes. Reduce the oven temperature to 375 degrees and continue baking until the crust is golden brown and the filling is bubbling, 25 to 35 minutes more. Let cool on a wire rack for about 1 1/2 hours before serving.
Per serving: 344 calories; 10 g fat (4 g sat, 3 g mono); 14 mg cholesterol; 62 g carbohydrate; 4 g protein; 5 g fiber; 143 mg sodium; 212 mg potassium.

Ingredient Note: Whole-wheat pastry flour, lower in protein than regular whole-wheat flour, has less gluten-forming potential, making it a better choice for tender baked goods. You can find it in the natural-foods section of large supermarkets and natural-foods stores. Store in the freezer.
What are your tricks for baking an amazing apple pie?
By Hilary Meyer, EatingWell Associate Food Editor



EatingWell Associate Food Editor Hilary Meyer spends much of her time in the EatingWell Test Kitchen, testing and developing healthy recipes. She is a graduate of New England Culinary Institute.

More from EatingWell:
SUBSCRIBE AND FOLLOW
Get top stories and blog posts emailed to me each day. Newsletters may offer personalized content or advertisements.
Learn more