Menopause is one of those strange times when the body takes over and does its own thing beyond our control. Deb knows the ups and downs of menopause from years of sleepless nights spent flinging off the bed covers, feeling bloated like a beached whale and getting bitchy for no reason.
We recently talked with Dr. Mache Seibel, director of the Complicated Menopause Program at the University of Massachusetts Medical School, who said:
Menopause is a window of time, like puberty backward. Puberty is when there are great body changes, hormonal changes, raging feelings and things that are going on that you don't understand, and menopause is when there are raging feelings and body changes, emotions and things that you don't understand. Women spend at least 10 years in menopause, but the benefits last for years to come: no need for contraception, no fear of pregnancy, children are leaving or have left home so there can be greater spontaneity and freedom. In other words, women can go from making babies to making love!
As a seasoned veteran, Deb has meditated her way through the changes: Meditation is the most important thing she ever did for herself, over and above all the Chinese herbs, yam creams or other remedies. One of the difficulties with having hot flashes, for instance, is the incredible longing to get away from the heat, whether by flinging open windows or running outside in the snow, but often such activity just increases the heat. Very simply, hot sweats increase with stress and decrease with deep relaxation. Being or sitting still releases all resistance and enables the body to cool down more quickly. Meditation also shows us how all things do pass, including such intense physical discomfort.
"We don't stop enough in life; there is rarely a pause button we can push," says Mache. He adds:
Music would not be pretty if there weren't some rests in between the notes, and meditation gives us that spaciousness. Menopause is one phase of life while meditation transcends all phases of life. It realigns and regroups the cells, atoms are aligned, molecules re-ordered. People should try meditation for three minutes, then for five or six, until they find a space that fits their day.
Most especially, menopause is when we can drop all the labels and come into our own sense of who we are. It is a time for us to emerge! We may want to start dancing or rock climbing, become a poet, write a book or work for the homeless -- whatever it may be, now is the time to just do it!
Mache has written a song to boost our menopausal spirits, called "Red Hot Mama." Download the song and sing along:
I'm a red hot mama from my head to my feet

Sassy and brassy, sexy and sweet

Come a little closer (psssst), feel my heat

Yes I'm a red hot mama. I like to exercise

Toning up my tummy, shaping my thighs

Men still lookin' at me; and I look at guys

(Chorus)

I'm good at conversation and I'm very good in bed

I know I've got some wrinkles but I still can turn a head

I'm through with makin' babies, now I'm makin' love instead

Just because I'm in the "Pause" doesn't mean I'm dead, 'cause I'm a...

Red hot mama who likes the company of men

Though now I drink my tonic with a splash of estrogen

I may be getting older, but I'm wiser now than then

(Chorus)

I'm a red hot mama, from my head to my feet

Sassy and brassy, sexy and sweet

Come a little closer (psssst), feel my heat

Red hot, red hot mama, I'm a red hot, red hot mama.....

(Machelle M. Seibel [ASCAP] © All rights reserved)
Mache will be teaching "Living Life to the Fullest at Menopause" at the Rincon Center for Human Flourishing in Costa Rica, Feb. 24 to 28, 2011. He will be joined by Karen Giblin, President of the Red Hot Mamas, as well as by us! Register now at the Rincon Center's website. For more information e-mail programs@therincon.com.
What does menopause mean to you? Do comment below.
***
You can receive notice of our blogs every Tuesday by checking "Become a Fan" at the top of this page.
See our award-winning book, "Be the Change: How Meditation Can Transform You and the World," with forewords by the Dalai Lama and Robert Thurman and contributions from Jack Kornfield, Gangaji, Jane Fonda, Ram Dass, Byron Katie and others.
Our three meditation CDs -- "Metta: Loving-Kindness and Forgiveness," "Samadhi: Breath Awareness and Insight" and "Yoga Nidra: Inner Conscious Relaxation" -- are available at www.EdandDebShapiro.com.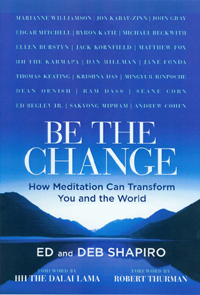 SUBSCRIBE TO & FOLLOW LIFESTYLE
We're basically your best friend… with better taste. Learn more