Shocking as it is, there are probably very few people who have never experienced stress. It can happen in a minute or it may build over time. It can spur creativity but is more likely to leave you irritated, depleted, and even physically ill. Which is why, sponsored by The Health Resource Network (HRN), April is Stress Awareness Month, a time when care givers across the country will be increasing public awareness about both the causes and cures for stress, now seen as a modern day epidemic.
The word stress is a derivation of the Latin word meaning to be drawn tight, which is pretty much how most stressed-out people feel. The words meditation and medication have the same prefix derived from the Latin word medicus, meaning to care or to cure, indicating that meditation is likely to be the most effective and efficient remedy for a busy and overworked mind. Which is why meditation is the greatest gift you could give your self.
In essence, meditation is simply about calming our chattering monkey-like mind and being aware and present in this very moment. This is easier than we may think, yet so many people say to us: My mind is too busy; I can't sit still; I can't possibly meditate; I just fall asleep. This is because our mind tends to be all over the place chasing different scenarios, so that our ability to be completely here and now is challenged. Although being aware of the present moment is simple, we have spent so many years covering it up with all sorts of distractions that now we have to practice being still in order to reconnect with it.
During meditation we gently let go of distractions so we can genuinely be present. Like a child watching an ant walking down the sidewalk carrying a crumb, that is all that exists in their world at that moment. They are not thinking about what they had for breakfast, or what they will do with their best friend at their next playdate. They are only watching the ant.
Meditation enables us to stop trying, to let go of the story, the dramas, our stressed mind, and to discover an inner easefulness. Some people describe this as a sense of coming home, as if they had been away or out of touch with themselves without having realized it; others experience it as a huge relief as there is a release of anxiety and self-centeredness and they enter into a more peaceful state of being. The inner joy and happiness is incomparable. Personally, we don't know how we would function in this mad, mad world without it!
Here is a simple and effective practice that can be done anywhere and at anytime of day. Practice for five minutes, 10 minutes, or longer:
Sit comfortably with your back straight. Take a deep breath and let it go. Eyes are closed, breathe normally. Begin to silently count at the end of each out breath: Inhale... exhale... count one; inhale... exhale... two; inhale... exhale... three. Count to five, then start at one again. Just five breaths and back to one. Simply following each breath and silently counting. So simple!
How do you deal with stress? What techniques work for you? Do comment below. You can receive notice of our blogs every Tuesday by checking Become a Fan at the top.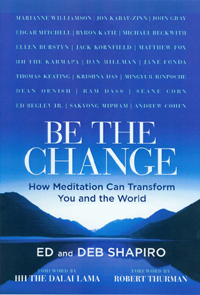 Ed and Deb Shapiro's book, BE THE CHANGE, How Meditation Can Transform You And The World, forewords by the Dalai Lama and Robert Thurman, with contributors Marianne Williamson, astronaut Edgar Mitchell, Jane Fonda, and others.
We will be teaching at the Institute of Noetic Sciences in California, June 18-20, with special guest speaker astronaut Edgar Mitchell
Our 3 meditation CD's: Metta--Loving kindness and Forgiveness; Samadhi-Breath Awareness and Insight; and Yoga Nidra-Inner Conscious Relaxation, are available at: www.EdandDebShapiro.com
This Blogger's Books and Other Items from...
SUBSCRIBE AND FOLLOW
Get top stories and blog posts emailed to me each day. Newsletters may offer personalized content or advertisements.
Learn more