This Friday, Nov. 18 at 8:00 p.m., the New York Pops conducted by Steven Reineke, one of the most visible gay men in the world of classical music, will team up with Broadway's out star, Cheyenne Jackson, for an ultra hip evening celebrating the smooth and swinging music of the Mad Men era. I had a chance to chat with Reineke about his inspiration for the pairing, the evening's program, and his plans for the Pops' future.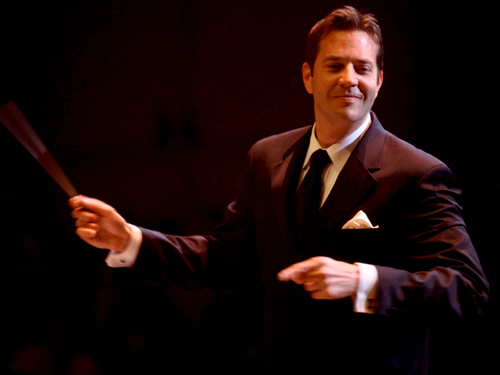 How did the idea of doing a concert with Cheyenne Jackson come about? Have you worked with him before?
Cheyenne performed with the Pops in 2009 at our annual gala. It was my first season, and it was his Carnegie Hall debut. I'd heard him do music from The Great American Songbook -- tunes like "Luck Be a Lady" -- and I really wanted to have him sing music from the '50s and '60s. That hip, swinging Mad Men era is perfect for him. Cheyenne says he doesn't necessarily believe in reincarnation, but he feels very at home with this material. Working on the set list for the concert was easy for us -- we're both on the same wavelength.
So obviously you two enjoy working together.
It's always a joy. Not only is Cheyenne really handsome with a beautiful voice; he's an excellent musician. He writes his own music, and I've been lucky enough to have him let me hear some of the material for his new album. It's fantastic. He's got a great career going now, but he is really going to be taking off.
This type of material is sort of new for the Pops, isn't it?
We do a lot of big band music, and we do it really well, but the stylized sounds of the '50s -- and especially the '60s -- incorporate interesting percussion, vibraphones and alto flutes. It's stretching our boundaries as an orchestra, and the players are really enjoying it.
What in this concert are you most excited about?
Well, aside from Cheyenne, we'll be featuring the orchestra, and we'll be paying tribute to Burt Bacharach. And, we're doing an opening number by Esquivel.
Will you be performing any music from Mad Men?
Yes! I reached out to David Carbonara, the composer for Mad Men, and he agreed to put together a suite of music from the show. He's coming from L.A. to see the performance. It's his Carnegie Hall debut.
Are there any other celebs we should expect to show up for the performance?
I don't know who's coming -- we'll just have to wait and see.
What other composers and artists will you be featuring?
We'll be doing a lot of great music from that era, including tunes by Henry Mancini and songs that were performed by Dean Martin, Frank Sinatra and Tom Jones. Plus, we're going to be doing some great contemporary music by people like Amy Winehouse.
It sounds like an incredibly fun evening.
It will be. We're encouraging the audience to wear their Mad-Men-era clothing, so folks will be dressed up -- including me. A guy came the other day to outfit me and I'll have my hair slicked back.
Did you always want to work making music with an orchestra?
In my 20s I was pulled toward film music. It was so theatrical. I lived in L.A. and worked as a composer and an arranger.
But you like working with the orchestra onstage better?
I like the immediacy of it. I like for people to come out and be entertained. It's high art, what we do -- I mean, I demand that we do it at the highest possible level -- but I want people to relax, have fun, and get their weekend off to a great start.
Are there any projects that you'd like to see the Pops do in the near future?
I want to get the orchestra out touring again. We've had a lot of interest, but many venues are struggling financially and so it's been difficult. I'd like to see the Pops tour, not just around the country, but internationally, as well. I 'd also love to do some recording projects and TV. We do Macy's Fourth of July fireworks, and that's great.
Are there any artists in particular that you'd like to bring in to work with the Pops?
I'm a huge Dolly Parton fan, and several times I've invited her to come and open our season. I'm hopeful that one year, she'll say yes. I'd also love to have the Pops perform on the lawn in Central Park with Coldplay. Their music is very symphonic and would work very well with all the strings and the brass section behind them. Sometimes you try combinations, and it's like putting a square peg in a round hole, but Coldplay seems like a natural fit to me.
You've got a lot of exciting ideas. You're obviously extremely passionate about your job.
I love working with this orchestra -- it's changed my life. We've just nailed down all of the details for next year. There will be a lot of surprises. It's going to be our best season ever.
SUBSCRIBE TO & FOLLOW TRUMP'S FIRST 100 DAYS
How will Donald Trump's first 100 days impact YOU? Subscribe, choose the community that you most identify with or want to learn more about and we'll send you the news that matters most once a week throughout Trump's first 100 days in office. Learn more