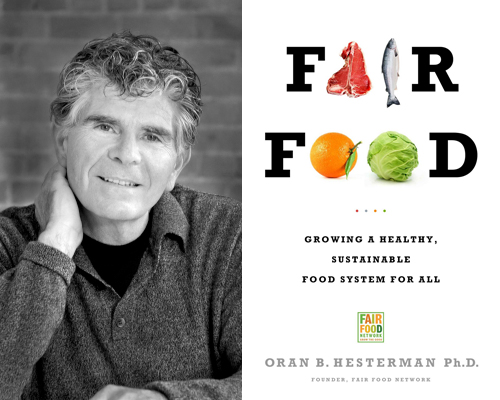 Listen to this podcast on Edible Radio.
Smart Food is the Edible Radio podcast hosted by Jane Black. Jane's guest today is Oran Hesterman, CEO of the Fair Food Network and author of the book, Fair Food.
If you're not a food policy geek, you may not have heard of Oran Hesterman. But you've surely heard of the people and projects that he's helped to launch: Alice Water's Edible Schoolyard in Berkeley, Curt Ellis's documentary "King Corn" and the Sustainable Food Lab. As a director at the Kellogg Foundation for 15 years, he doled out about $200 million in seed money for local food systems advocates. Today, he is president and CEO of the Fair Food Network, which does its own advocacy work, including running the Double Up Food Bucks program in Southeast Michigan, which matches the money of food stamps recipients when they spend it at farmers markets. On this episode of Smart Food, Oran talks the Food Bucks program, how rural and urban constituencies can join forces to improve the Farm Bill and why chefs and journalists don't have the answers about how to fix our food system.
FOLLOW HUFFPOST