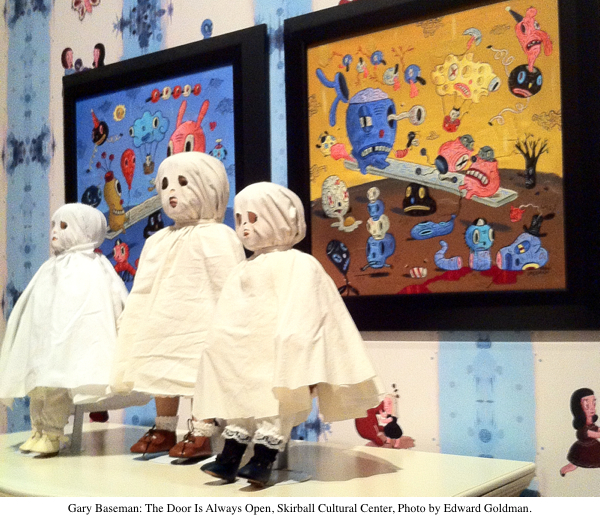 Los Angeles-based artist Gary Baseman has been one of the busiest and most successful commercial artists for almost three decades. His illustrations for major magazines along with his toys, advertising, TV series and animated films, have made his adorable cartoonish figures immediately recognizable by adults and children alike.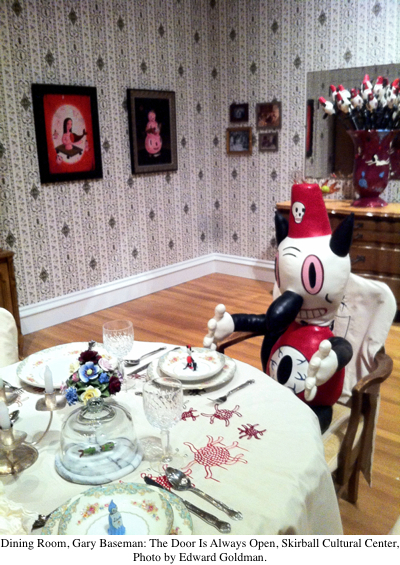 In spite of this popularity, Gary Baseman had never had a solo museum show until the Skirball Cultural Center collaborated with him on the ambitious, sprawling exhibition that opened last week. With this show, the visitors are invited to enter the charming, though weird and somewhat scary world of the artist and of his characters.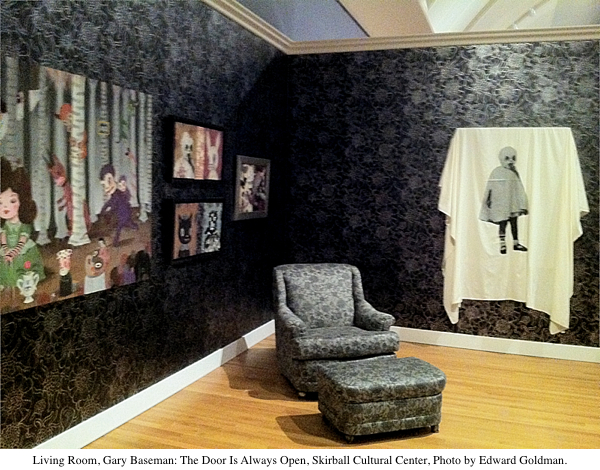 Room after room, the exhibition Gary Baseman: The Door Is Always Open recreates the childhood home of the artist: its dining and living room, its bedroom and backyard. The rather cluttered furnishings and decoration of this house are typical of a middle-class Jewish-American family. For this exhibition Gary Baseman used furniture and objects from his parent's as well as his relatives' houses. One wants to call this recreation a loving homage to his parents and his childhood. But there is tension, a lot of tension, in this world.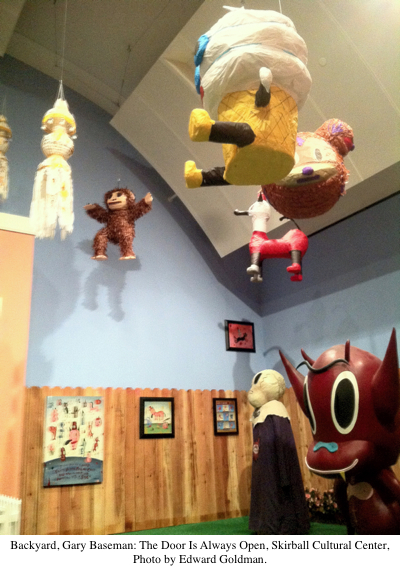 Spooky characters are the subjects of the paintings on the walls and of the embroidery on the cushions and bedspreads. Equally spooky toys can be found sitting at the dining table or hanging piñata-style in the backyard. All of the above create an atmosphere that could unsettle, if not totally scare, a more delicate visitor.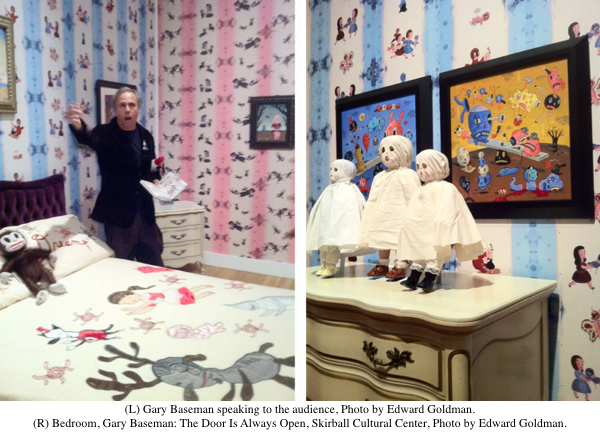 As with so many commercially successful artists, Gary Baseman is facing difficulty escaping the traps of his success. But there are signs that something new is percolating in his mind and in his art. The artist talks about the struggle to leave his well-defined goodie-two-shoes image behind, and to let a darker and more complex persona appear. But would the public accept his works with a darker mood and subject matter? And what would happen if his artwork had more sexual content? For example, the Skirball, with its rather conservative approach, decided not to include such risqué works in this retrospective.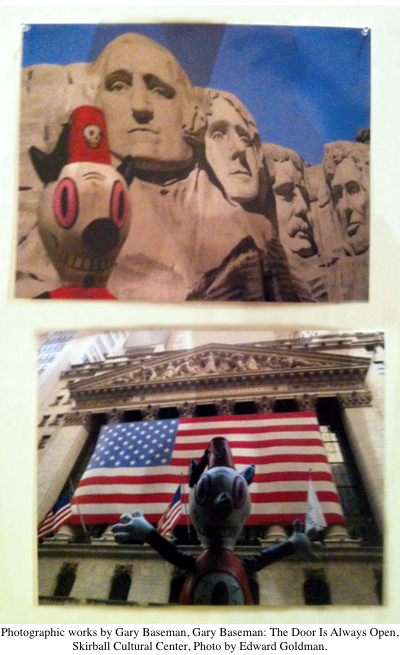 During his whirlwind travels around the globe, the artist keeps a photo diary of famous sites and monuments he visits, but instead of Gary Baseman himself we see Toby, his cartoon alter ego, grinning devilishly at us in front of Mount Rushmore, the New York Stock Exchange or Red Square in Moscow. I have to admit that this photo diary left the most lasting impression on me, probably because it clearly shows the artist's ability to focus and edit his often very busy artwork when he really wants to.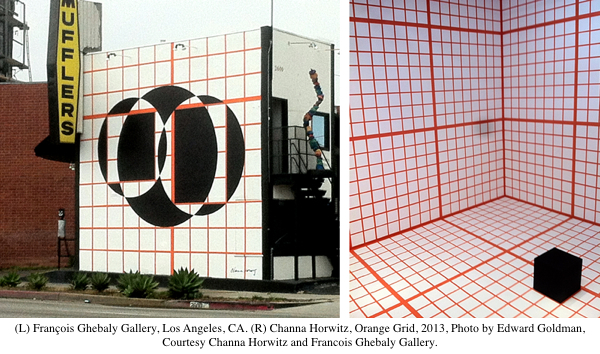 And if you, like me, believe that editing is the most difficult but ultimately the most effective way for an artist to convey his or her vision, here is a good example of it demonstrated by another Los Angeles based artist, Channa Horwitz. Her current show at François Ghebaly Gallery, with its vigorous geometric language of orange grid lines on the interior and exterior walls, demonstrates vitality, intelligence, and energy that are particularly remarkable considering that Channa Horwitz is 81 years old--or I should probably say, 81 years young. It shouldn't be a surprise that her art is included in the upcoming 55th Venice Biennale.
--
Edward Goldman is an art critic and the host of Art Talk, a program on art and culture for NPR affiliate KCRW 89.9 FM. To listen to the complete show and hear Edward's charming Russian accent, click here.