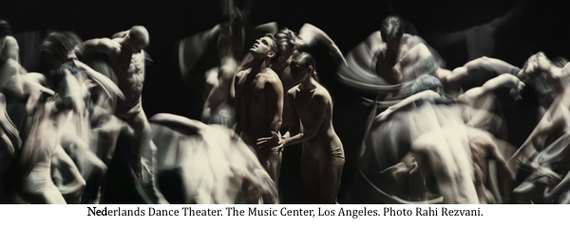 For me, seeing inspiring performances on the stage-whether it's dance or opera-is similar to seeing a great art exhibition. In both cases, I feel happily abducted by the artists, who take me on a light speed journey. Last weekend, I was abducted not once, but twice, so here's my story about these amazing rides with the artists at the wheel.
Nederlands Dance Theater is rightfully considered to be one of the best contemporary dance companies in the world, and luckily for us in Southern California, they've been performing here on a semi-regular basis for the past few decades. In a unique way, this company fuses traditions and technique of classical ballet with edgy, contemporary dance styles.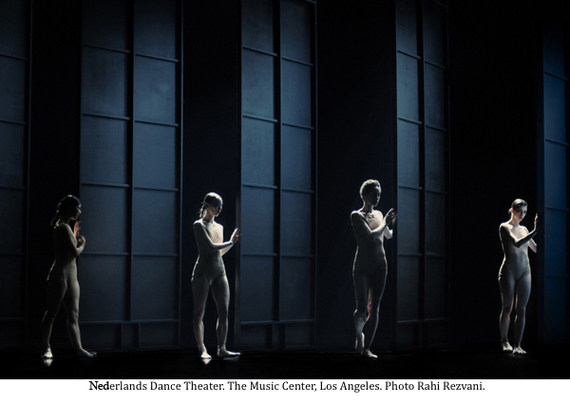 This past weekend at the Dorothy Chandler Pavilion, I saw their performance with its perfect trifecta of exceptional choreography, inspiring minimalistic music score, and stunning stage and lighting design.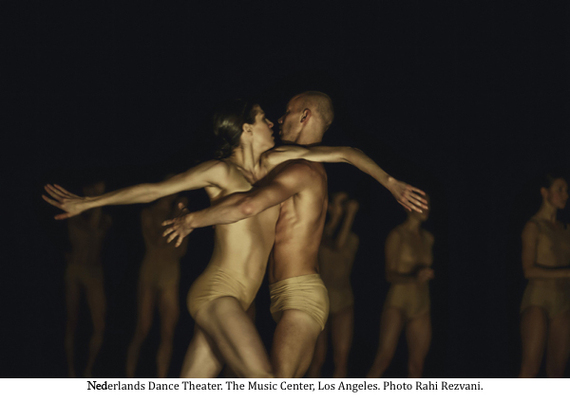 Experiencing great art is much more than admiring the impressive technique and virtuosity of execution. It's about the journey. Sometimes I see performers or visual artists who demonstrate expansive knowledge and technical skill of their craft, but metaphorically speaking, they're driving their beautiful "Porsches" at 5 mph on the freeway going nowhere particularly interesting.
It was the complete opposite with the gorgeous dancers of Netherlands Dance Theater. They took me-and the rest of the packed theater-on an exhilarating and slightly dangerous journey in their own "Porsches," so to speak. Their brilliant technique, knowledge and inspiration allowed us to travel at the speed of light to places we've never been before.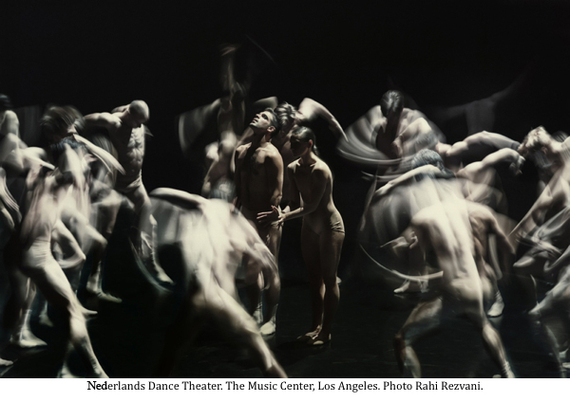 As chance would have it, last weekend I had another journey at the speed of light-this time, at The California African American Museum in Downtown's Exposition Park. One of the current exhibitions, Soul Stirring, introduced me to a number of African American self-taught artists from the South. Their painful stories of inequality and segregation, of poverty and lack of formal education, instead of stifling their creativity, miraculously fueled their art with a rare sense of truth, authenticity and poetry.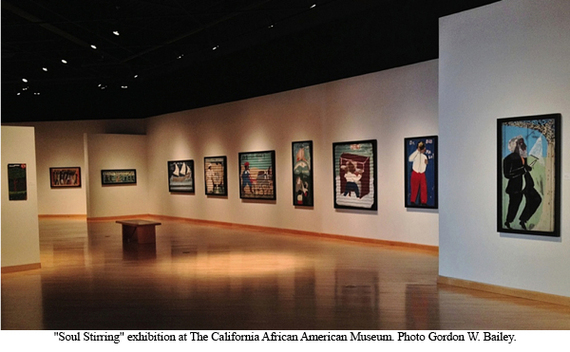 Boldly carved and painted panels by Herbert Singleton (1945-2007) evoked for me woodcarvings by Paul Gauguin. According to the provided information, the artist overcame many hardships, some compounded by his own misdeeds: he survived a near-fatal shooting, drug addiction, and nearly 14 years in prison. It's a miracle how he used all of this as fuel for his art that transcends many boundaries.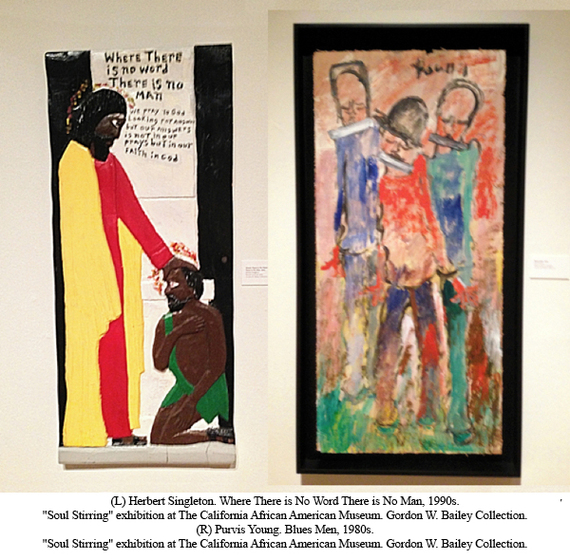 Purvis Young (1943-2010) used salvaged materials to cover the walls of large buildings with his painted panels dealing with African American history, religion and politics. And all that done with rough brushstrokes and light shimmering colors reminiscent of Impressionist paintings.
Sam Doyle (1906-1985) painted with house paint on metal roofing, and each of his medium-sized paintings has a surprisingly elegant sense of editing as far as composition and choice of color is concerned. I think Matisse would be pleasantly amused if he got the chance to see some of Doyle's paintings.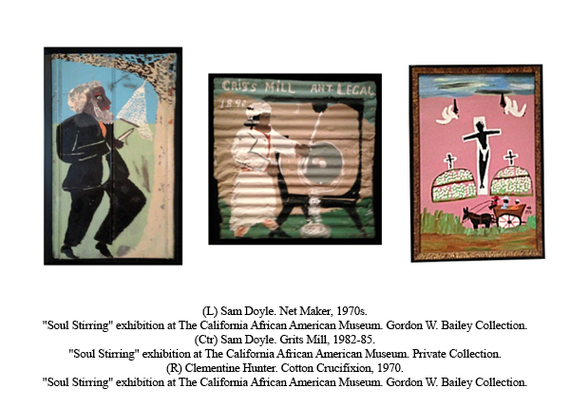 There are a number of works by other extremely talented artists in this exhibition that you definitely don't want to miss. Here's a last thought: How would their art be affected if all these artists had the advantage of getting a formal education? I think it would neuter their creativity. What are your thoughts?
--
Edward Goldman is an art critic and the host of Art Talk, a program on art and culture for NPR affiliate KCRW 89.9 FM. To listen to the complete show and hear Edward's charming Russian accent, click here.